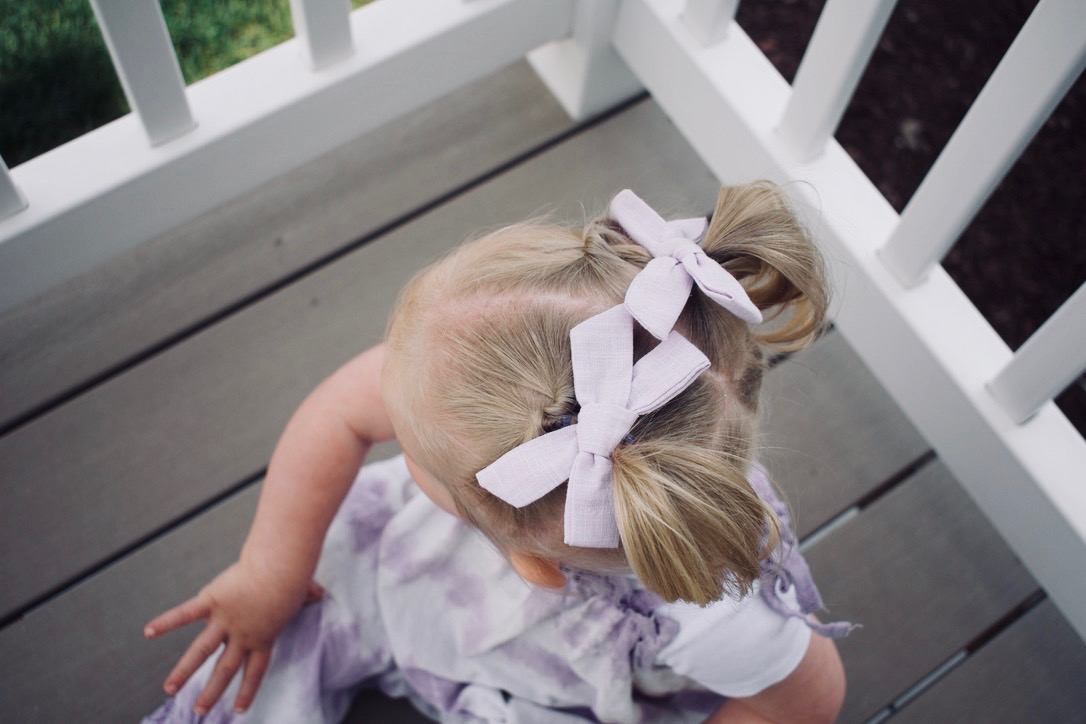 Easy Hairstyles For Toddler Girls – With Fine Baby Hair
Most moms can relate to the daydreams I had the moment I found out I was having a little girl. Daydreams filled with bows, pigtails, tutus, dresses, and of course pink, lots of pink!
Upon hearing those famous words "it's a girl!" my mind instantly turned to the thought of dressing her up and doing her hair. When Hayvn was born, she was blessed with a full head of luscious locks.
Those newborn locks quickly thinned out, creating patchiness and bald spots, and eventually, we ended up shaving her head (that's a story for another time).
Anyways, a few months down the road, her hair began to grow like a weed, and now that she's almost 2, her hair now hangs a little past her shoulders. However, it didn't necessarily grow in evenly.
Since her hair has grown in, Hayvn has sprouted some stubborn baby hairs that don't like to lay flat on her head. Those short baby hairs combined with the fine, thin hair, around her forehead, have given me such a hard time when it comes to creating a clean hairdo, but I was determined to tackle them.
It's taken some practice, but I've managed to find five easy hairstyles for toddler girls that are perfect for taming those stubborn short, uneven, or fine baby hairs.
Keep reading to find inspiration for your little girl's hair!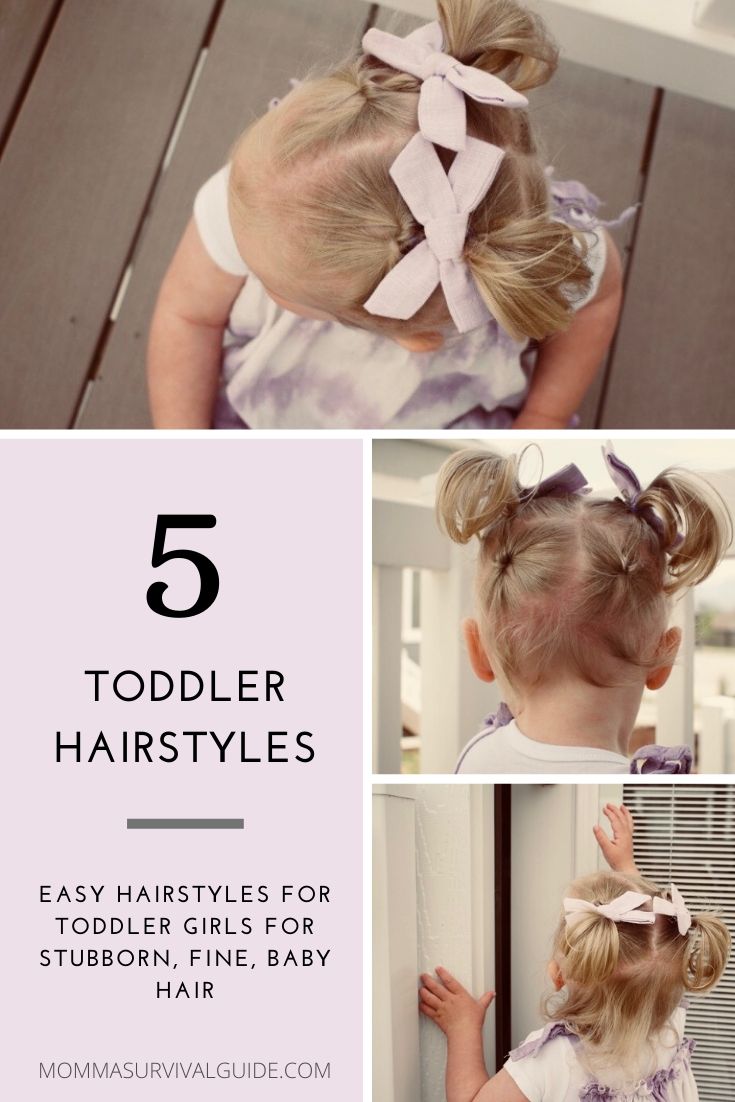 Hair Accessories
What's a hairstyle without the accessories? Before I get into the styling ideas, I wanted to first share with you my all-time favorite hair bows!
They're inexpensive and super cute! They come in a variety of different colors, so you'll definitely find some that work perfectly for your toddler's many dresses and outfits.
My favorite part of these bows is that they come in sets, so you get a great deal! And some of the packages even come in sets of two so you have matching bows for pigtails (that's always a bonus!).
Another key piece to creating sleek, clean, and tight hairstyles, is a good elastic. I use these ones and I love them!
Toddler Girl Hairstyles
Alright, now that we've covered all the accessories, let's get into the actual hairstyles!
The reason these are my go-to hairstyles for my daughter is that they allow me to create cute, clean hairdos while taming her stubborn baby hairs.
#1 – High Pigtails With  A Tuck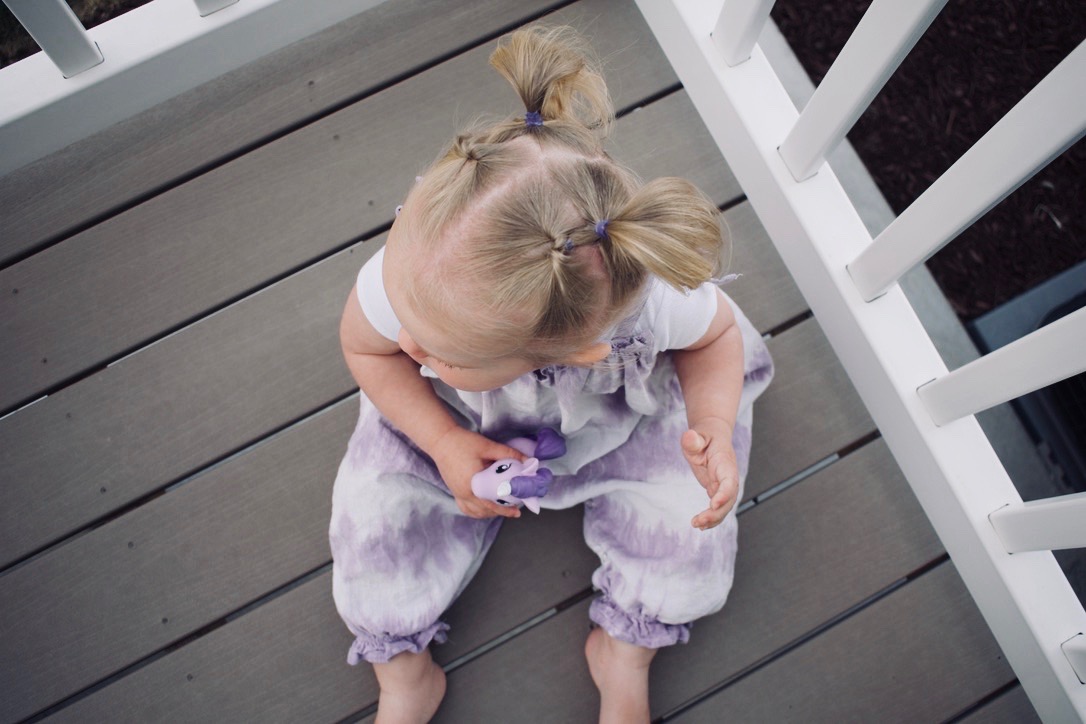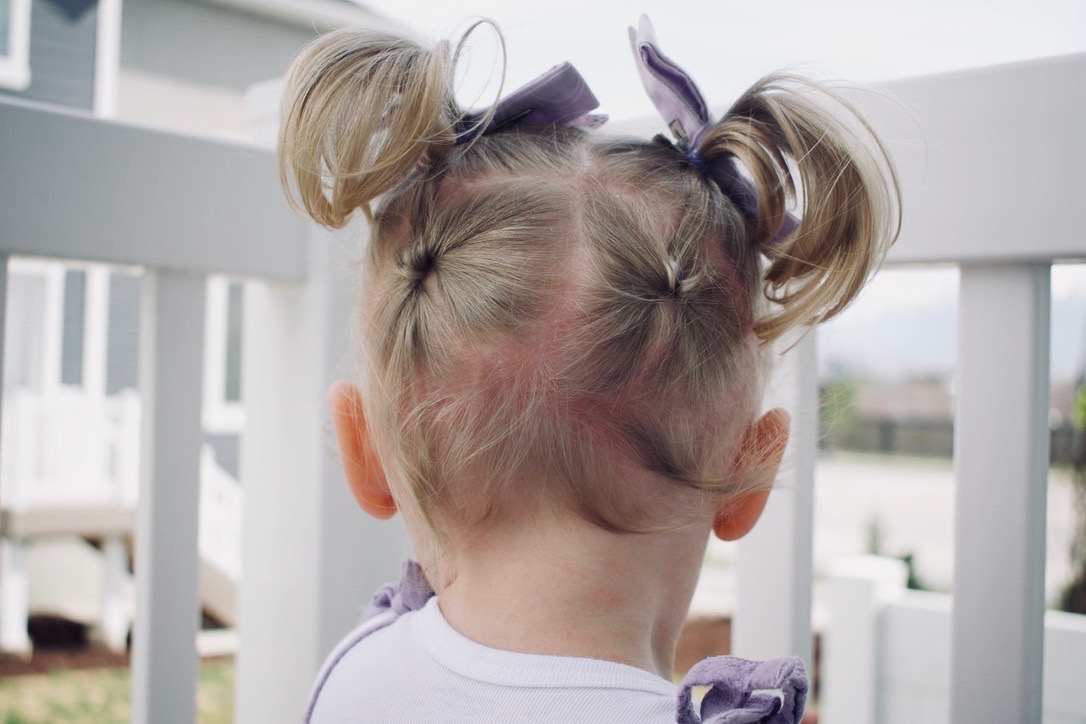 When it comes to short, fine baby hairs, the best way to create a clean hairstyle is to do it in sections! Doing the hair in sections allows you to manage the shorter hairs, and incorporate them into the entire finished look.
That's why I love using either the "tuck" or a "bubble" effect, as you can see on the top of her head in the first section of the pigtail, as well as the back of the head in the last section.
To create this look start by dividing the whole head of hair down the middle, and tie a section off for later. Working on one half of the head divide that half into three equal sections from the forehead to neck.
Tie off the front section and flip the tied hair over and under itself, so the tied off hair is now facing you. Pull it tight, and tie it together with all of the hair from the middle section using a new elastic.
Repeat the first step with the last section by creating a tuck. Flip it under itself, pull tight, and using a new elastic tie it together with the front and middle section to create a pigtail.
Repeat on the other side and top it off with a cute set of bows!
#2 – Half-Up, Half-Down Pigtails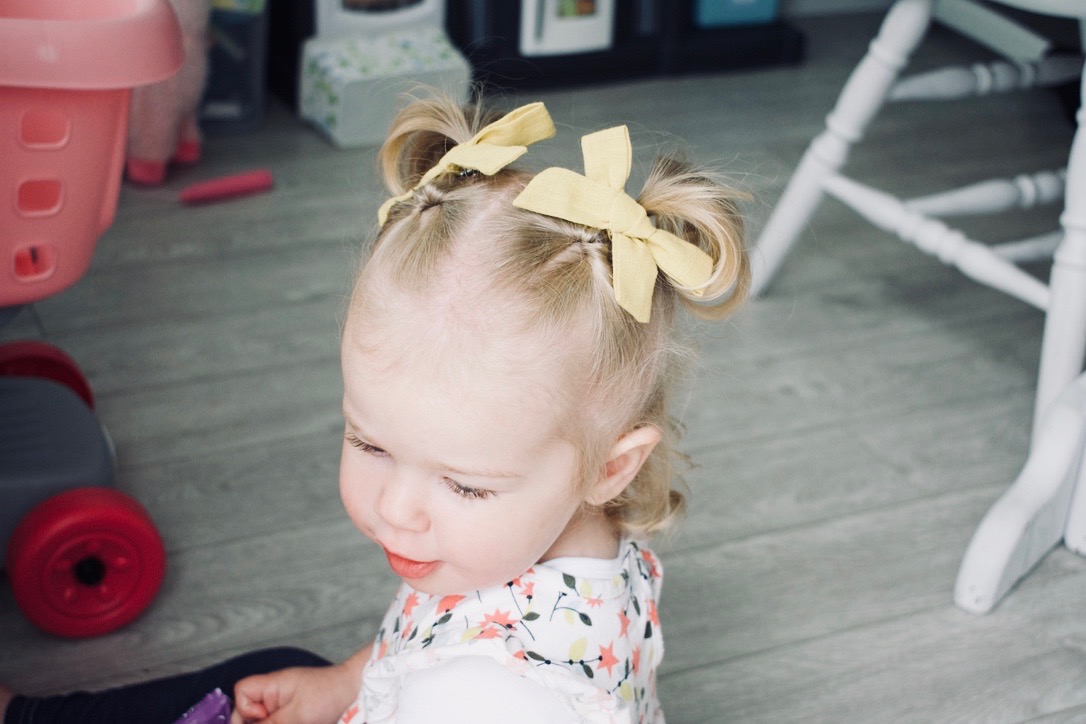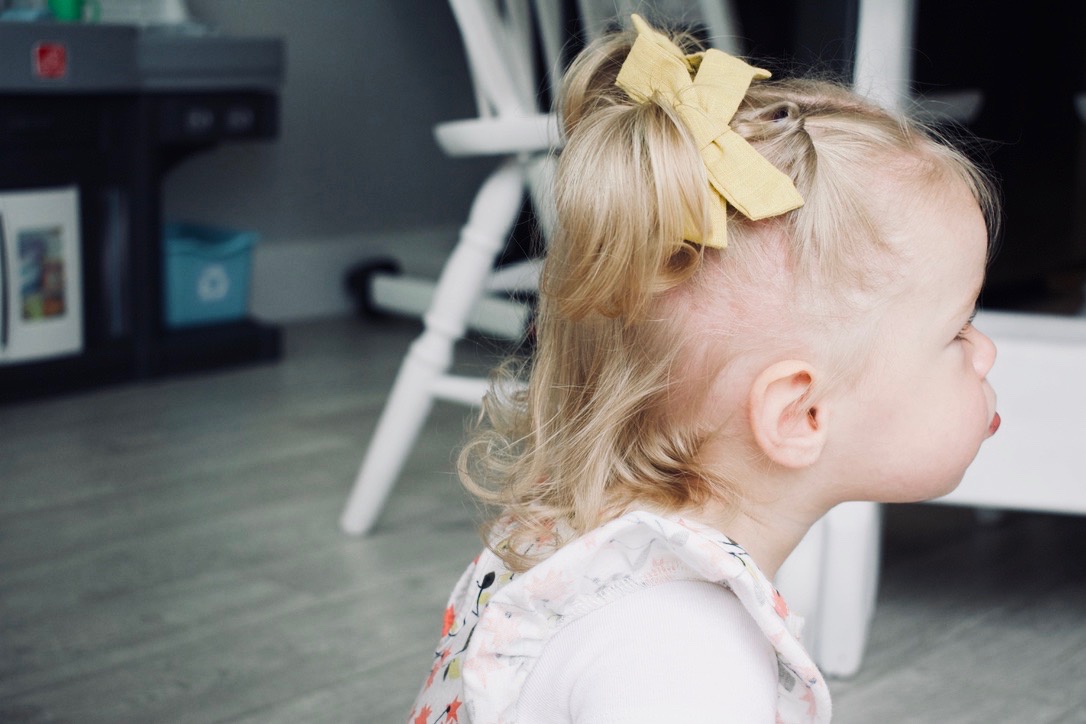 This hairstyle is a slightly easier version of the previous pigtail hairstyle. Easier, in the sense that there s one less step.
Instead of finishing the pigtails and tying off all the excess hair in the third section towards the neck,  just leave it down and comb through it for a cute half-up, half-down look.
#3 – Half Pony With A Tuck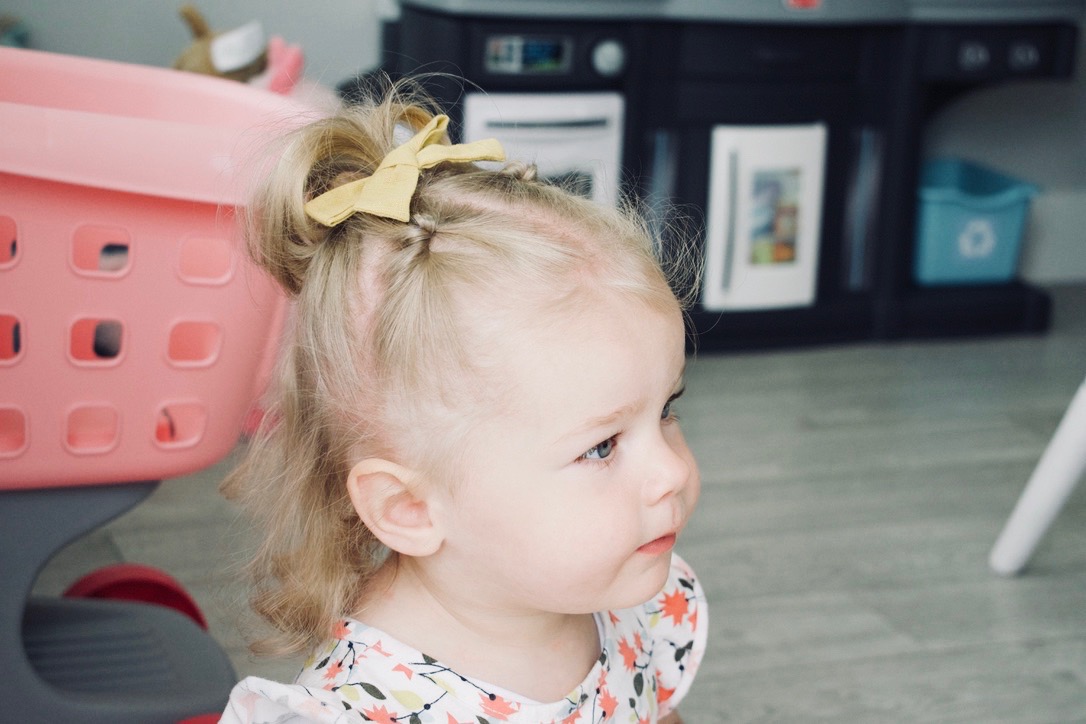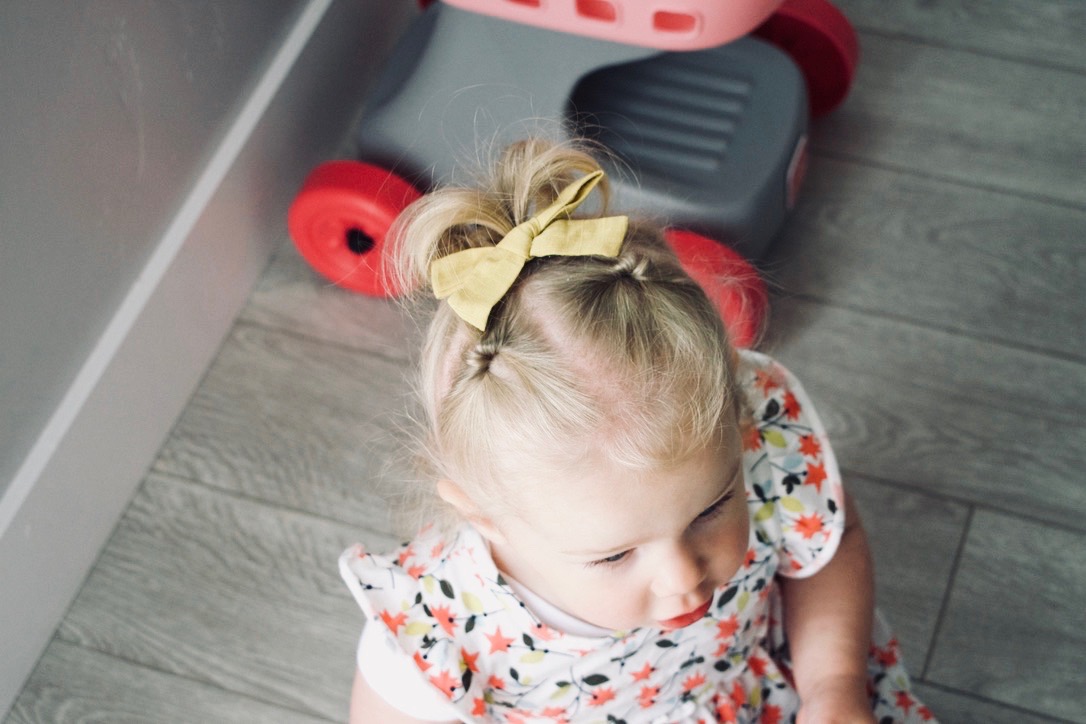 For this hairstyle, I started with two sections on either side of the top part of her head with a line straight down the middle dividing the two. I then tied off each section and did a "tuck."
Once the tucks were done, I brought both of those tied off sections together, along with more hair from the middle of her head (remember to leave the bottom section of hair out for this style) and tied it off with another elastic, creating a half-up, half-down effect, however, this hairstyle boasts a perky ponytail, rather than two separate pigtails.
#4 – Bubbled Side Pony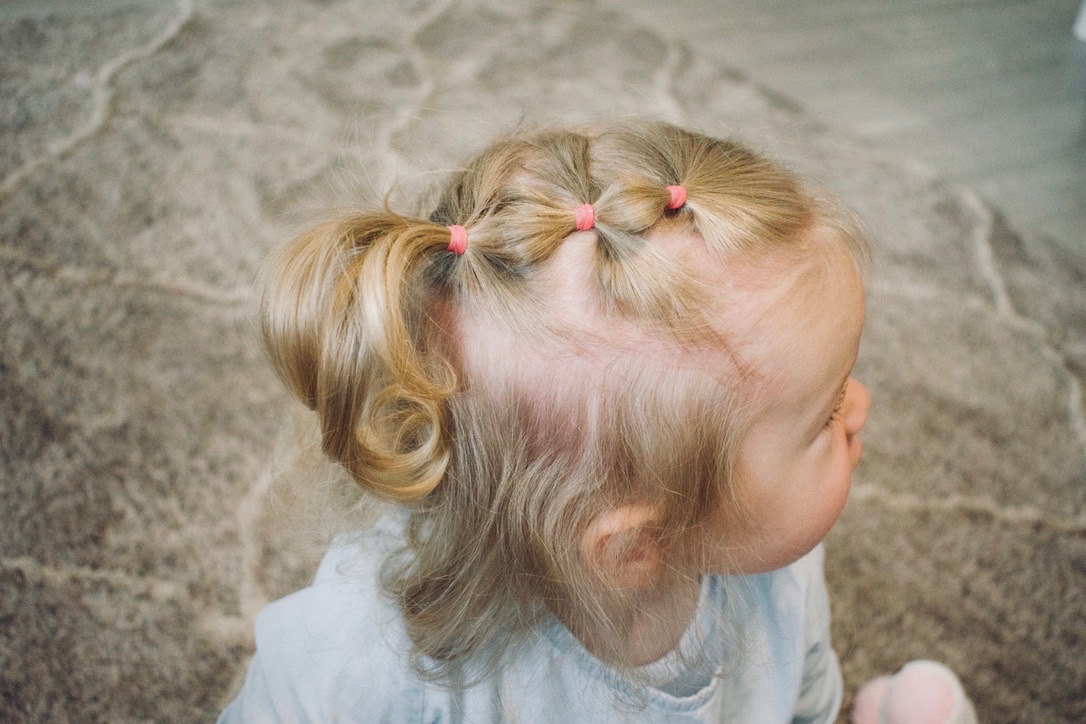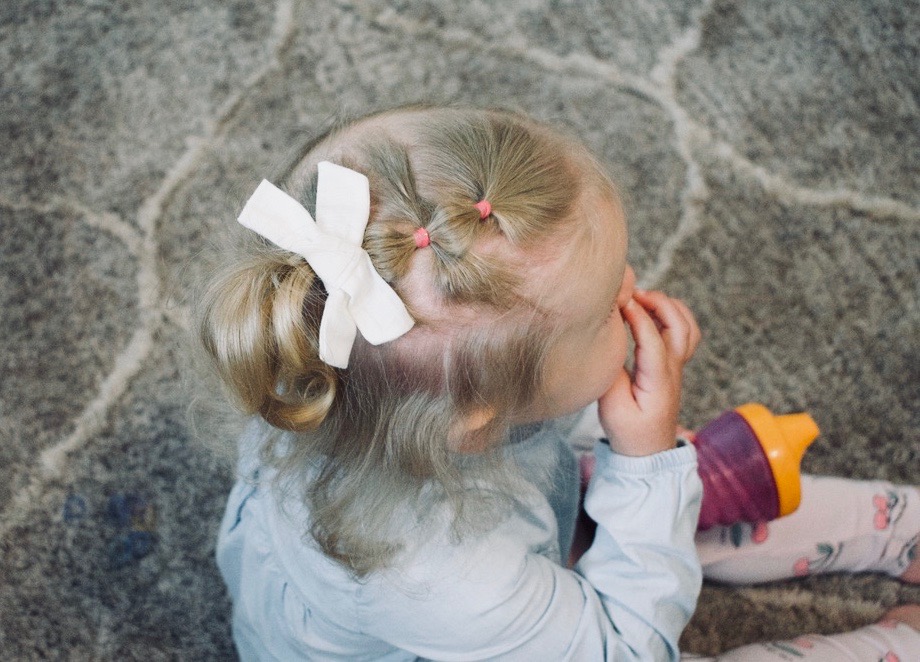 This hairstyle is pretty self-explanatory. Using a side part, pull all the hair on the top of the head to one side.
Now, section it off, tying off each section with an elastic. Once all the sections are tied off, using your fingers, pull the middle of each section apart to create a nice bubbled effect.
#5 – Low Pigtails With A Tuck
This hairstyle is very similar to the high pigtails with a tuck, however, it utilizes both the "tuck" effect as well as the same method we used for the bubbled effect. Start by dividing the hair down the middle.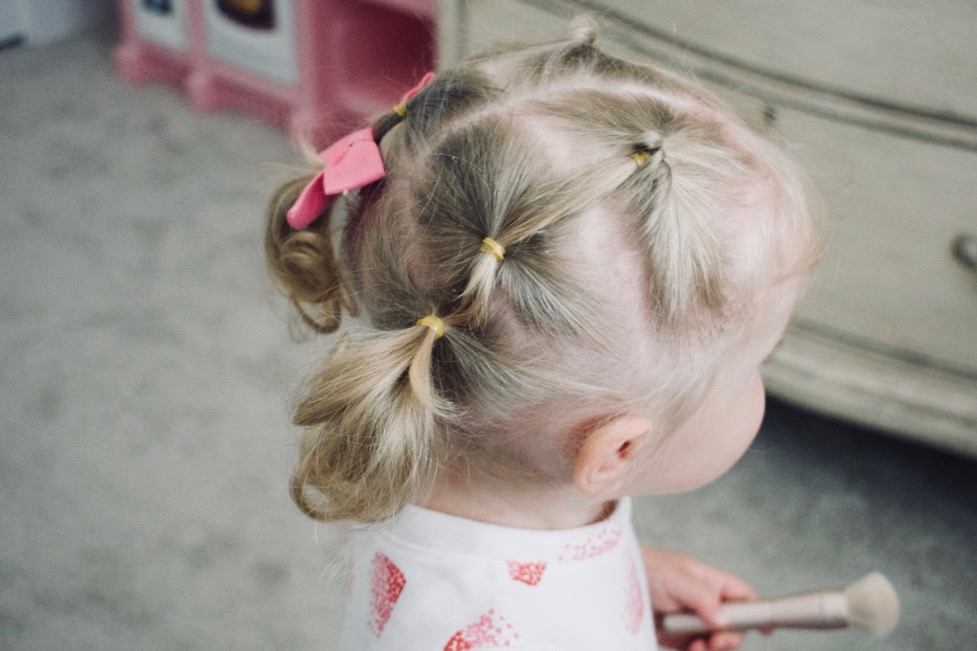 Now working on one half of the head at a time, section the hair into three equal parts. Once the first section is tied off, create a tuck, and pull the hair through. Using the hair you pulled through the tuck, as well as all the hair in the second section, tie that off.
Now pull up all of the emailing hair from the third section ad tie that off. Repeat on the other side and finish with a cute set of bows!
Beautiful Hair In 5 Minutes Or Less!
And that's a wrap! See mommas, doing your toddler's hair can be easy, even with stubborn baby hairs!
With these five easy hairstyles for toddler girls, your little one will look done up and cuter than ever, in less than 5 minutes!
These hairstyles are so simple, and the best part is they last all day! Even with all the roughhousing, messy mealtimes, and windblown park days, your toddler goes through.
I Want To Hear From You!
Mommas! Did you find this helpful? I hope you were able to find some inspiration with these hairstyles for toddlers. If you have any questions or personal insight, I would love to hear it in the comments section below!
XOXO