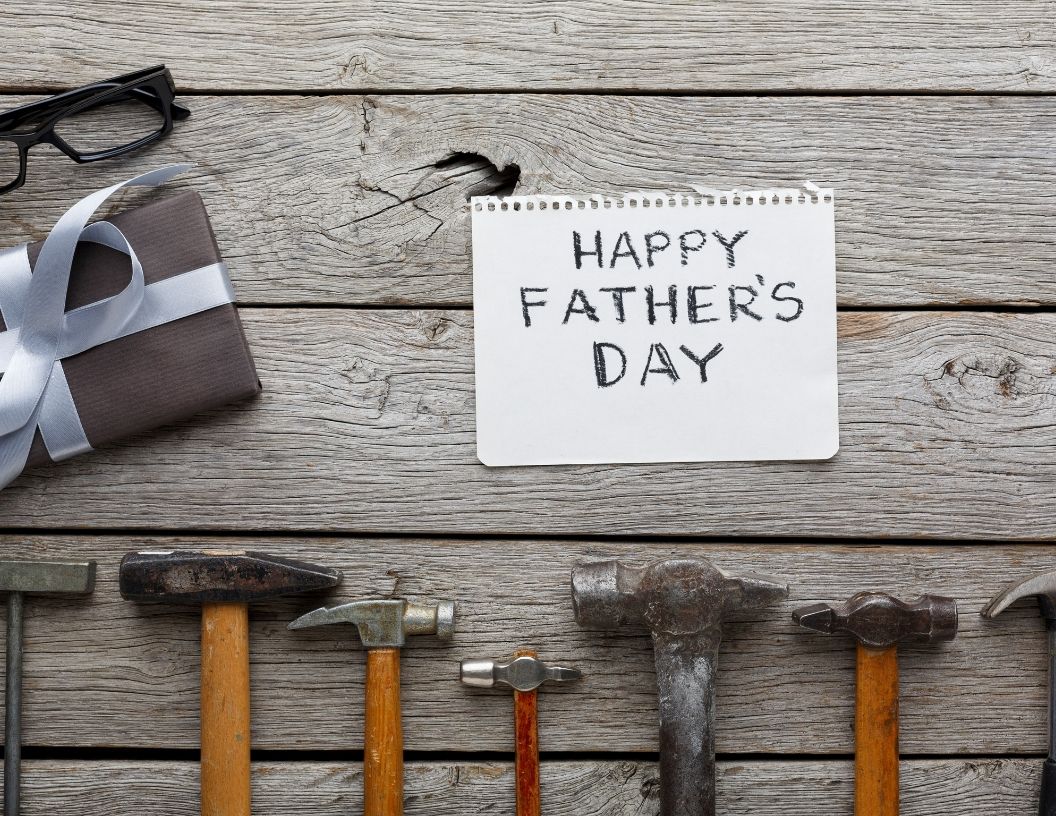 Father's Day Gift Ideas – 8 Personal Gifts For Dad
Alright, mommas, it's that time of year again, Father's Day is just around the corner! It's a day dedicated to our amazing father's, a much-needed and well-deserved holiday, but sometimes, it can also be a problematic one.
Ladies, I don't know about you, but my husband is literally the hardest man to shop for because if he needs something, he just goes out and gets it!
So, if your man's like this, or you just simply have no clue what to get for him, keep reading. I have compiled the ultimate list of personal gifts for dad. You can't go wrong with a unique gift, that's customized specifically for your dad or your man. Nothing says "I love and appreciate you" more than some personalization, am I right?
So without further ado, let's get into it!
This post may contain affiliate links, which means I may receive a small commission through purchases made on my site. This is at no extra cost to you, it simply keeps my site up & running. Click here to read more about this is my affiliate disclosure.
#1 – Engraved Leather Wallet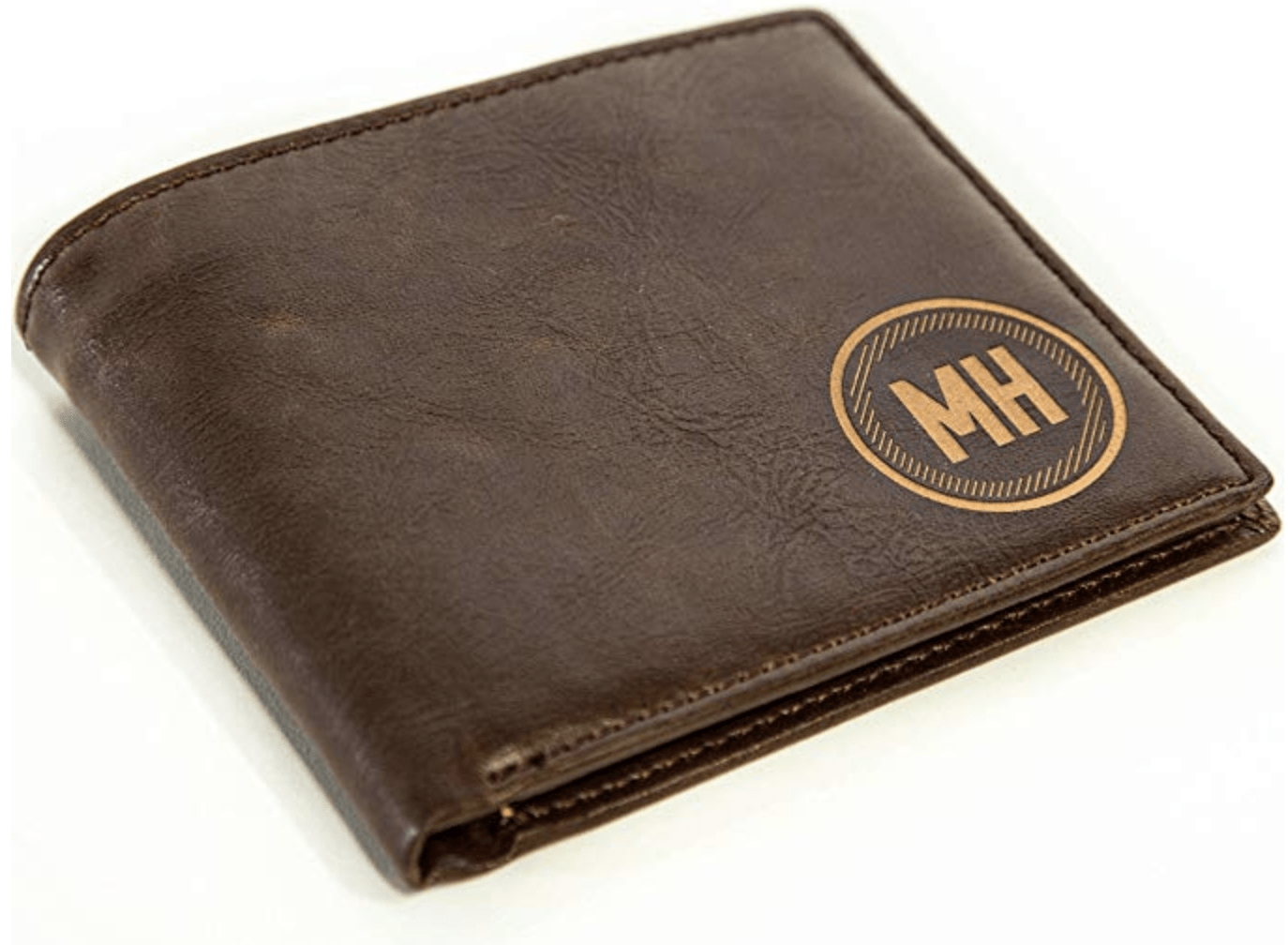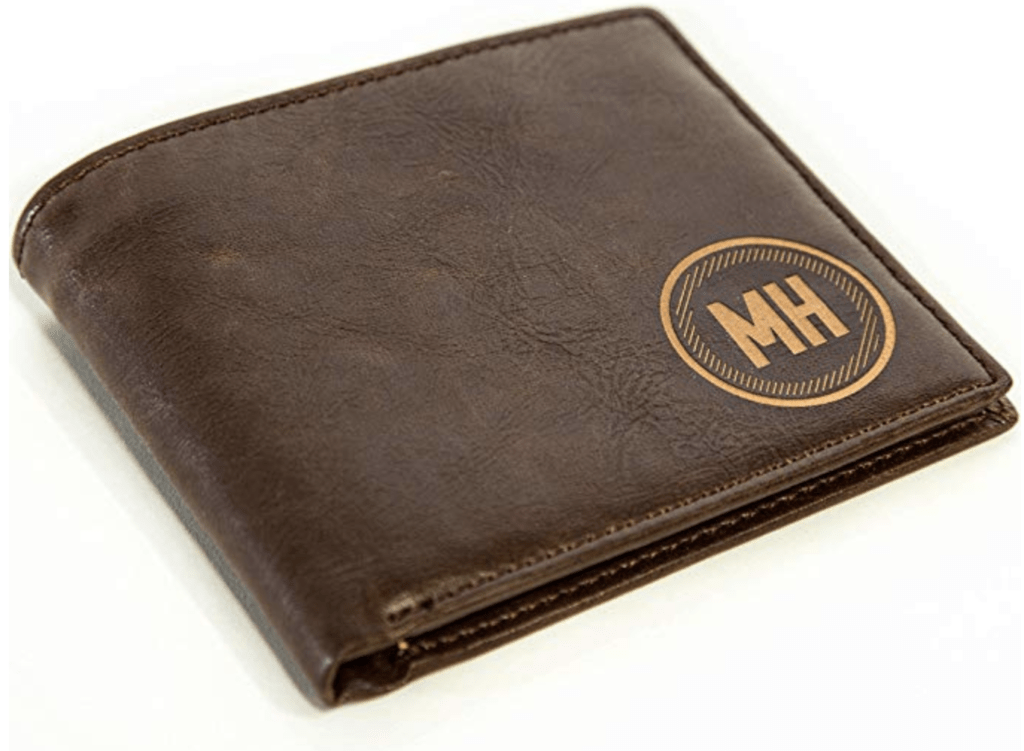 Has your dad or husband been carrying around the same wallet for 15 years? This was the case for my dad, and it was definitely time for an upgrade, I knew I wanted to get him a new wallet, but I wanted to add a little personal touch to it.
This is a timeless gift that you just can't go wrong getting any dad. I got one of these for my dad last Christmas with his initials engraved and he loves it! I would recommend this gift 10 times out of 10. The fact that its real leather means it will last and wear very nicely.
#2 – Engraved Tools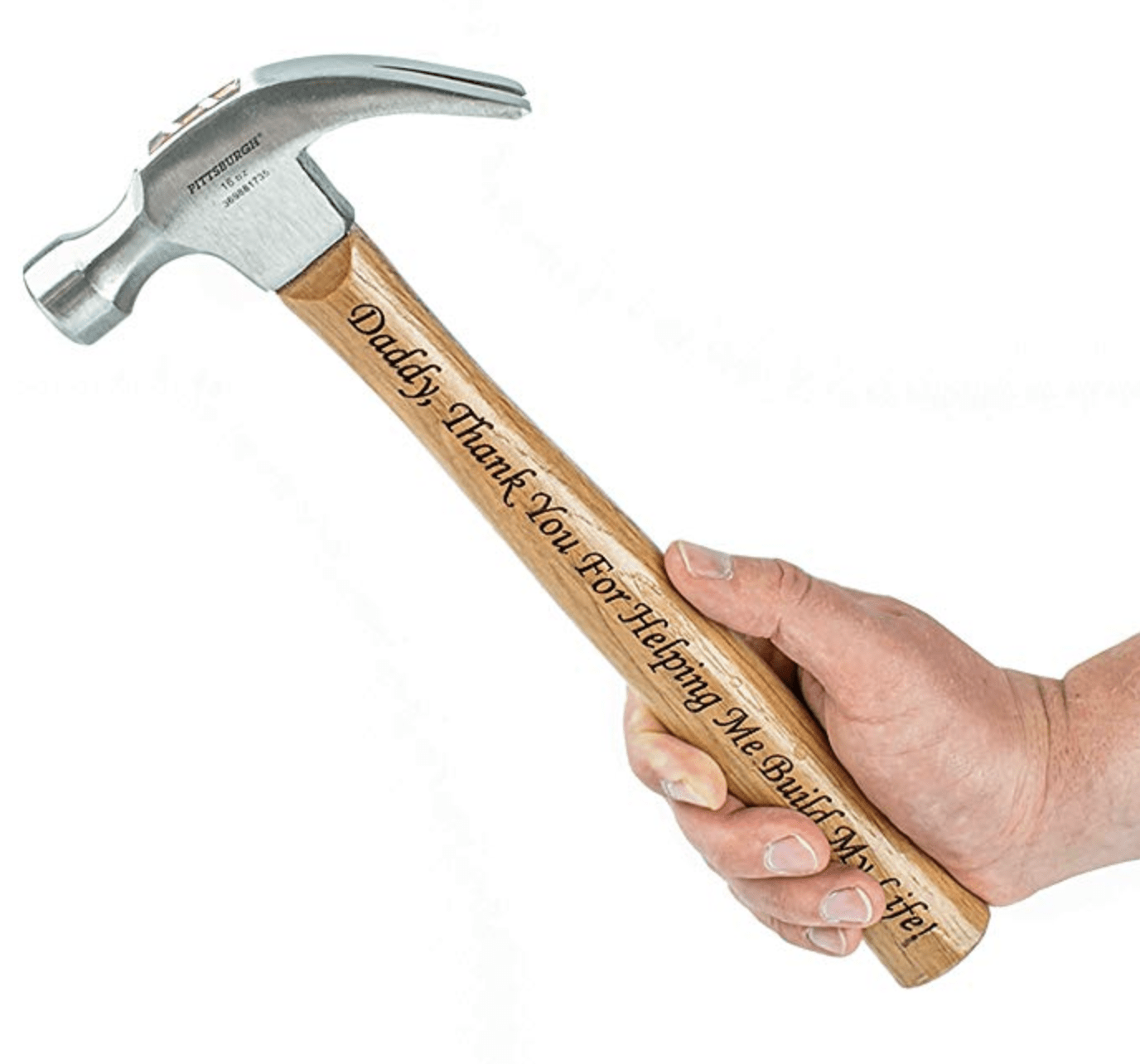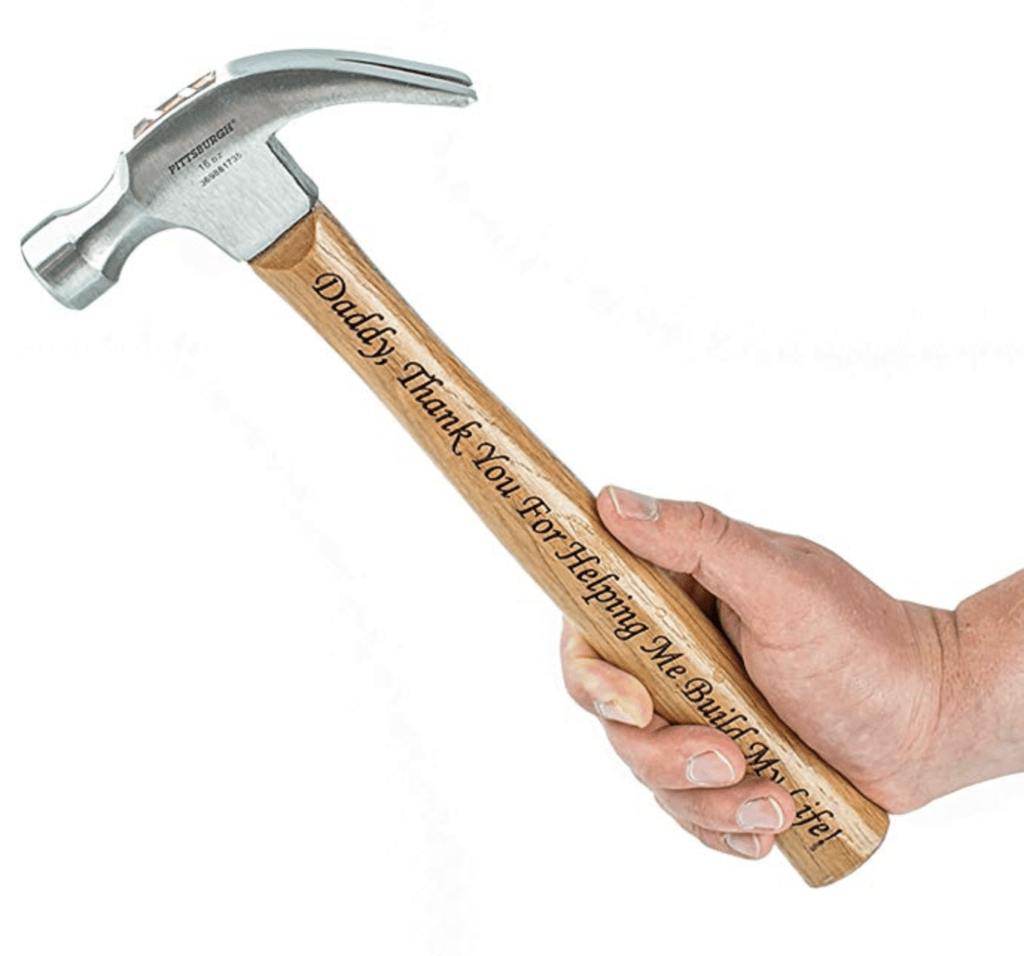 When I think of my dad, I think of tools. And when I think of tools, I think of my dad. They're kind of one of those combinations that just go hand-in-hand, like peanut butter and jelly.
That being said, what better gift to get your dad than a new set of tools, or even just a tool, (like a hammer) but with a personal touch added to it? Upon checkout, you have the option to choose from 6 different engravings. Or there is another option to write your own note or saying from scratch. Click here for that option.
To me, this gift seems perfect. It's both useful and a keepsake with a personalized note engraved on the handle. Labeled as an Amazon Best Seller, you can't go wrong with this personal gift for dad.
#3 – Engraved Watch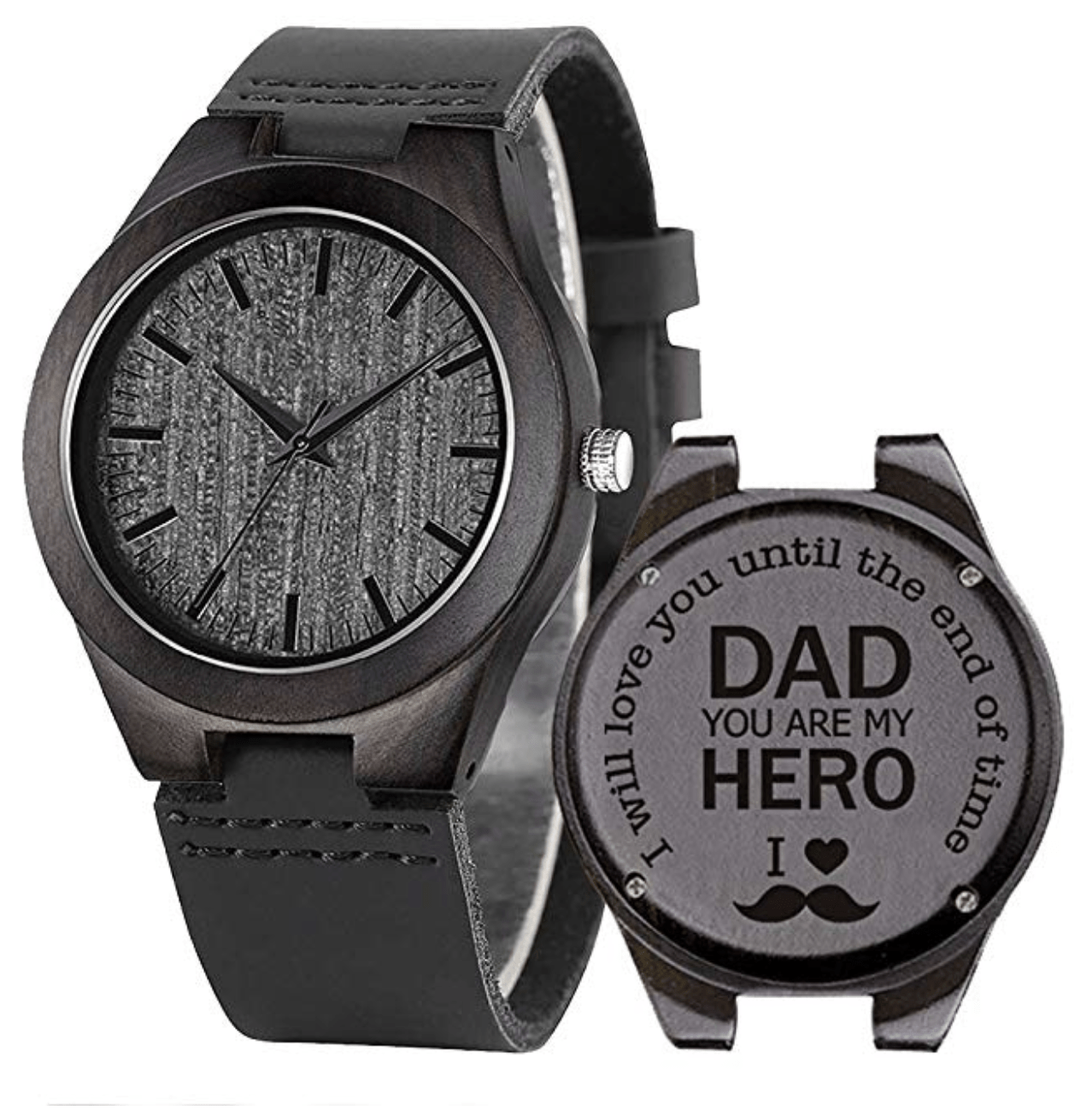 My husband loves watches. So, my go-to gift for him is a watch. In fact, that was his birthday present this year. I wish I had known about this gift then because I could have made it even more personal.
These watches have the option to write a little note, that will be engraved on the back of the watch face. You can choose from templates, or you can completely customize and write your own note or saying.
You also have the option to choose your watch face color as well as your wrist band color. So, basically, everything on this watch comes with options. Doesn't get much more personal than that!
I love this idea because it means he can wear his watch all day knowing that there's a little love note engraved on the back that no one else can see. Only we will know it's there.
This watch is a great option for any trendy dads or husbands out there!
#4 – Engraved Custom Organizer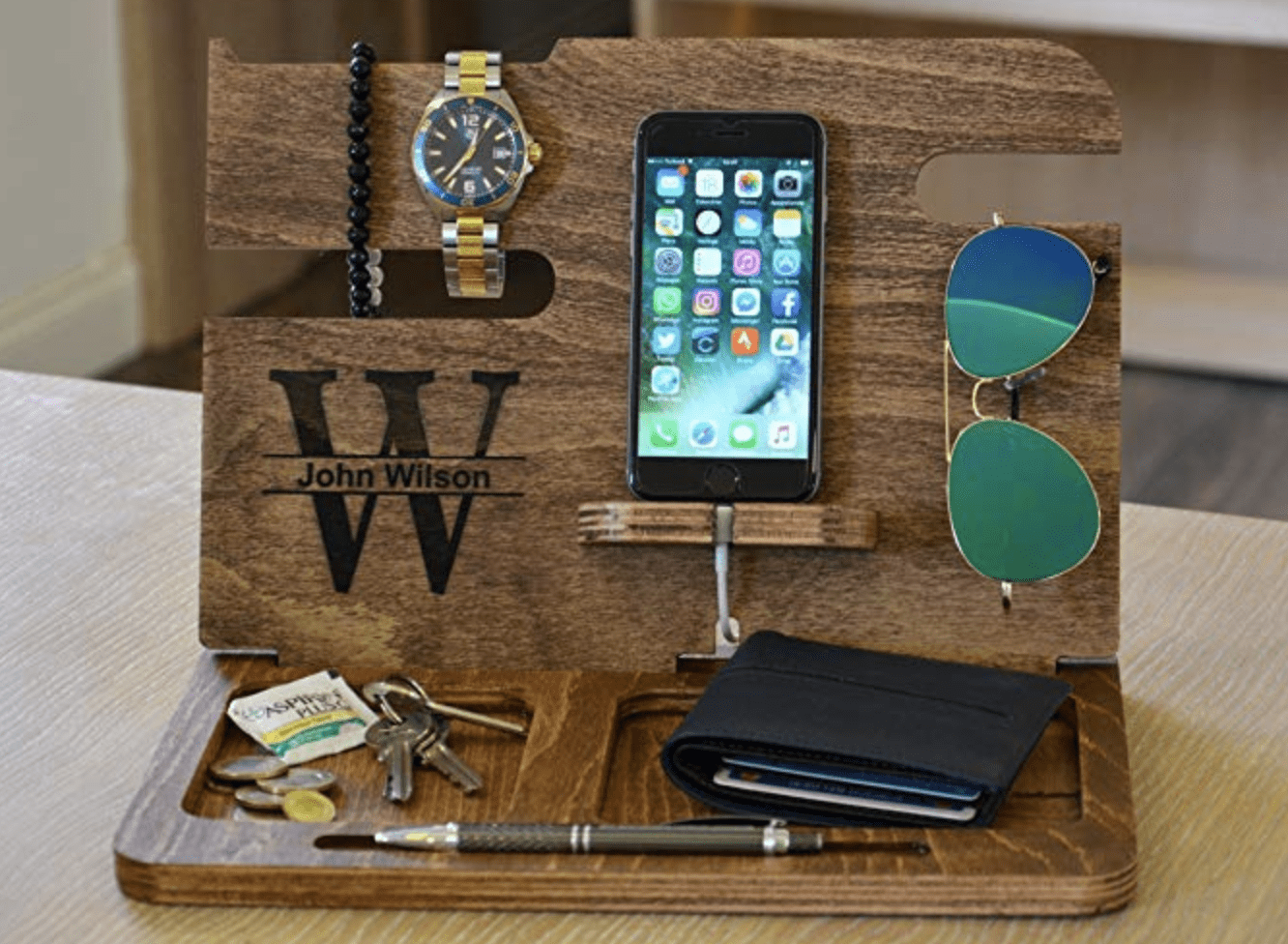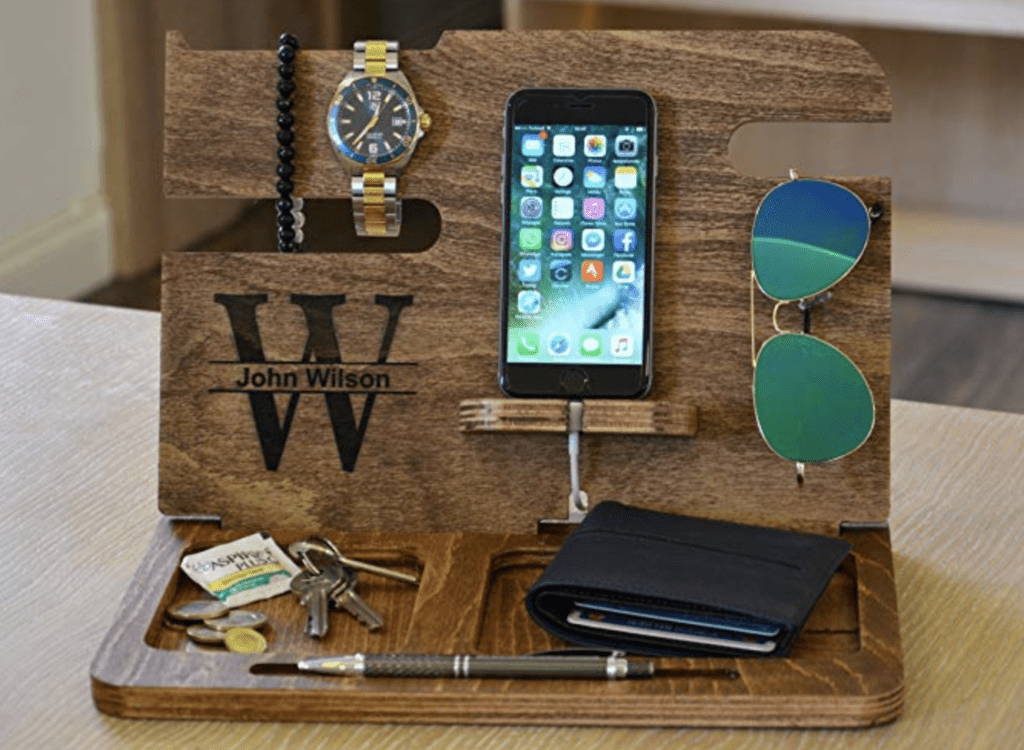 This gift is great for any guy, because let's be honest, most of them need a little help in the organization department. I actually got this gift for my father-in-law this Christmas and it was a huge hit!
The text is customizable and you can choose from 7 different types of woods. On top of wood options, there are also design and font options where you can choose how the custom display will look on your personalized organizer. There is also a slot for a phone charger, wallet, keys, loose change, and any other small trinkets dad might need to stow somewhere.
With this organizer, he has enough room for everything he would otherwise set on the counter. My mother-in-law especially loved this gift because it helps keep things clean and in one collective space.
This gift is one that any dad (and their wife) will be sure to love!
#5 – Personalized BBQ Grill Set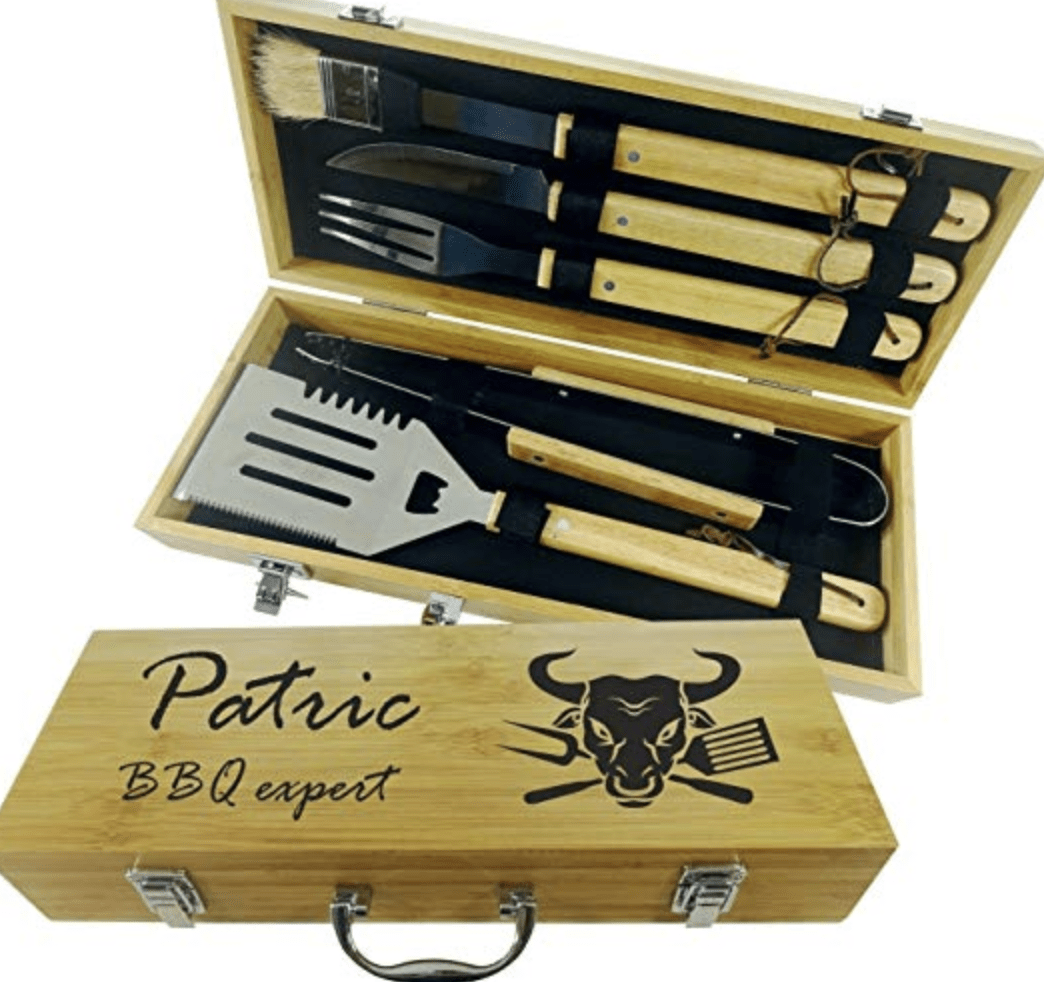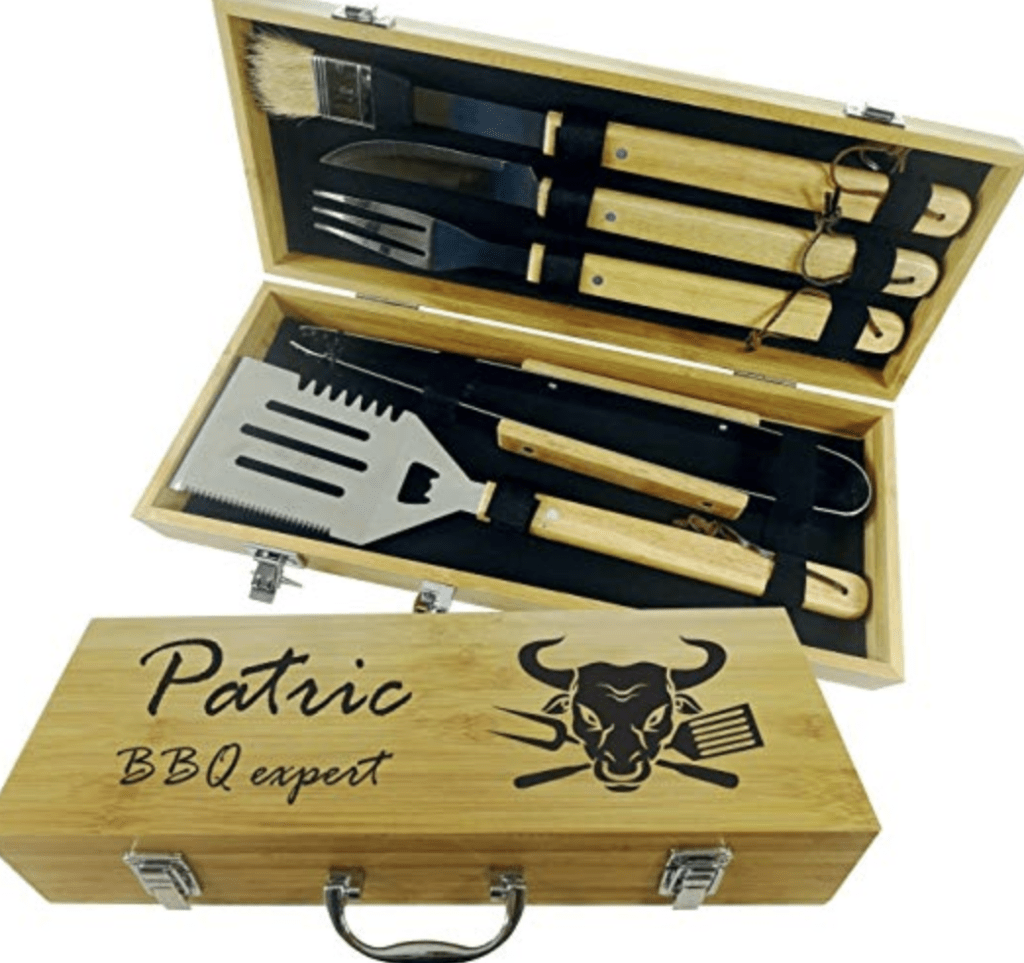 It's safe to say a lot of dads like to BBQ, it's just a manly thing to do. So why not get them a customized BBQ grill set?
This last Christmas, my husband and I debated between getting this for his dad, or the custom organizer. We were so torn because his dad loves to grill and smoke meat, so this gift would have been perfect!
We ultimately decided to go with the organizer, because at the time it was more fitting. It was winter, so the snow kept him from grilling outside as much. But, now that it's June and BBQ season is here, this is the perfect Father's day gift, and it comes with a personal touch of course.
This BBQ grill set comes with:
A solid bamboo case with engraving options
Spatula
BBQ Fork
Tongs
Basting Brush
This is the ultimate gift for any barbecuing dads out there.
#6 – Customized Thermal Tumbler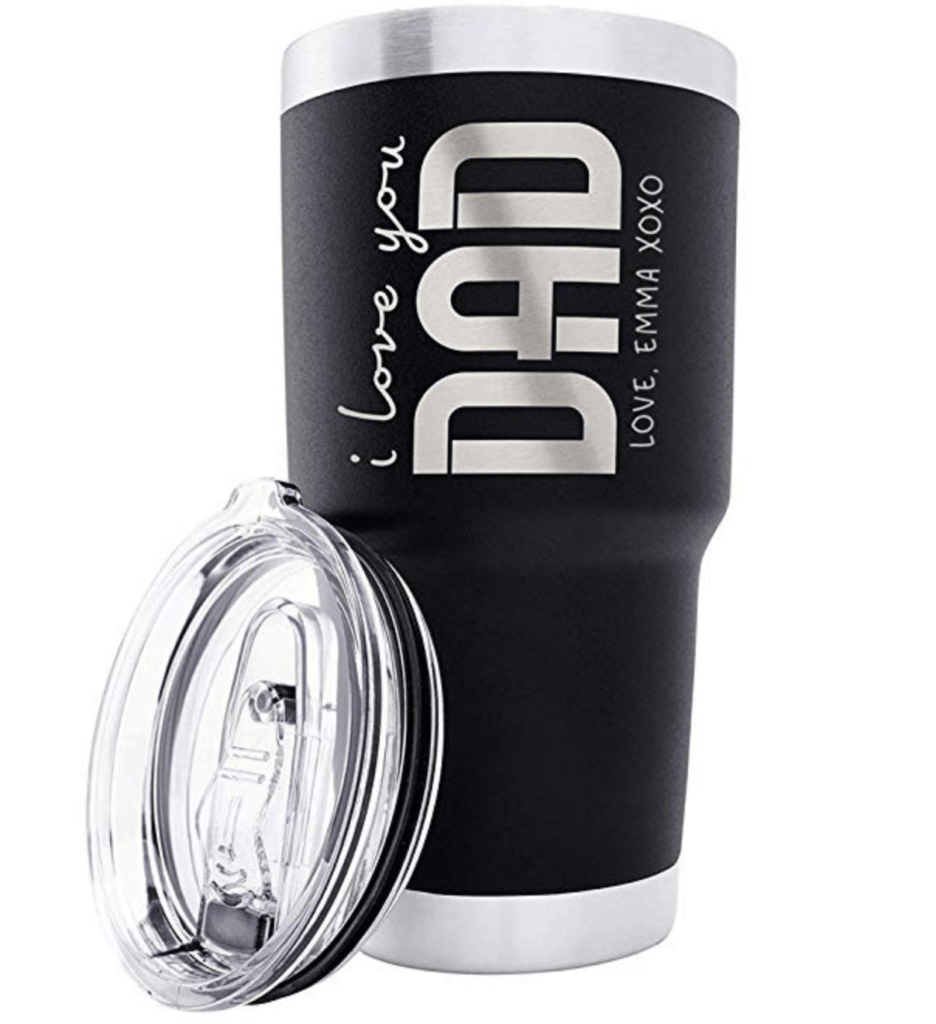 I love the gift idea of a thermal tumbler and to personalize it? Even better. My dad takes his thermal cup everywhere and so does my husband. It's the perfect gift, because we all know, dads love their drinks.
This 30 oz. thermal tumbler comes with so many options including font and color choices and even the option to add a reusable metal straw (the straw does cost a little extra).
Get your dad a customized thermal tumbler for these upcoming summer months to keep his drink cool, and he will love it forever!
#7 – Fart Candle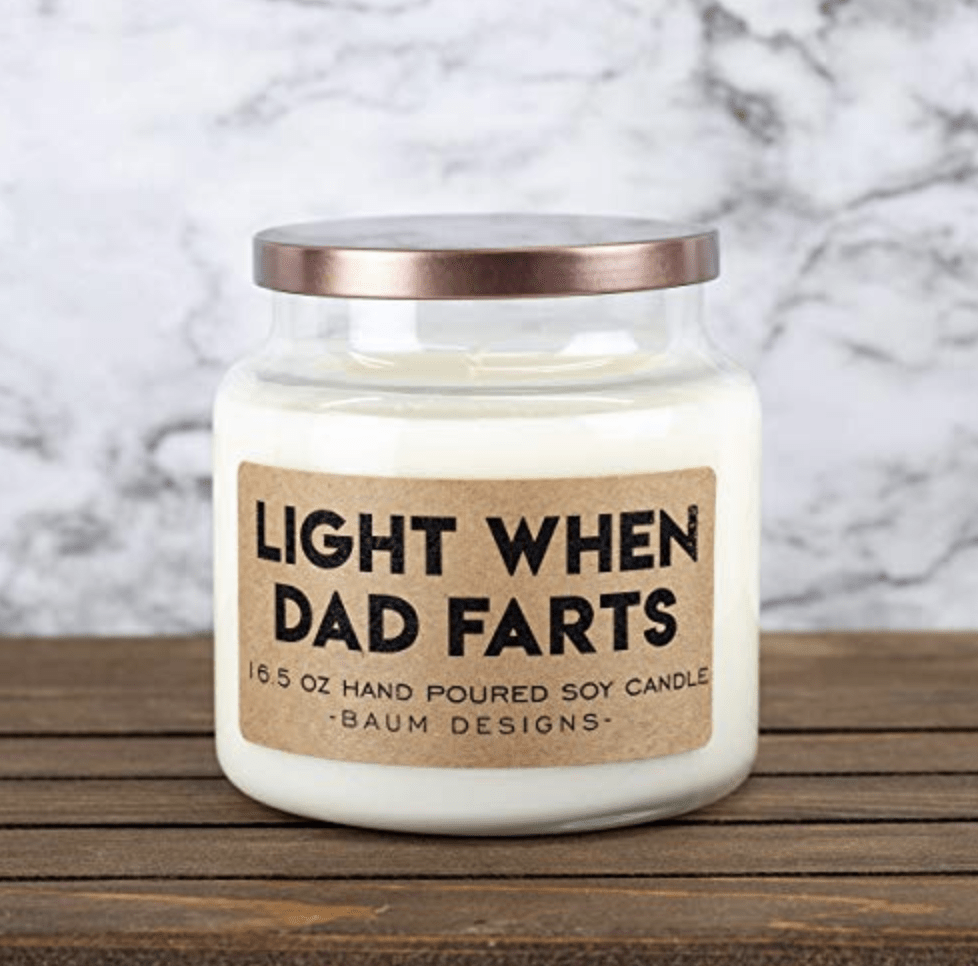 This one made me laugh. It may be a little too personal but this candle is perfect for any man and it's sure to make him laugh!
The candle itself comes with a choice between 8 different scents and the label on the outside simply reads "Light when dad farts."
This is not as sentimental as the other gifts on this list. It's more of a gag gift, but like I said, it's sure to make him laugh.
#8 – Engraved Pocket Knife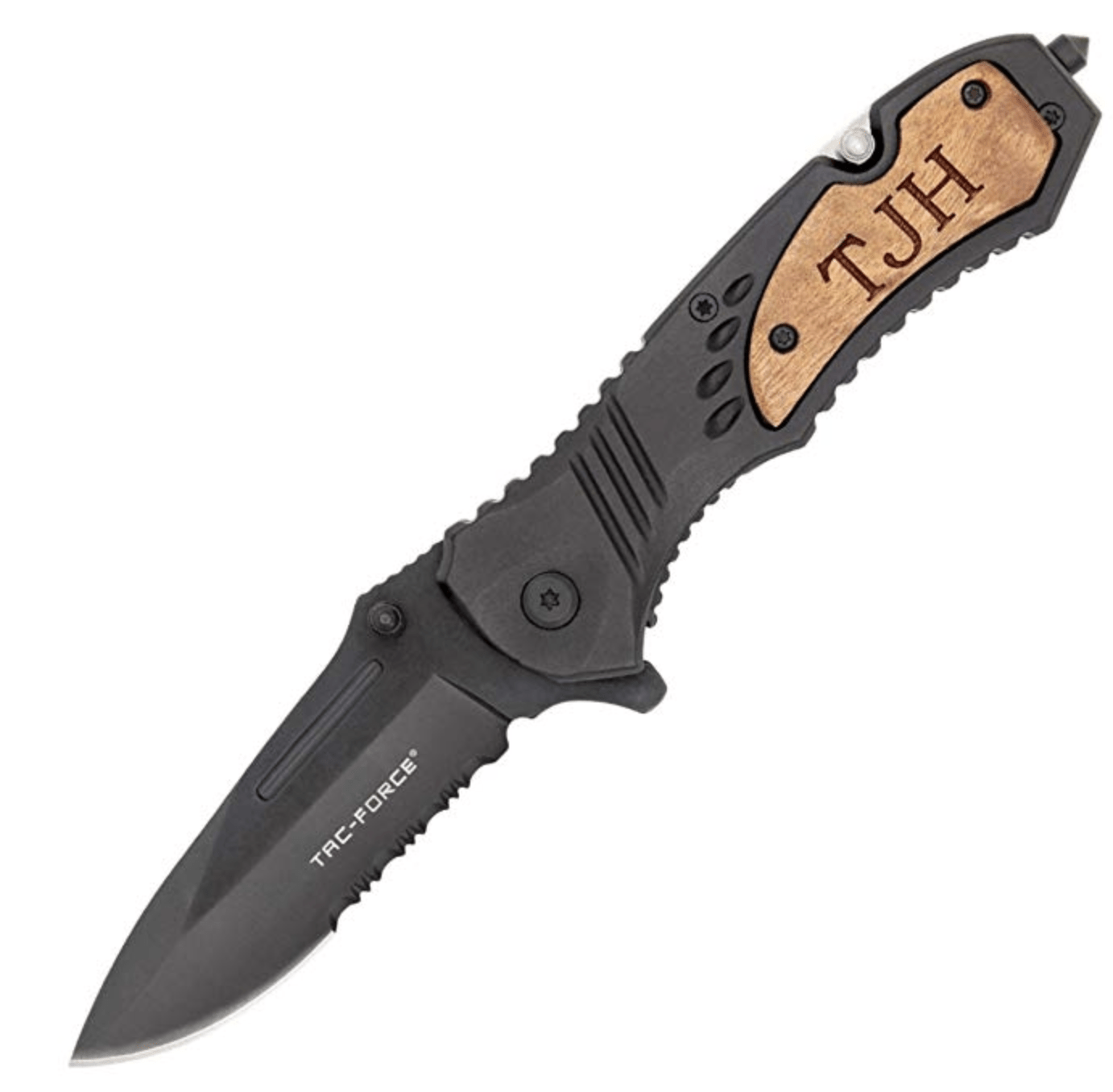 Do you have a dad in your life that's a man's man? Well, this is the gift for him! I love the idea of my husband having a pocket knife, simply for safety reasons. So I loved this gift idea!
I mean, why didn't I think of this? Every dad can use a pocket knife, it's simple and inexpensive, yet still personal. It's perfect!
Rated as an Amazon Best Seller, this knife is the perfect gift for any dad! You can engrave it with whatever you want it to say. You could engrave a little note, or you could engrave their initials. That's the beauty of these personal gifts for dad, they can be whatever you want them to be.
Just For Dad
Everyone knows a father in their life that goes above and beyond for his family. Make this a day for him to remember and show him how much you love and appreciate all he does with a personal gift. Nothing shows that you care, like a custom gift with a personalized touch.
Thanks for reading! Did you find these gift ideas helpful? I would love to hear from you! If you have any other gift ideas that didn't make it on this list, please leave them in the comments below.
XOXO