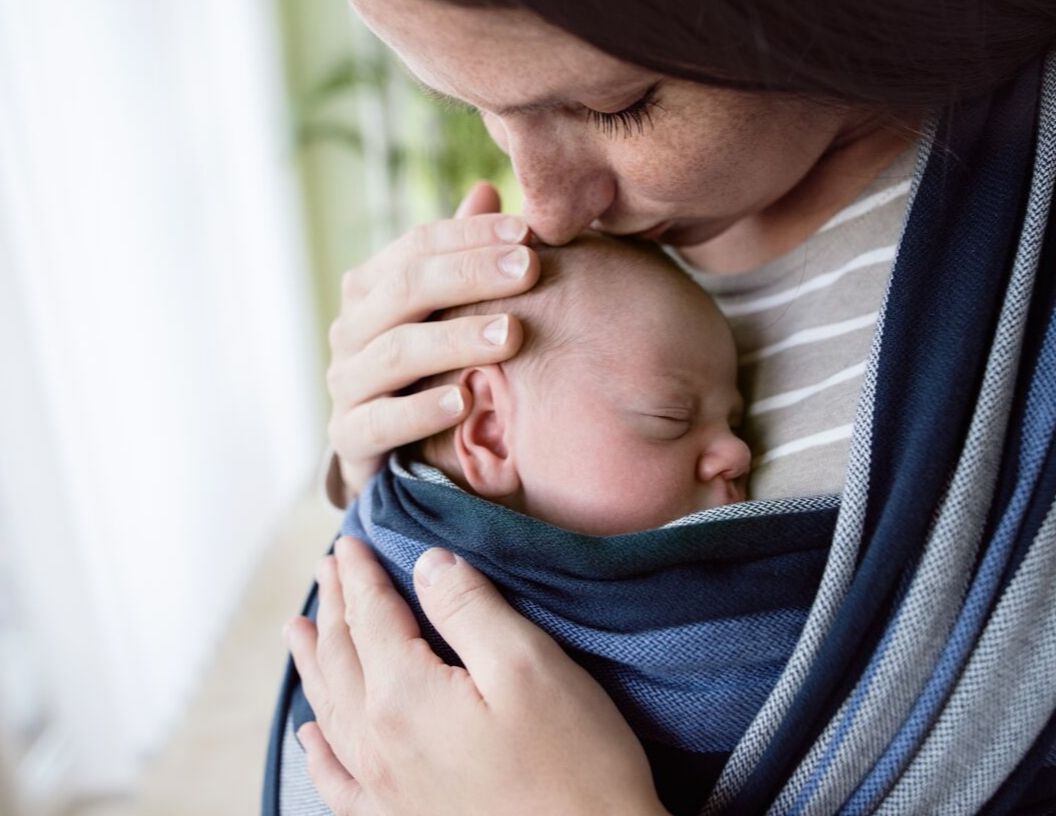 Boppy ComfyFit Carrier Review – What You Need To Know Before Buying
With a little one on the way, it's probably got you thinking about what life will be like once they're here. While envisioning your life with your new little one, an important thing you may want to consider is how you want to transport your baby.
Meaning, do you want to lug your baby around in their heavy car seat wherever you go? Do you want to deal with a big awkward stroller when navigating crowds? Or do you want to wear your baby in a carrier?
If you're reading this post, it's likely you've chosen the latter method of carrying your baby. So, if this is the case, you still have one more decision to make and that decision is which carrier will best fit your needs.
As a new mom, I chose to carry my baby in the Boppy ComfyFit carrier. Let me just say nicely, I regret this decision. Keep reading to find out why I would not recommend this carrier to new moms, or any moms for that matter.
On A Scale Of 1 to 10….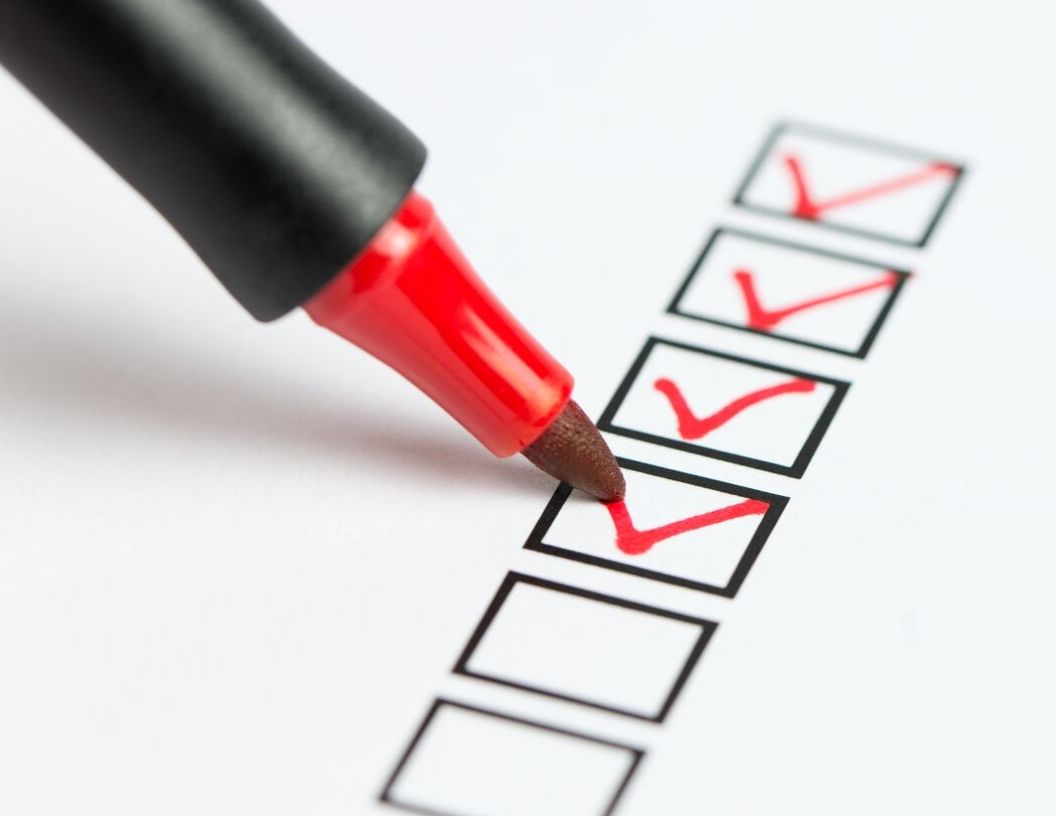 So first things first, to keep things fair, I have come up with a list of the main deciding factors that go into buying a baby carrier. It breaks down to 4 things:
Usefulness & Longevity– How useful is this carrier? Meaning, how long can you use it and how well does it work with positioning your baby?
Comfort – How comfortable is this carrier? Does it pull on your neck, back or shoulders? Is it ever painful to wear?
Durability – Is the carrier made up of good quality material and can it be machine washed?
Value & Innovation – Do you believe this carrier is fairly priced? Would you buy it again or recommend it? How well is it designed?
This post may contain affiliate links, which means I may receive a small commission through purchases made on my site. This is at no extra cost to you, it simply keeps my site up & running. Click here to read more about this is my affiliate disclosure.
How The Boppy ComfyFit Carrier Rates – My Review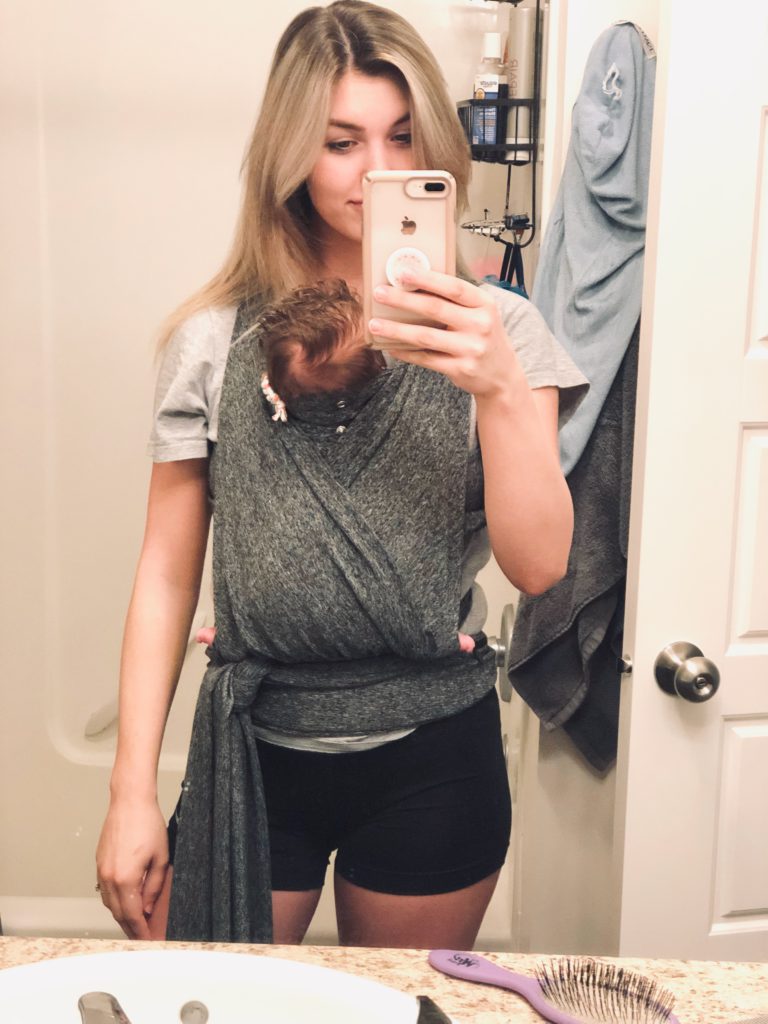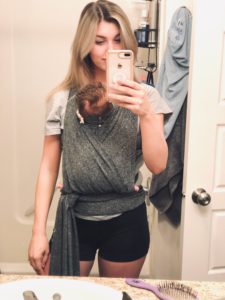 Usefulness – 3/10. In terms of how useful this carrier is, I give it a 3 out of 10 because although it has potential, you cannot use this carrier for a long time. This carrier provides little support for heavier babies. The spandex material that it is made of gives no support to your shoulders, and therefore it becomes painful with a heavier baby, meaning you can't use it for very long.
Comfort – 1/10. I give this carrier a 1 out of 10 when it comes to comfort. Harsh, I know. But if I'm being honest, it's the most painful carrier I have ever worn. I first bought this carrier because of the unique design combining wrap and carrier techniques. While the hip belt and buckles give great support and are, in fact, comfortable, I found that the stretch spandex gives no support to my shoulders, back or neck. Not only did this cause my daughter to sag, but this caused me to have severe neck and shoulder pain any time during and after I had carried my baby (even when she was an 8 lb newborn!)
Durability – 10/10. I would give this carrier a 10 out of 10 on durability. The material is good quality and the spandex is soft and stretchy almost like yoga pants. It is machine washable, so it can easily be kept clean. This material can definitely withstand spit up, poopy blowouts and everything else that comes with a baby.
Value & Innovation – 6/10. 5 points of this score go to innovation. The initial design of this carrier was what ultimately lured me into buying it. I thought the combination of the hip belt (like a carrier) and the stretchy shoulder straps (like a wrap) were an ingenious combination. Unfortunately, I rate the value with 1 point because it's overpriced for how uncomfortable it is. I would not buy this carrier again and I would not recommend it to other mommas.
Boppy ComfyFit Falls Short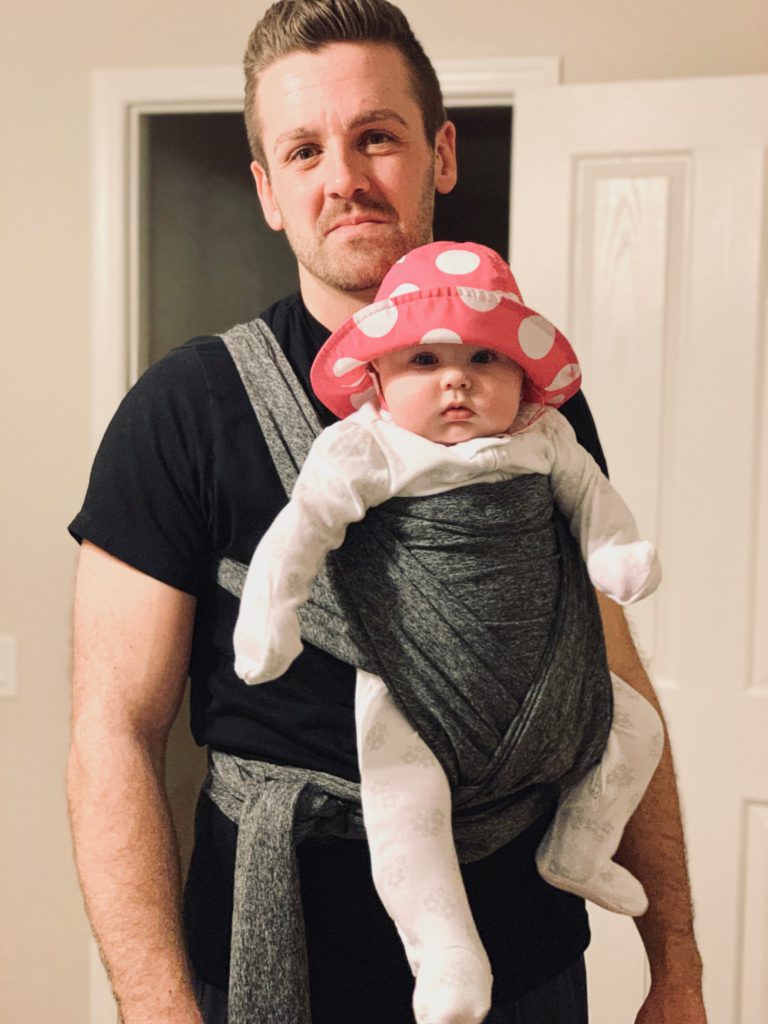 So as you can see, I was rather unimpressed with this carrier. I was mostly disappointed with the comfort factor because I wasn't able to wear it for long periods of time and by the time my daughter was 3 months old, I couldn't wear it at all. The lack of support made it too painful to wear once Hayvn reached a certain weight.
Another complaint I had was that my husband couldn't wear this wrap. Okay, I guess he technically could, but it was very uncomfortable, the shoulder straps are not made to fit a wider stature, so most men will feel uncomfortable wearing this wrap. I would much rather have an adjustable wrap so that my husband and I could both take turns wearing our daughter. This wrap did not allow us to do that.
What I Wish I Bought
For me, hindsight is 20/20. Looking back now, I should have never bought the Boppy ComfyFit carrier, but don't worry mommas! Not all hope is lost. Just because this carrier wasn't all it was cracked up to be, learn from my mistake and do not buy this carrier!
Instead, look at the alternative options. Specifically, the Ergo Baby Carrier. This is by far the best baby carrier on the market when it comes to wearing your baby, and this is the carrier I wish I would have bought instead.
With its innovative design to help keep your baby's posture and hips safely placed and comfortable, it's really worth the price. It fulfills every deciding factor that I have broken down on the scale above.
With features like these:
If you find a manufacturing or material defect, Ergobaby will replace your carrier or part at no charge.
Adjustable bucket seat supports your baby in a natural "M" position facing in or out in all carry positions as baby grows.
Newborn to Toddler: Carrier fits babies 4-36 months (12-33lbs) without an infant insert and 0-4 months (7-12lbs) with the insert (sold separately).
Wide wraparound waistband maximizes comfort especially post C-section and provides lower back support. Allows for breastfeeding.
Padded shoulder straps help evenly distribute baby's weight and adjust to fit multiple wearers (waistband 26-52″, shoulder straps 28-48").
Lightweight, durable mesh and SPF 50+ tuck away hood help keep baby cool and protected from the sun and wind.
Machine Washable.
Click here to buy the Ergobaby Carrier!
After reading this list of features, you can see why this carrier is rated the best carrier on the market for 2019. In order to get real-life ratings, I interviewed a real mom who has owned this carrier for over a year, and absolutely loves it! Keep reading to see her review.
How The Ergobaby Carrier Rates – A Real Mommas Review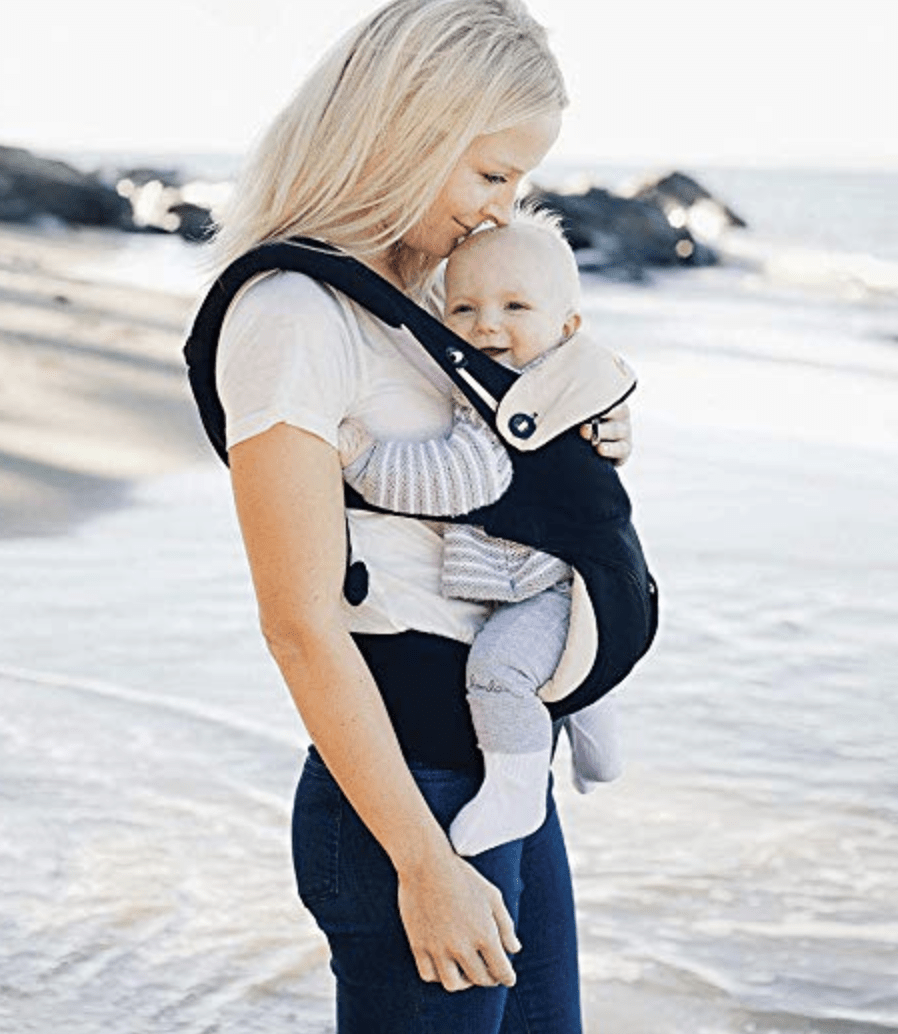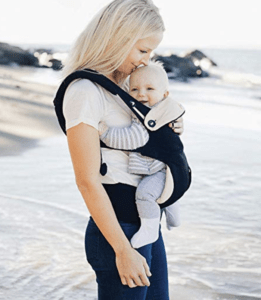 Although I personally don't own an Ergo Baby carrier, I spoke with a mom and asked her to personally rate this carrier on the same scale that I rated the Boppy ComfyFit Carrier. This mom actually happens to be my sister-in-law and she owns the Ergo Baby Carrier and she absolutely loves it!
Below are her ratings and her review in her own words, this is why she loves it. For these reasons, I will definitely be buying this carrier for my next baby.
Click here to buy the Ergobaby Carrier!
Usefulness & Longevity– 10/10. This was one of my favorite items I had for [my daughter] especially when it was cold outside or when I'd go to the grocery store. I would put her in the carrier instead of the cart. I also love that I have the ability to position how she sits in the carrier. When she was a newborn, the carrier came with an insert cushion (this is sold separately – she was given this carrier with the insert) to place under her bottom for more support, so she sat up higher. When she was bigger, the cushion was easy to remove.
Once she was older [and could support her own head] I was able to turn her around so she could face outward and look around, and now that she's even older I can put her on my back. So, I love how versatile this carrier is! The weight limit is 45 lbs, so I like that I can use this carrier for a long time.
Comfort – 10/10. This carrier has been really comfortable. There was one time that it made my shoulders sore but it turns out I didn't have it on right. Other than that, the comfort of this carrier has been great and [my husband] uses it and likes it too.
Durability – 10/10. The material is so nice and heavy. In fact, one of my students gave this carrier to me and used it with both of her babies. Now, I've used it for over a year, and it still looks brand new.
*Side note: The material is also machine-washable

Value & Innovation – 10/10. This carrier is pretty pricey and if it wouldn't have been given to me, I don't think I would have bought it in the first place. But now that I've had one and tried it, I would for sure buy it again. In fact, there is now a new edition of the Ergo Baby Carrier, that has a pocket under the baby's seat that can hold small items like keys or a phone. It's basically like an attached fanny pack, and I would love that. So, I might buy a new one for our next baby simply for that new feature.
*Side Note: In terms of innovation, this carrier is ergonomically designed (hence the name Ergobaby) to safely sit your baby in the most natural way, which ultimately lowers the risk of hip dysplasia, unlike most other baby carriers.
Overview
So as you can see, the Ergobaby carrier rates much better than the Boppy ComfyFit carrier. And, overall, the Ergobaby carrier just can't be beat.
So if you're considering buying the Boppy carrier, learn from my mistake, save yourself the money and the neck ache and don't buy this. Instead, use this rating system to explore other options.
I hope you found this review honest and helpful! Do you have a baby carrier that you love? I would love to hear about it! Please leave any suggestions or questions in the comments below!
XOXO