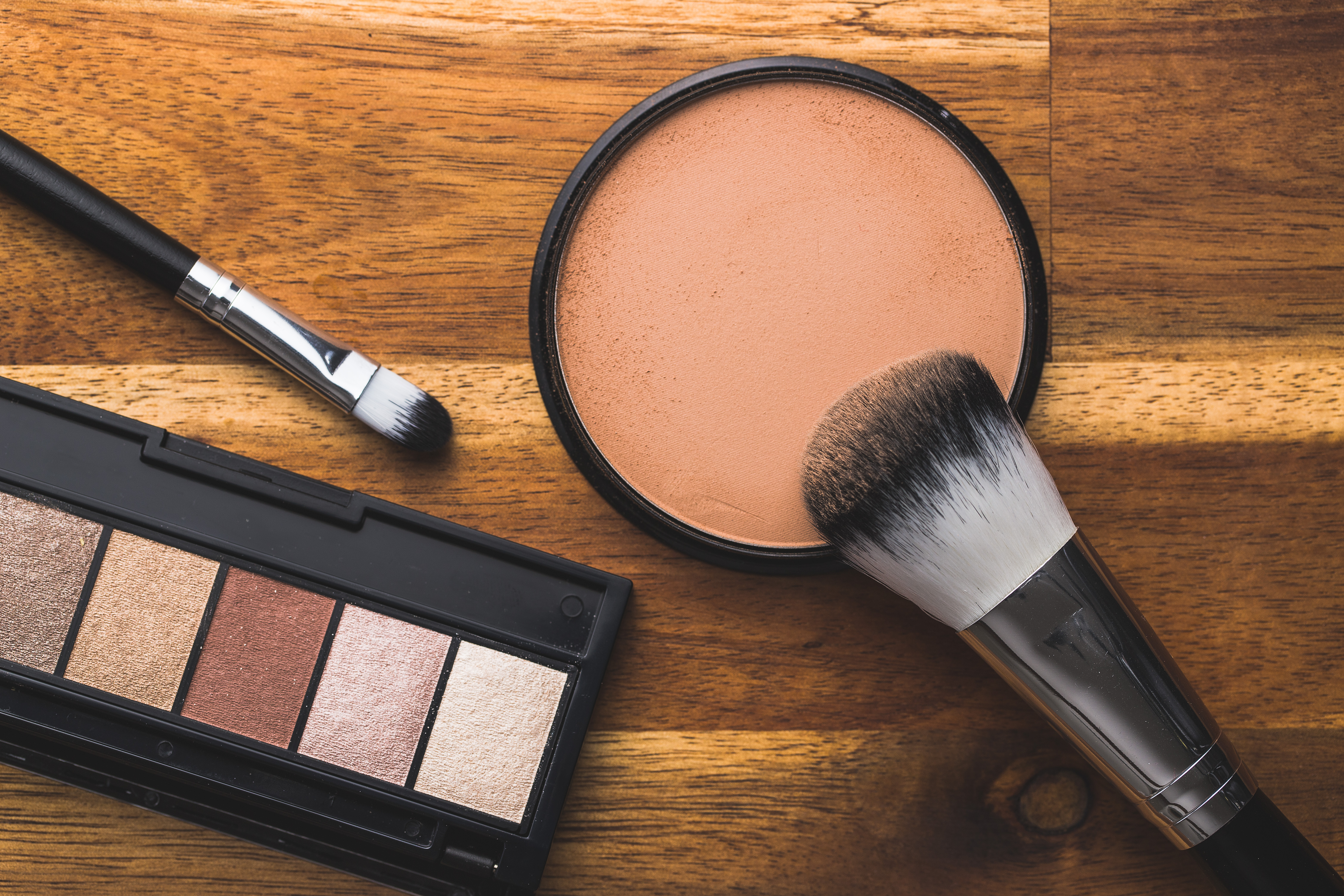 Best Beauty Hacks Ever – 5 Lifesaving Tips for the Busy Mom


I am a natural born woman, I like to feel pretty, feminine, and dainty all the time. Pregnancy was not this glowing feeling for me. In fact, I looked more like an overworked version of the Michelin Man who hadn't slept in decades.
During pregnancy, there comes a long list of do's and don't's. Things like sunbathing and hair dye, bring everything into question. In order to keep my sanity, I needed to find ways to pamper myself that were both cost-efficient and safe for me and my baby.
I know it may sound vain, but I like to look good so I can feel good. Who doesn't like to feel good? I've put together a list of the best beauty hacks ever, to help you feel confident, save money and save time on your morning routine. These are lifesaving beauty hacks that I found while pregnant and still use now that I'm a busy momma.
#1 – Head Wrap Towel
Ladies, ladies, ladies! This has got to be one of the best inventions of our time. No more neck breaking body towels piled high on top of our heads. These lightweight head wraps are what dreams are made of.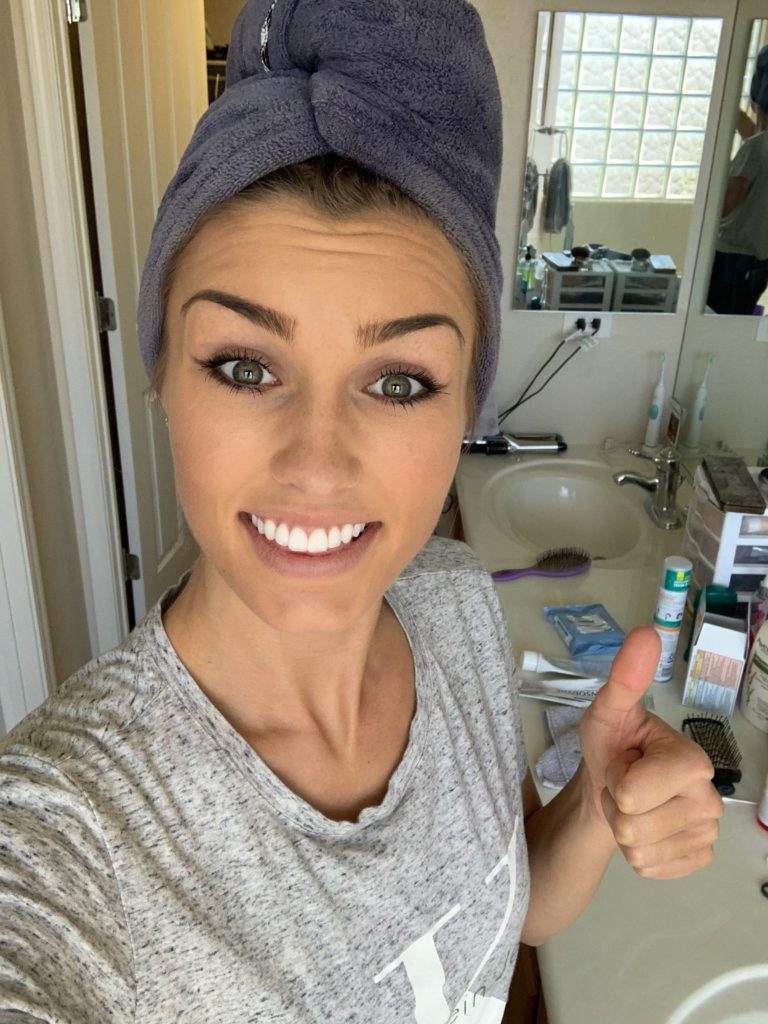 Measuring in at about 1/8 of the size of a normal body towel, the small-scale, plush design helps keep your hair from drying, without the neck pain and awkward head positions. It's designed with a button and hook to make sure it stays fastened to your head even if you bend over to pick up your little ones.
To use this head towel, simply bend over bringing all of your hair forward, place the towel on your head and close it over your wet hair. Twist the towel with your hair inside and pull it back up over the top of your head, and attach the elastic hook over the button placed at the back of your head.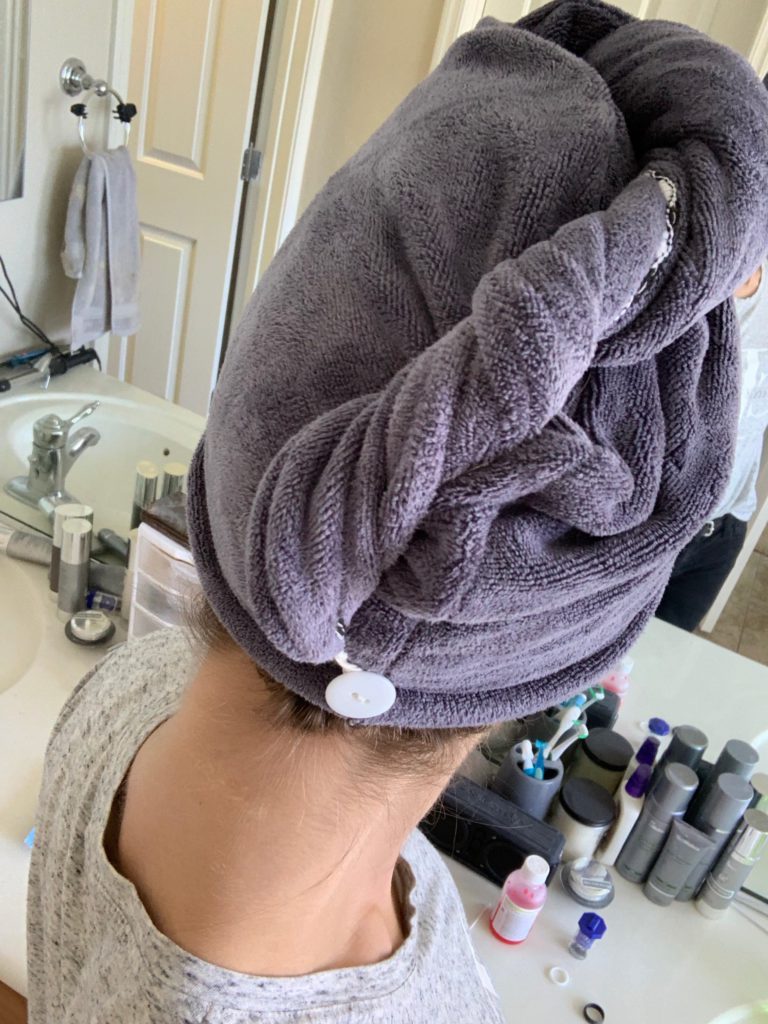 These head towels are the best for keeping your hair damp, long enough to apply your make up, feed the babies, and change their diapers. There have been countless times when I have even cleaned my whole house with this towel on my head, simply because I was putting off blow-drying my hair, and even then my hair was still damp enough to style and dry, and it stayed fastened to my head through my entire cleaning routine!
Mommas, you need this head towel in your life.
#2 – Eyebrow TintKit
Who could have imagined, 10 years ago, that eyebrows would ever be this important? Right now in the beauty industry eyebrows are exploding. Over the past decade, we have gone from thin, over plucked, almost non-existent eyebrows to thick, full, and prominent brows.
Being a victim of the over plucked era, this new trend wasn't necessarily good news for me. For the last four years, I have spent my time and money trying to get my brows to look somewhat full and shaped. There were many times I considered microblading, but I just could't bring myself to make that kind of commitment, let alone spend that kind of money.
Through my years of searching, I found a diamond in the rough, the Godefroy DIY eyebrow tint kit. This was like a message from the heavens. Up until this point I had settled for drawing my brows on with a pencil every single day. To say this tint kit was a lifesaver, would be an understatement.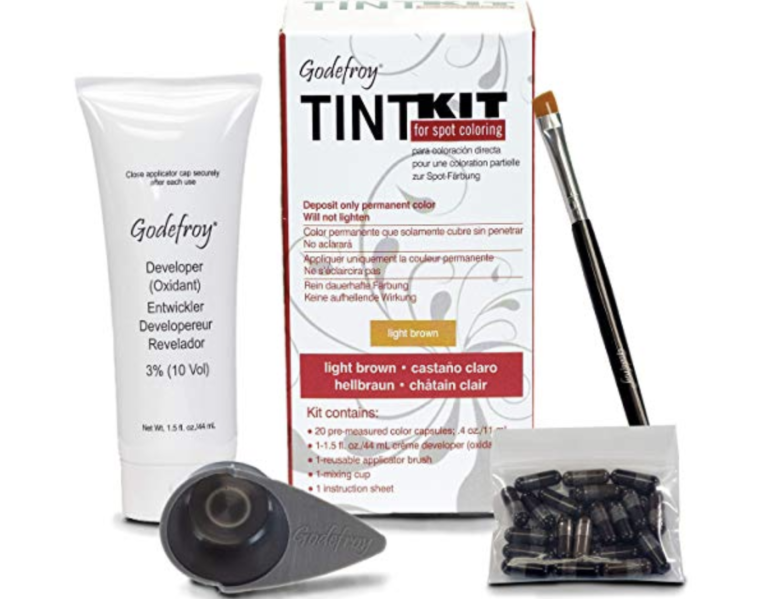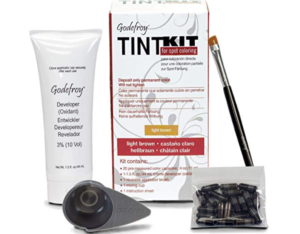 Besides the fact that the tint lasts up to 4 weeks, the best part of this kit is, how easy it is to use. Most people (myself included) are nervous when the thought of dying the hair on their face is brought up, but ladies, I am here to tell you, it's so easy! Just be sure to place some petroleum jelly around the brow to avoid staining any unwanted areas. With this extra step, the process is foolproof!
Instead of spending 10-20 minutes a day on just my eyebrows, I now spend 5 minutes once a month. Click here to see my personal results of the first time I ever used this kit.
This beauty hack is not for the faint of heart, but I will say it is a great money saver! If you are determined, you can master the art of dipped nail powder, but I will say this process takes a minute to learn and master.
Before I was married I would go to the nail salon every two weeks to get my acrylics fixed and re-polished. I found that I was averaging around $1200 a year only on my nails! Now, call me cheap, but that's a lot of money spent on fingertips.
Upon realizing that this habit wasn't sufficient on a newlywed budget, I decided to forego my bi-weekly salon trips. However, I wasn't ready to give up the pretty nails. So, I started my search for a more frugal way to have my nails done. Through research and trial and error, I found Kiara Sky Dip Powder.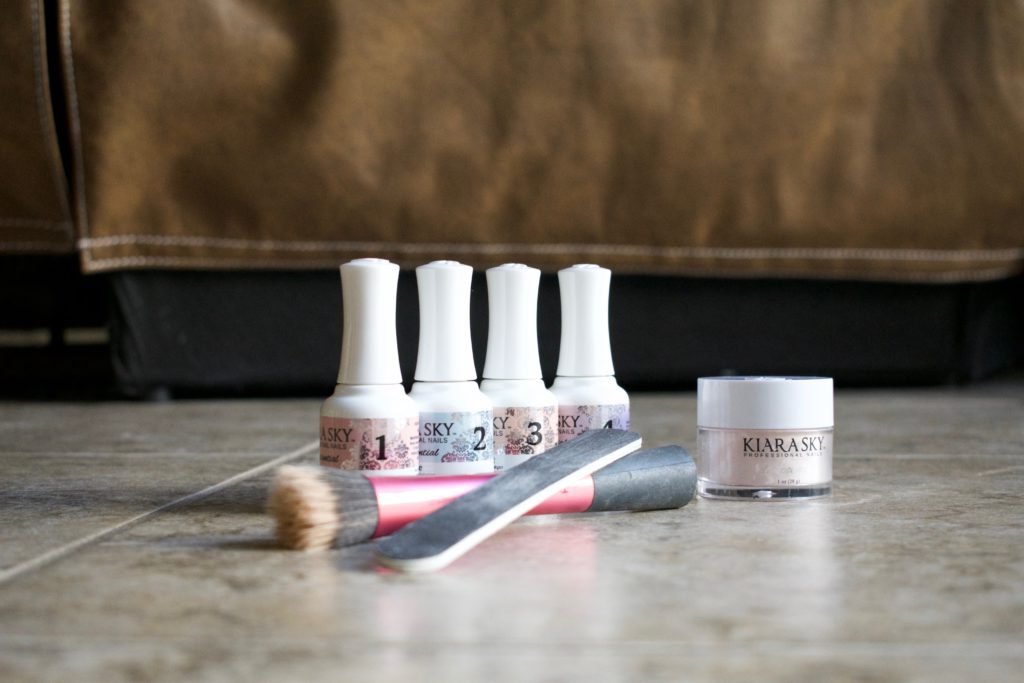 Okay, I am the furthest thing from a nail technician, so why I thought this would be a good idea, beats me. But, thank goodness I tried! I ordered the starter kit and gave a valiant first attempt that failed horribly. By fail, I mean like I did one nail, and created some kind of chemical reaction, resulting in concrete forming on my nail bed.
Turns out, it was user error, and I didn't follow the instructions right. So I will say this, when you try this, do it while your little one is sleeping so you are focused and away from any distractions. Now, that I have figured this out, I love my dip powder!
It lasts so much longer than regular polish and there is no drying time! Learning the process can be tricky, but if you follow the instructions properly, you will have it down in no time. My nails never chip, and last about 2-3 weeks, until the regrowth gets to be too much. And it's so much healthier for your nails than acrylics!
Plus, it saves so much money. The starter kit is $100 and comes with everything you need, and will last a very long time. A friend of mine who uses Kiara Sky has had her same kit for a year and is still going strong.
*As for any chemical or dye, please consult your doctor before use if pregnant or breastfeeding.
#4 – Eye Shadow Hairline
Mommas, during my pregnancy, I was not one of those lucky women that grows an immense amount of thick luscious hair, in fact I lost my hair and was also unfortunate enough to experience postpartum hair loss. And that's not even the worst part! All the hair I lost, created bald spots right around my hairline on the front of my head where everyone can see. I had completely kissed the idea of a ponytail goodbye, until I found this beauty hack!
I am about to fill you in (pun intended) on the best kept beauty secret ever: Eye Shadow hairlines! You're probably thinking I'm off my rocker, but hear me out. Hair loss isn't exactly something we are proud of, and people will pay loads of money to fix it. Well, what if I told you, I could help you save money by fixing the problem using something you most likely already own?
Yes, eye shadow is the answer. Now, it won't necessarily fix the problem- come on now eye shadow doesn't magically sprout hair, but it can conceal your bald spots! Simply find a shade of eye shadow that matches your roots, and using a brush apply it along your hairline and blend it back towards the rest of your hair. Repeat and fill in wherever it's needed to create a more youthful, fuller looking hairline.
It's easy and frugal, my two favorite things! And the best part, no one will ever know its eye shadow. My advice would be to use a matte eye shadow, because although we all love a little shimmer and sparkle, a matte shadow will look more natural when blended into your hair.
#5 – Self-Tanning Mousse
If you've ever been pregnant before, then I'm sure you know sunbathing doesn't really produce great results. Needless to say, it could potentially be dangerous for your growing baby, and your skin sensitivity is through the roof- thank you hormones.
As far as self-tanner goes, I always vowed to myself I would never use it, for fear of looking like I was the long-lost cousin of a carrot. That was until I met my (now) sister-in-law. I noticed she always looked so tan and glowing, and I finally asked her what her secret was.
I was expecting her to tell me, she either went to a tanning bed, or she was just blessed with a natural bronze. To my surprise, she told me she used TanWise self-tanning Mousse. Seeing how awesome she looked, I went against my core [tanning] values and bought myself a bottle the very next day.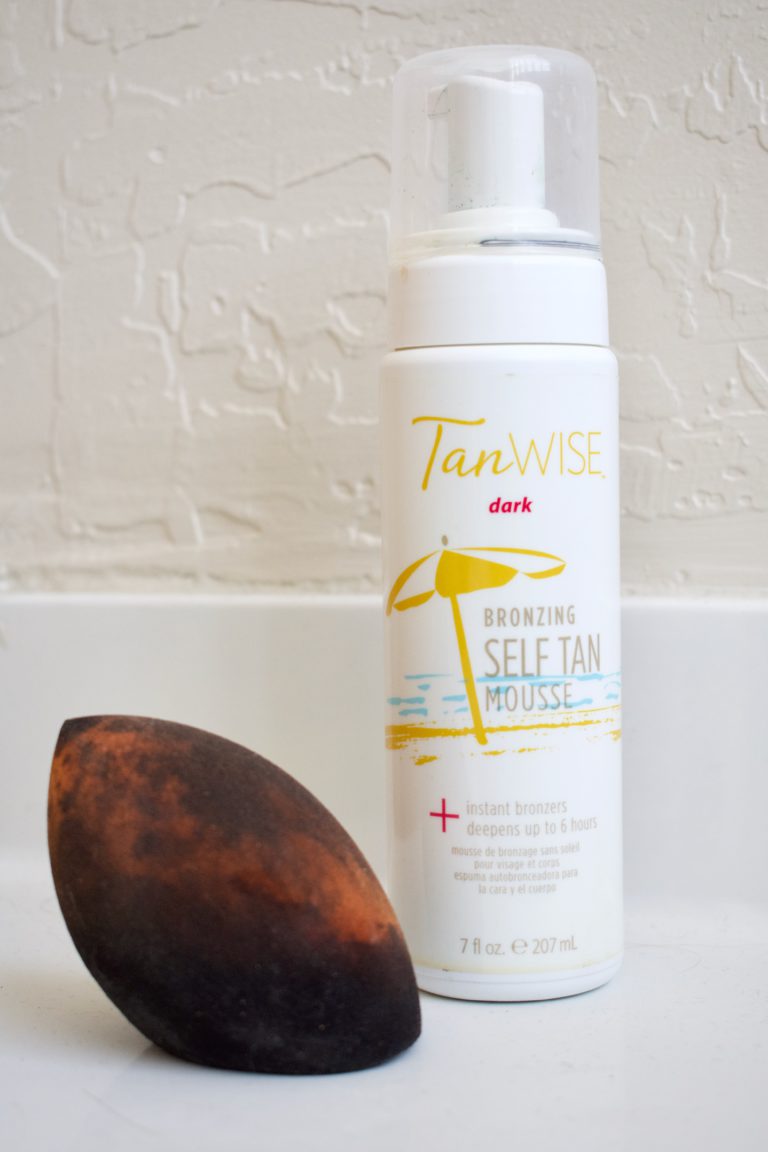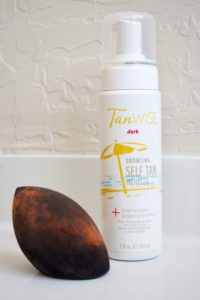 Now, I'll admit, at first I was way too scared to use it. I didn't trust myself, and like everybody else, I had a full-time job that I was required to show up to, regardless of whether I had turned into a pumpkin or not. So, a few weeks went by and it collected dust on my bathroom shelf until I finally got sick of the horrific contrast between my ghoulish colored skin and the dark circles under my eyes. I figured, well there's no way I could look worse, so let's try it.
Let me tell you, the next morning after rinsing the mousse off in the shower, I pulled back the shower curtain and just stared in awe of my naked pregnant body in the bathroom mirror. I was a sun-tanned goddess! I couldn't believe it, there was not even a hint of orange and absolutely no streaks!
Now, after a couple uses, I made some modifications to make the application process a little quicker and a little less messy. I would recommend using a body sponge and rubber gloves when applying. The first time around, I used my bare hands to lather on the mousse (rookie mistake) and my hands were dreadful. Let's just say they resembled the color of wood stain for about a week.
This mousse lasts 7-10 days, although I have now perfected my self-tanning routine and apply it once a week, for easy maintenance and smooth coverage.
*I did use this while I was pregnant, but just like any chemical or dye, please consult your doctor before using this product if pregnant or breastfeeding.
Ain't Nobody Got Time For That!
I saw a newsletter recently that says, being a mom is the equivalent of working 2.5 full-time jobs. With an average of 1 hour and 7 minutes of daily downtime, ain't nobody got time to fill in their brows for 20 minutes every day!
Mommas, I mean it when I say these are the best beauty hacks ever! They have saved me so much time and money and kept me feeling like the beautiful, confident woman I am.
With all the guidelines of pregnancy and the lack of 'me' time as a mom, these simple beauty tricks will have you feeling better than ever without spending your precious 'me' time or hard-earned money.
What do you do to save time and money on your beauty routine? Do you have any beauty hacks you swear by? I would love to hear them! Feel free to leave any ideas, stories, or suggestions in the comments!
XOXO