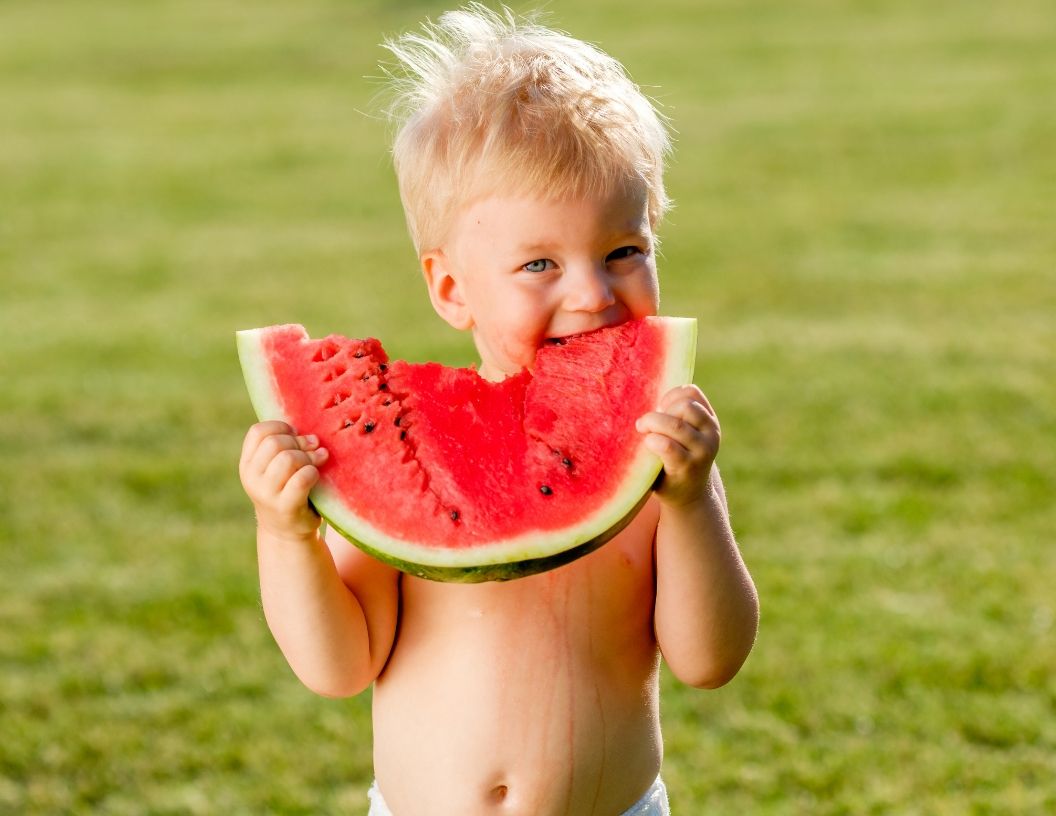 Healthy Toddler Meals – What My 1 Year Old Eats In A Week
Let's face it, one of the hardest parts of 'adulting' is meal planning. Trying to figure out meals for the week while trying to mix it up every now and then is truly one of my greatest struggles. Throw in an opinionated and very hungry toddler to the mix, and it's a recipe for disaster – pun intended.
The thought of Hayvn going off formula and transitioning to 3 meals a day was one of my worst nightmares as a new mom. I could barely plan healthy balanced meals for myself without getting stuck in a rut, and now I had to do it for someone else too? Well, if you're like me, you probably ended up on this post via Pinterest out of desperation for healthy toddler meals, and you're in the right place.
I have created a full list of a typical week's worth of meals that my daughter actually eats. Most of them are healthy and fairly quick, and most importantly they're meals I feel good about giving her.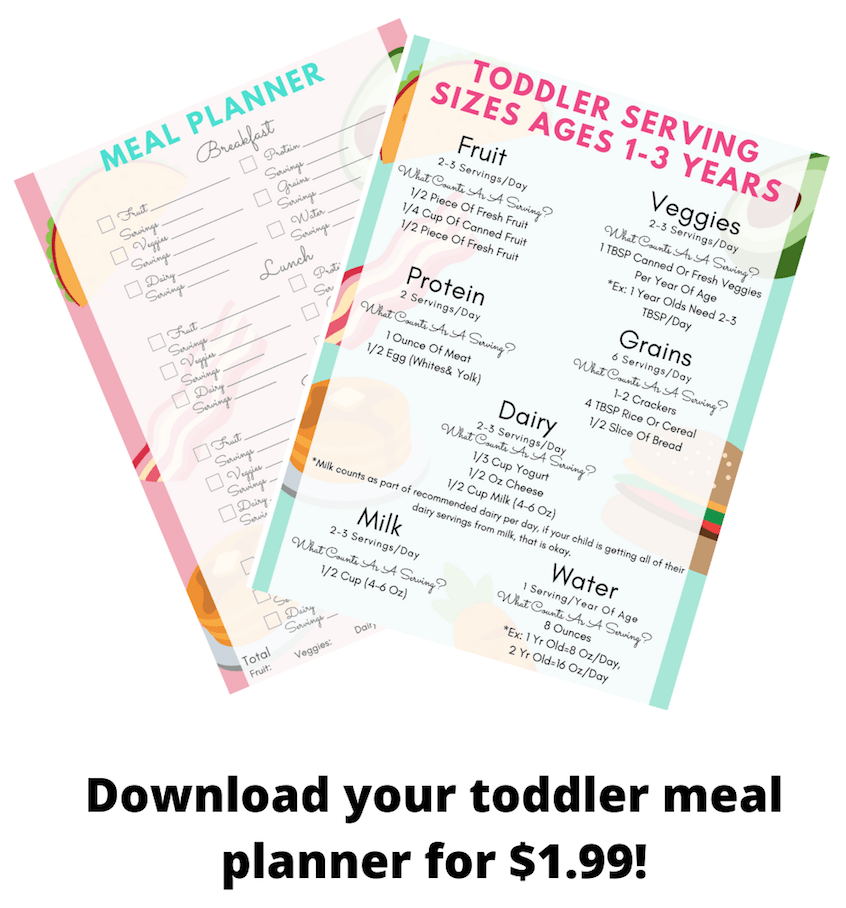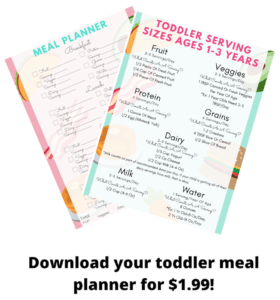 Side note, my daughter is 13 months old and this is what she can eat having only 5 teeth. So most of these foods are soft and easily chewable, and some toddlers, depending on the age and amount of teeth, may be more advanced.
She also has a 6 oz bottle of organic whole milk with each of her three meals.
Between each meal, we give her a sippy cup of water that she drinks throughout the day, and we try to stay away from juice.
So without further ado, let's get into it!
Breakfast
We've heard it all before, breakfast is the most important meal of the day, so I put a good amount of effort into keeping breakfast as healthy as possible. Here are some of the typical breakfast meals I feed Hayvn during the week.
Meal 1 – Sweet Potatoes, Hard-Boiled/Scrambled Egg, Banana
This is one of the meals we will do if Hayvn is extra hungry in the morning. Sometimes it's hard to know so we keep the banana as a backup, but it's one of my go-to breakfasts for her because it's packed with protein and vitamins to start her day with a good amount of energy. It's also extremely easy to meal prep, making it perfect for busy mornings. For the sweet potatoes, I use 1-2 large sweet potatoes, poke holes with a fork and bake for an hour at 450 degrees Fahrenheit. Once its baked I peel and mash and place in a container to store in the fridge. For Hayvn's breakfast, I'll usually feed her 1/4 to 1/2 cup of sweet potatoes. For the eggs, we usually mix it up between hard-boiled eggs or scrambled.
Meal 2 – Cottage Cheese Pancakes & Fruit (fruit not pictured)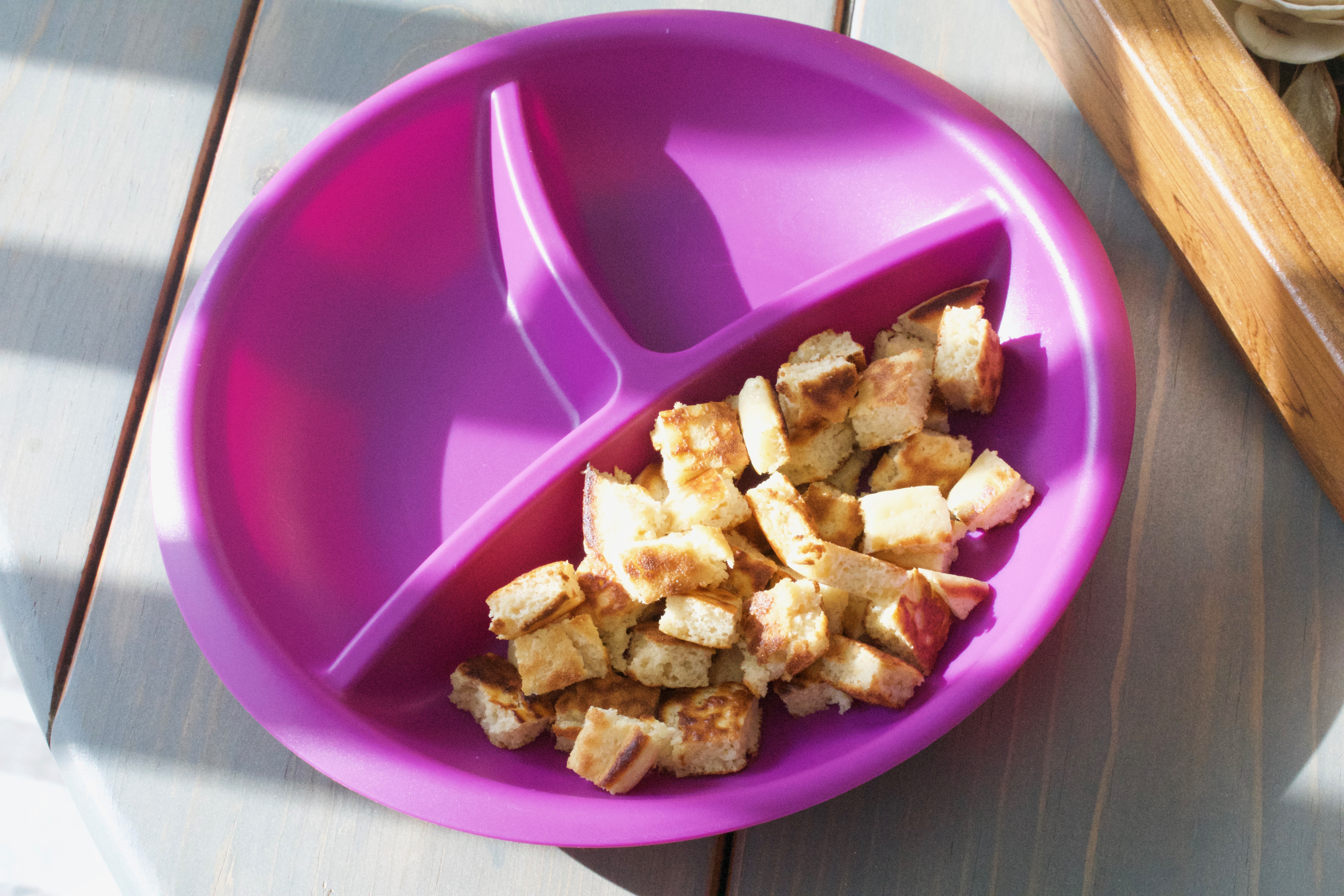 This breakfast is super simple and it's one of my favorites because this pancake recipe is packed with protein and the recipe makes a lot, which is great for meal prepping. To make cottage cheese pancakes, it takes 3 simple ingredients:
1 Cup Cottage Cheese
5 Eggs
1/2 Cup Flour
Blend in a blender and pour over a griddle. One batch makes 5 large pancakes or 10 small pancakes.
For the side, we usually rotate between strawberries, blueberries, kiwi or bananas.
Meal 3 – Sweet Potatoes & Avocado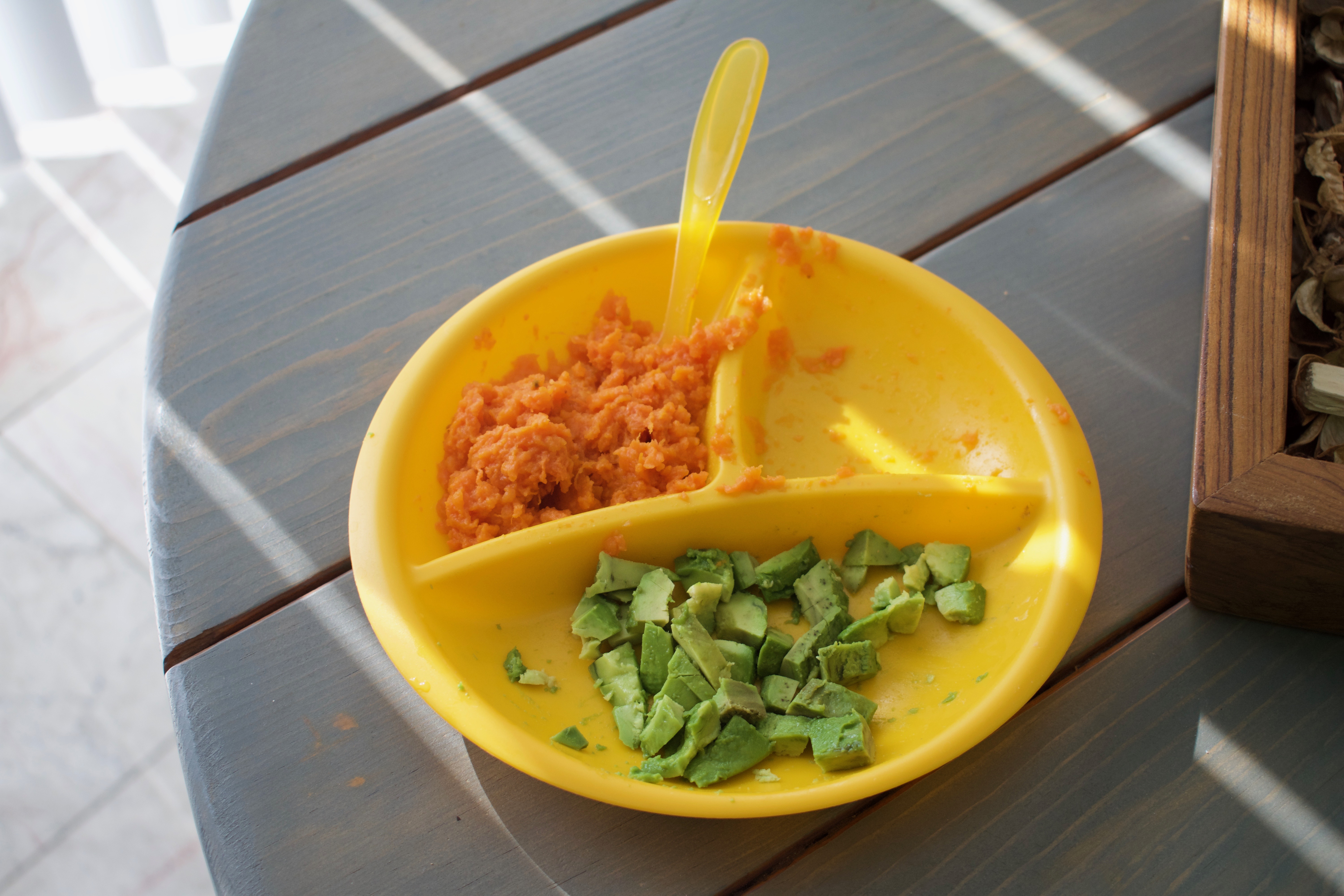 This breakfast is one of Hayvn's favorite meals, and in terms of nutrition, it's one of my favorite meals to feed her. It's pretty straightforward and easy. To make this breakfast I use 1/4 cup sweet potatoes and 1/2 an avocado. If this isn't filling enough you could also add a piece of toast or a banana.
Meal 4 – Oatmeal & Berries
This is another quick meal that's also healthy. Hayvn loves oatmeal mixed with sweet berries. It's also filling and is an awesome meal to help boost energy and start the day.
*I always make sure to cut the blueberries and strawberries into small pieces to avoid choking.
Lunch
I'll admit, lunchtime is the hardest time for me to keep things healthy, simply because it's in the middle of the day when I am out and about. So, sometimes I have to either do something quick or on-the-go which limits my options. So I have listed some options for both healthy at-home meals as well as healthy(ish) quick or on-the-go meals.
Meal 1 – Deli Turkey, Steamed Broccoli, Fruit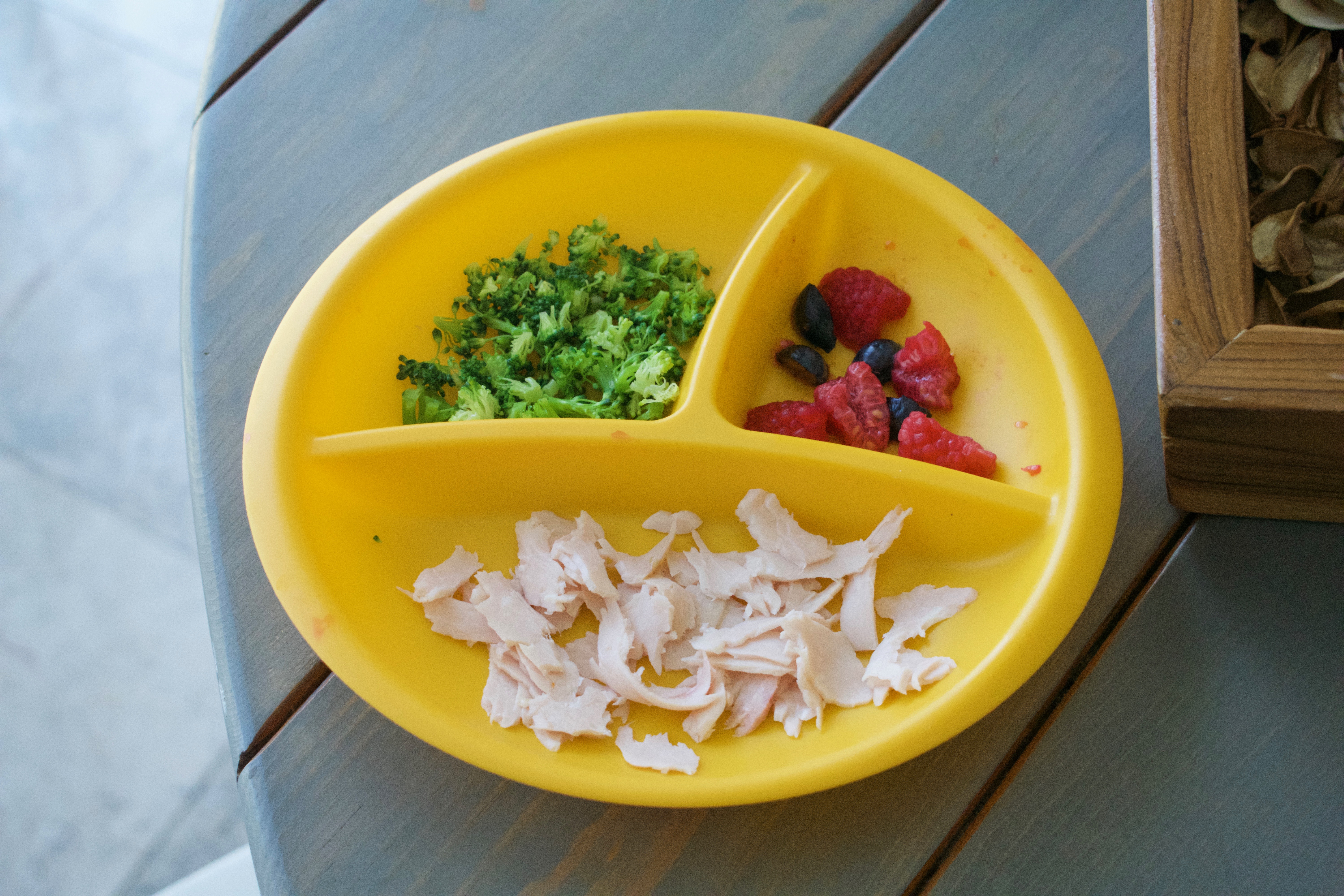 As far as healthy toddler meals go, this meal is simple and straightforward. I like to think of myself as a pretty health-conscious person, so for this meal, I find it important to note that we only buy lunch meat that is freshly sliced at our local grocery store's deli.
Another tip I like to share with my momma friends is to cut the broccoli with scissors, it's much easier and it cuts the pieces small enough to avoid choking.
Meal 2 – PB&J, Fruit/Yogurt, Mixed Veggies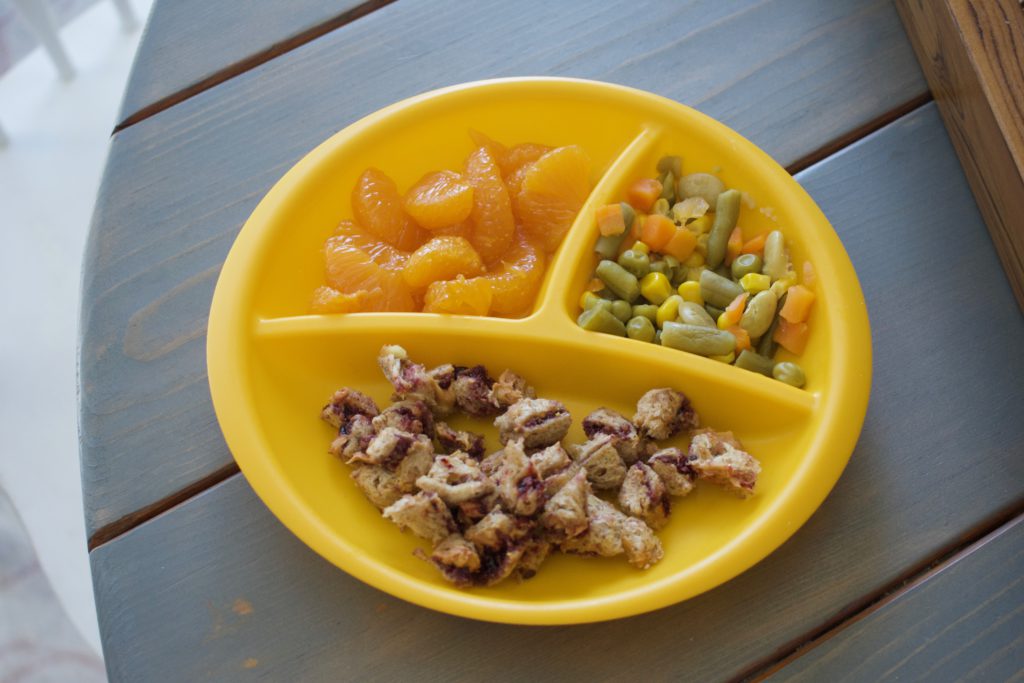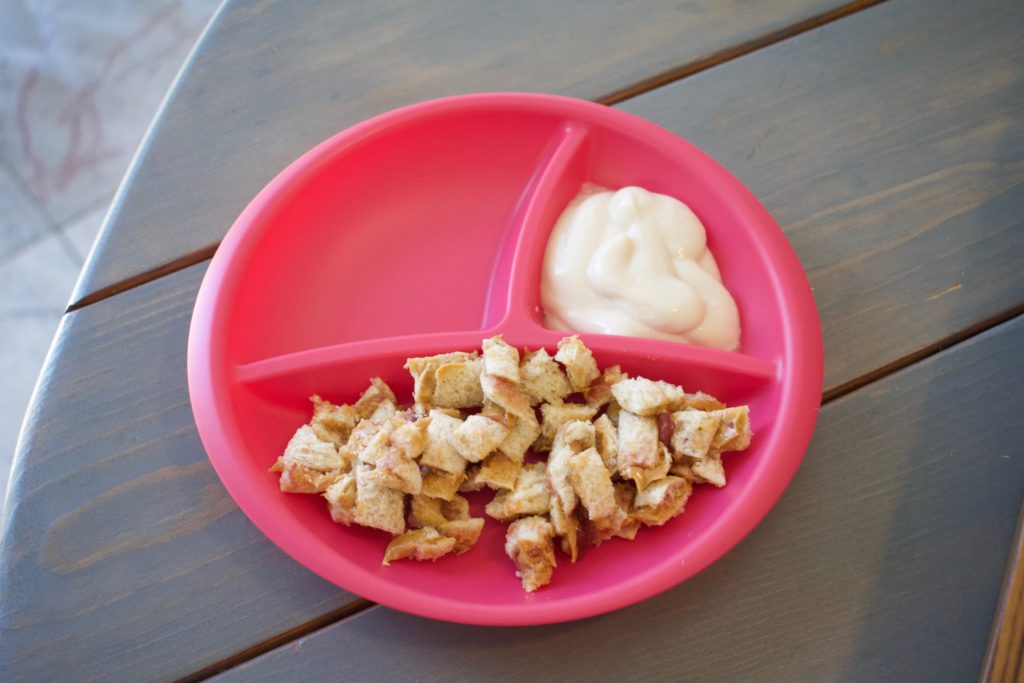 This is my go-to quick and easy lunch meal. The classic PB&J sandwich. Although it's not the most nutritious, it's still somewhat healthy and it's quick and easy, and Hayvn absolutely loves it!
To make the sandwich as healthy as possible, I use Dave's Killer Bread, Skippy Natural Peanut Butter, and Simply Fruit jam. Then, using a pizza cutter, I cut it up into bite-size pieces and add some veggies and fruit on the side. I'll usually rotate between fruit and yogurt.
Meal 3 – Mac & Cheese & Applesauce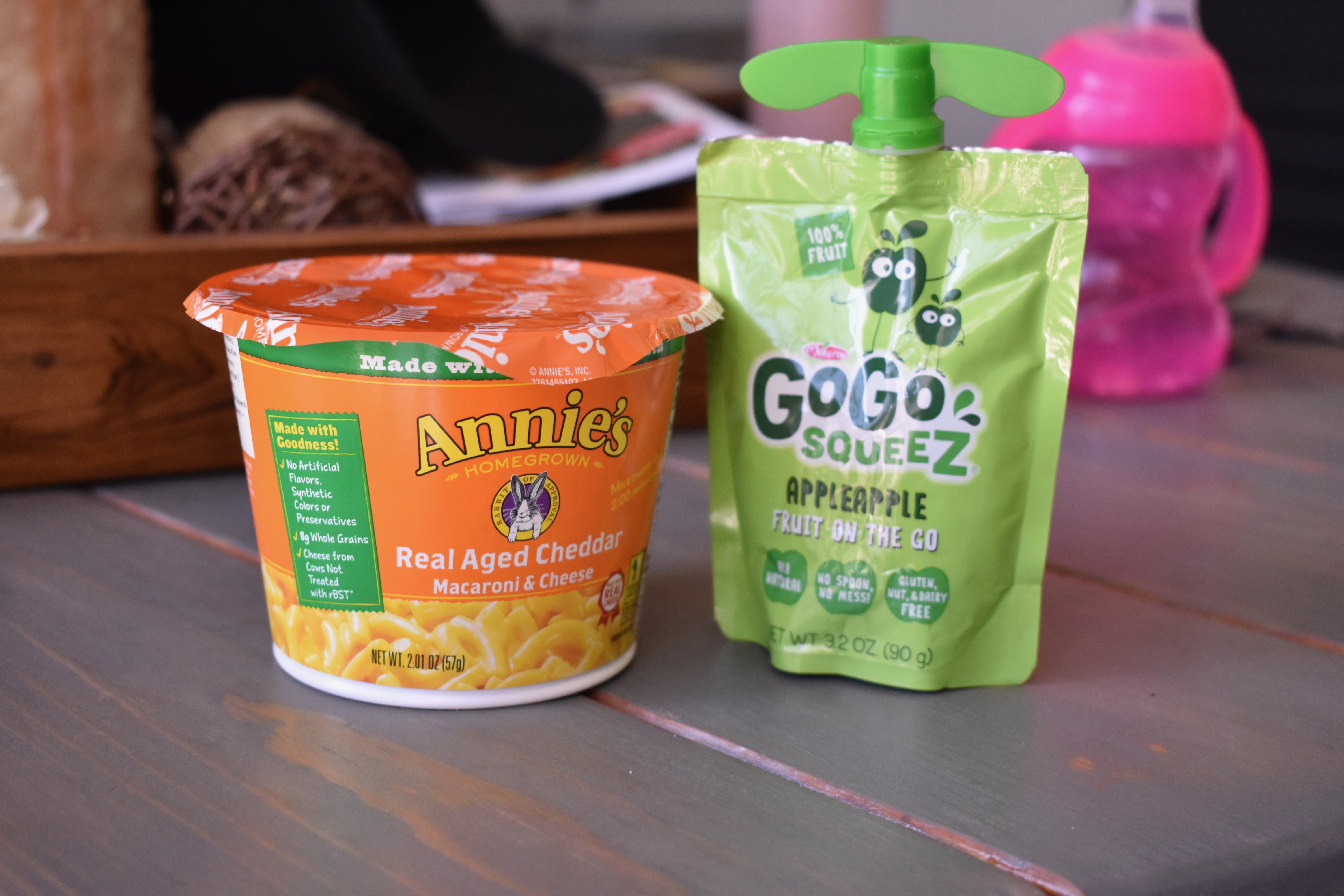 This is a great meal for traveling or when you're on the go. You can make the Mac & cheese before you leave (it requires a microwave) and let it cool in a cupholder in the car when you reach your destination you can feed it to your little one. These applesauce pouches are an absolute lifesaver and virtually mess-free! As far as the mac & cheese goes, I love the Annie's brand because it's organic and the ingredients are more natural than other brands.

Aside from the GOGO Sqeez applesauce pouches, we also love this brand! You can get these at Walmart, and they are a great healthy on-the-go snack/lunch side option. All the ingredients are organic, which I love.
Meal 4 – Quesadilla, Black Beans, Fruit/Tomatoes (meal not pictured – coming soon!)
This is a quick and easy meal that is well balanced and introduces different tastes and textures for your toddler.
Dinner
For dinners, I typically like to focus on protein, so I will more often than not have a meat as the star of her meal. Here are some of the dinners that I think are perfect for a 1 year old.
Meal 1 – Deli Turkey, Applesauce, Green Beans
This meal is very simple and easy for on the go as well. It's also very versatile, sometimes I will rotate the turkey with shredded chicken and the applesauce with yogurt.
Meal 2 – Chicken Casserole, Oranges/Fruit
To make this chicken casserole is very easy. It consists of 4 ingredients:
1 Can Chicken (shredded)
1 Tsp. Mayonnaise or Sour Cream (makes it less dry)
1 Can Pinto Beans
1 Can Corn
Mix it all together and serve. It can be stored in refrigerator up to 5 days.
My daughter loves this meal, and I love it as well because it makes enough for leftovers which helps with meal prepping for the week. For a side, I typically feed her a cup of mandarin oranges or any other soft fruit.
Meal 3 – (Turkey) Burger with Cheese, Mixed Veggies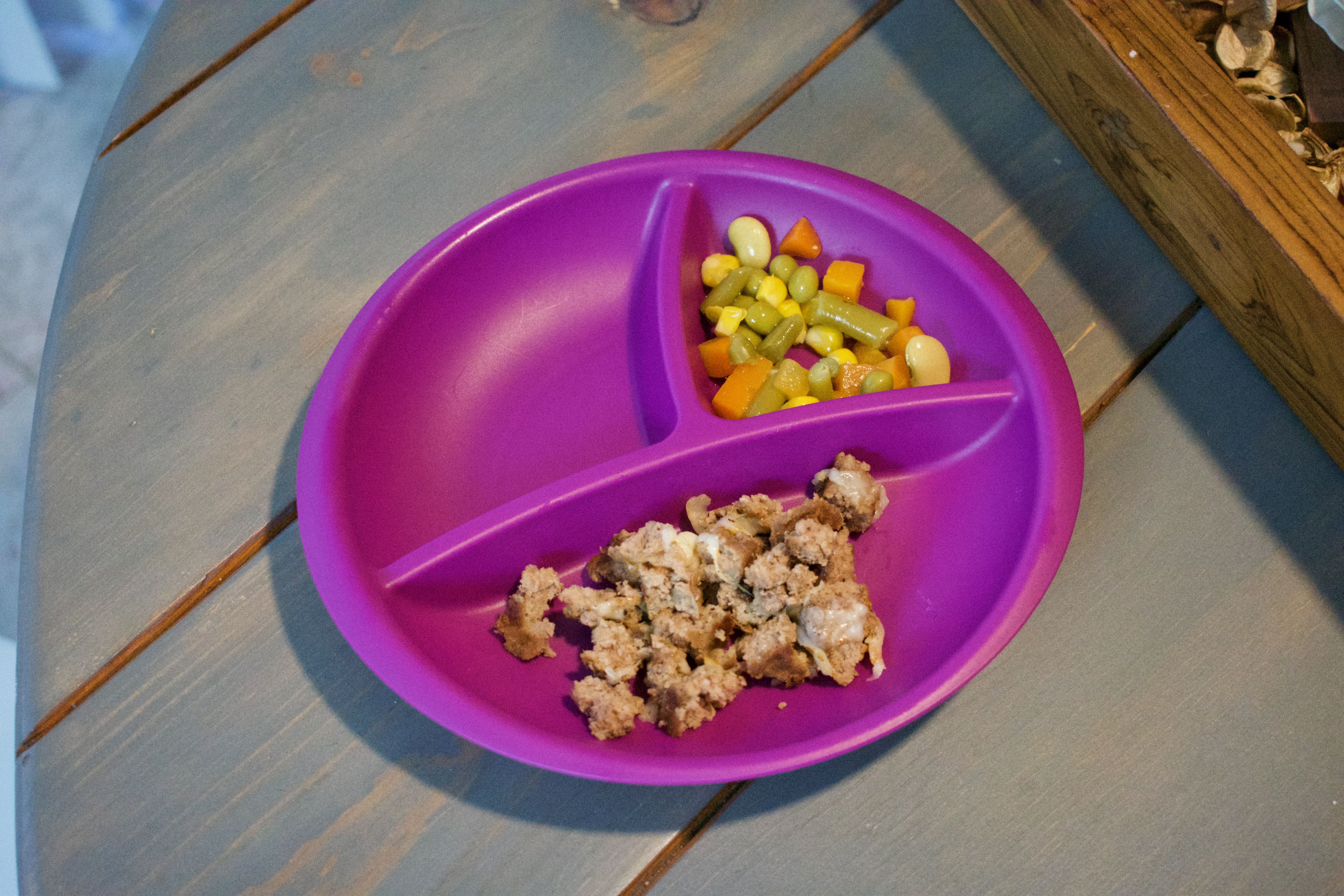 For this meal, I use frozen burger patties and rotate between beef and turkey burgers. Once cooked I add a slice of cheese and cut it up into bite-sized pieces and add some veggies or fruit on the side. It's a filling meal packed with protein.

Meal 4 – Ground Turkey & Tomato Sauce, Fruits/Veggies (not pictured), Yogurt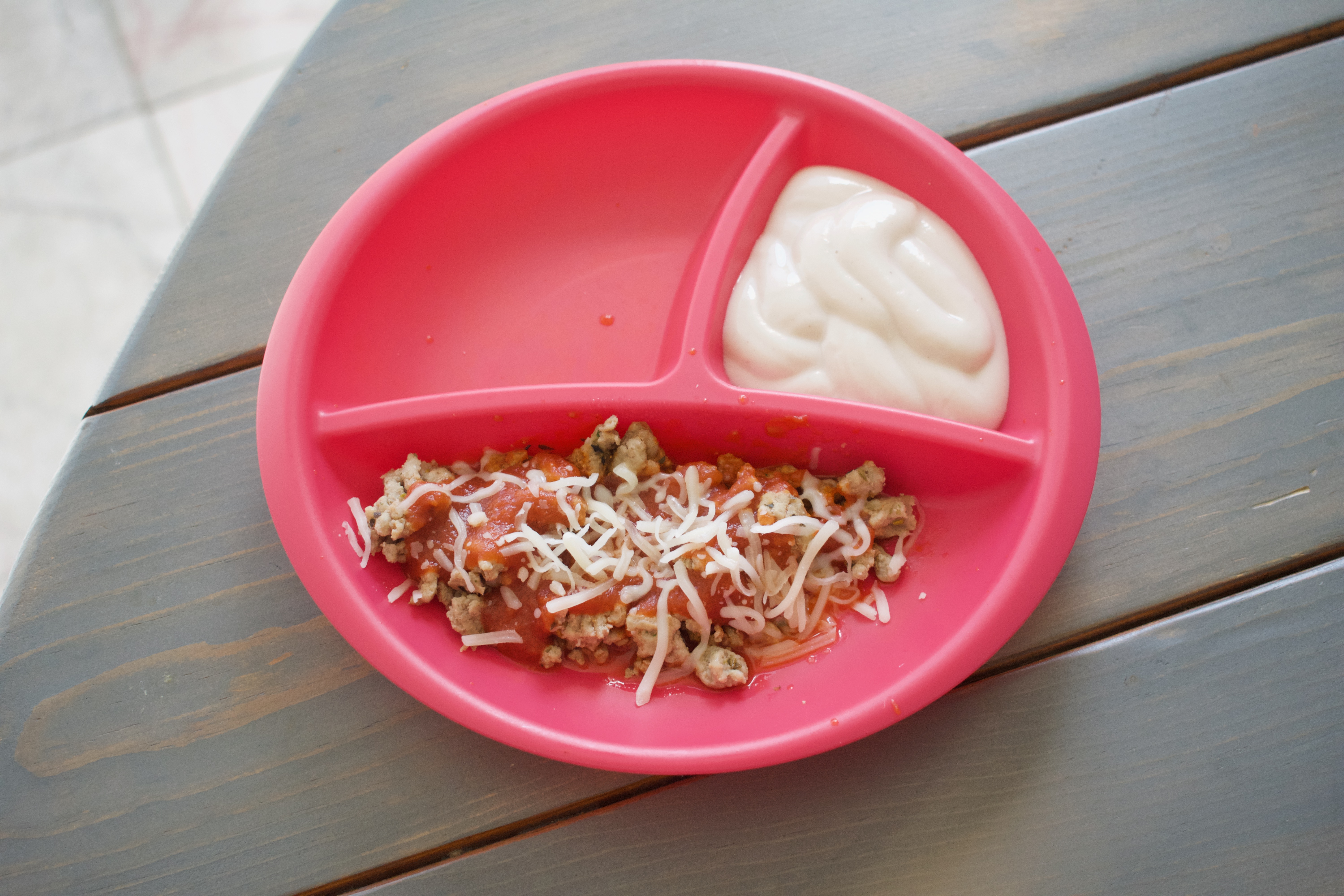 This is another great meal for meal prepping! I'll usually brown a pound of ground turkey (making sure it's broken into very tiny pieces) and store it in the fridge. When it comes time for lunch or dinner, I'll place about 1/4-1/2 cup on a plate and cover in some tomato sauce from a can (store unused sauce in the refrigerator) and microwave for about 30 seconds. Once it's warm I sprinkle a little cheese on top.
For the sides, I'll usually try to get at least a fruit or a veggie on there and then cottage cheese, yogurt or apple sauce. This is a big hit for Hayvn, she loves this meal.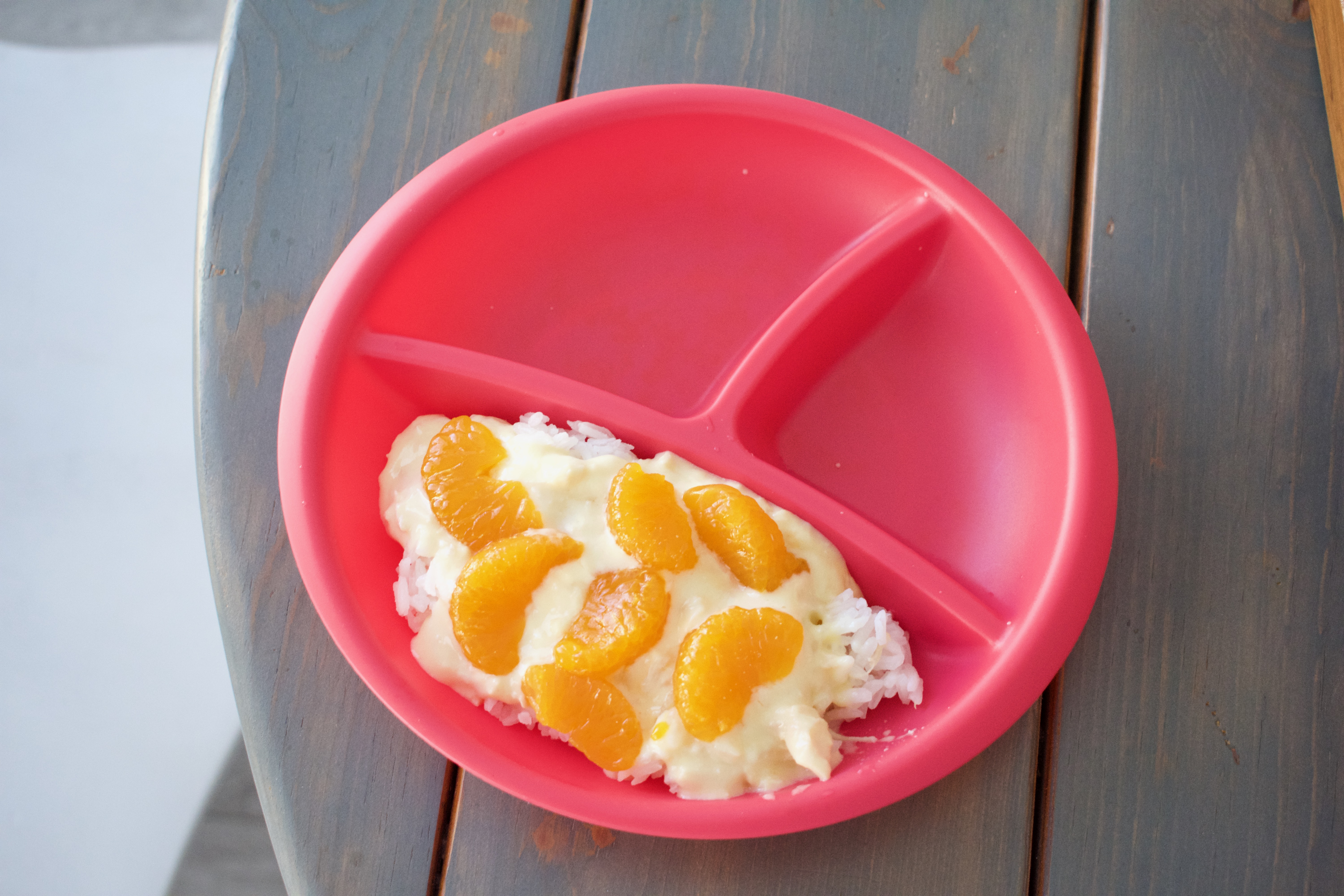 Meal 5 – "Baby Haystacks", Oranges, Broccoli (broccoli not pictured)
We've all heard of Hawaiian haystacks, right? Well, my daughter loves these! To make them you'll need 4 simple ingredients:
1 Can Chicken (shredded)
1/2 Cup Sour Cream
1 Can Cream Of Chicken Soup
1/4 Cup Whole Milk
Rice (optional)
Over medium heat in a saucepan combine all ingredients until warm. Serve warm and sprinkle the top with shredded cheddar cheese. Store leftovers in the refrigerator for up to 5 days.
This is also a great meal for leftovers and meal prepping. I usually serve a fruit and veggie on the side.
I typically leave the rice out of this meal, but if you choose to make it with rice, simply cook the rice and then serve chicken mixture over rice and top with cheese or fruit (pineapple or mandarin oranges).
Snacks
No matter how much we feed Hayvn during her 3 meals, it's inevitable that she will most likely need a snack or two in between. Some of her favorite snacks are:
Graham Crackers
Oranges (if she didn't have them with her meal)
Yogurt/Applesauce (whichever she didn't have with her meal)
Banana
Avocado
Peanut Butter & Toast or Apples (thinly sliced)
Annie's Baked Cheetos
Cheerios
Hummus & Pita
Muffins
Kiwi
Seedless Watermelon
Tomatoes (diced into small pieces)
Cottage Cheese
Bon Appétit!
So there you have it. These are some meals that I feed my daughter throughout the week, and as you can see most of them are healthy and can be prepared fairly quickly.
As a mom, you want what's best for your child, and sometimes it can be hard to constantly think of healthy meals and different foods to feed your babies. With this list, I hope to inspire you with new ideas for healthy toddler meals and make life a little easier.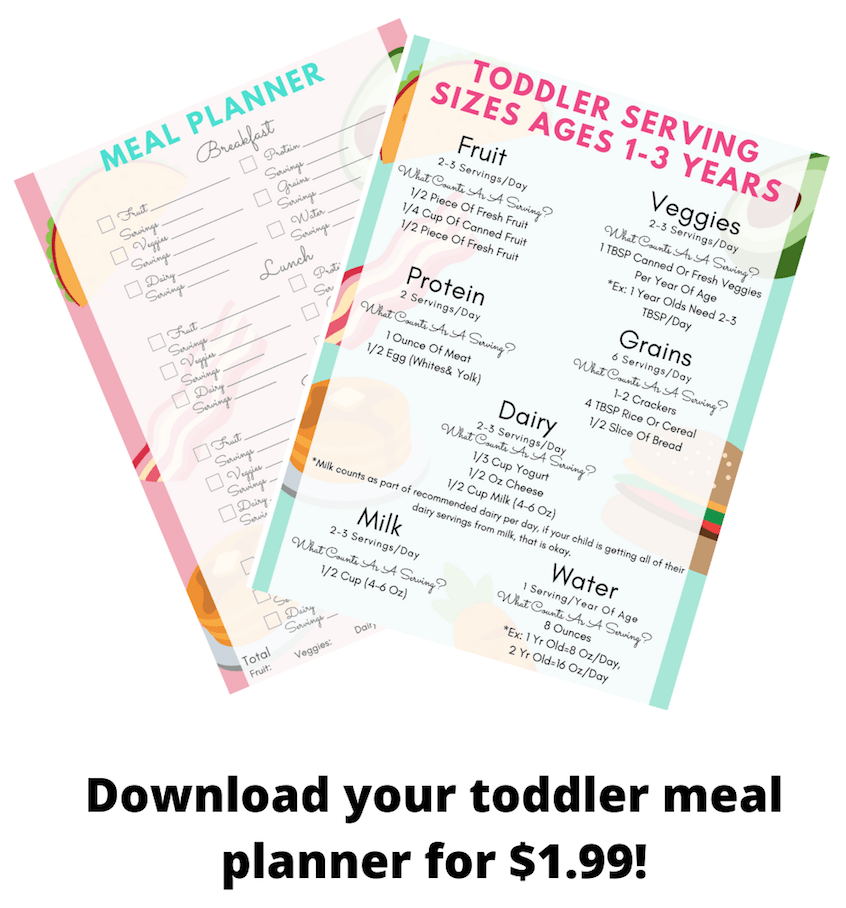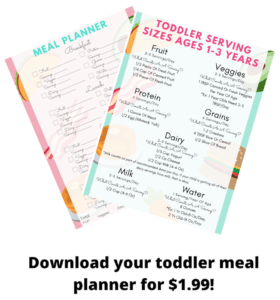 I hope you enjoyed this post! What are some of your favorite healthy toddler meals? I would love to eat from you! Please leave any comments or suggestions in the comments below!
XOXO