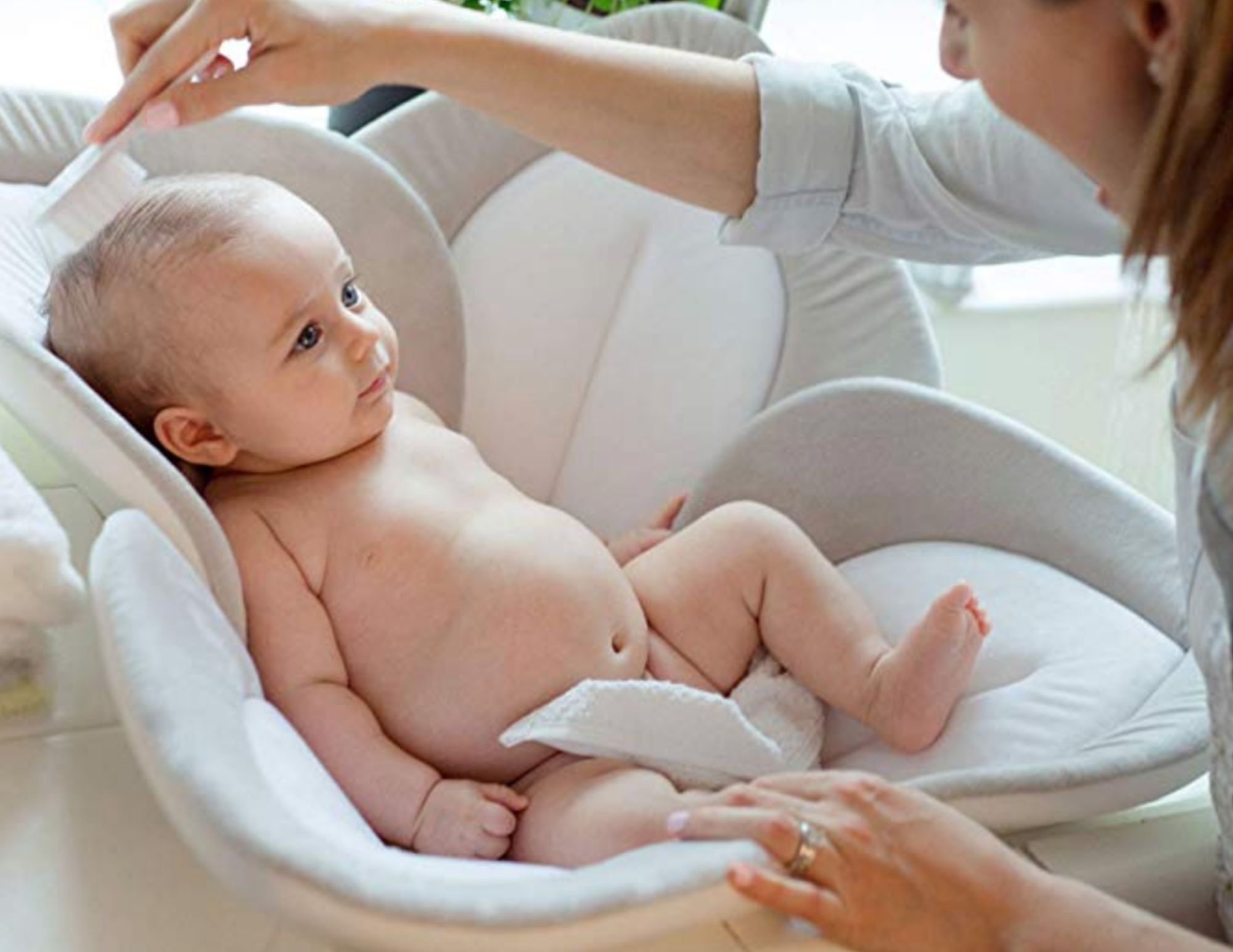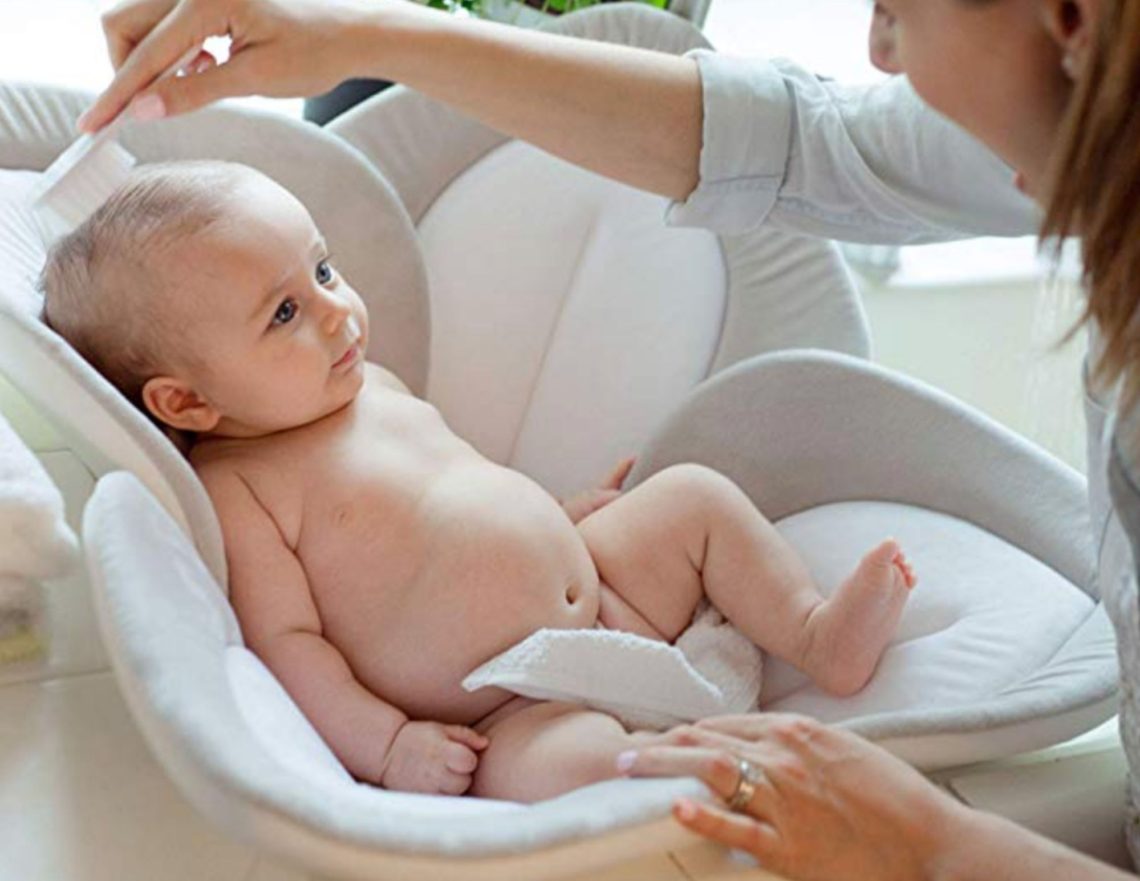 Blooming Bath Flower – Baby Bath Review
As mothers, we are responsible for everything revolving around our babies' needs including hygiene. Of course, we all know newborns, babies, and toddlers cannot bathe or clean themselves, so it's up to us to make sure they are kept clean.
However, that is easier said than done, especially when your newborn can't even hold their own head, and once they're all sudsy, they become as slippery as a bar of soap.
So, that raises the question, what is the easiest way to bathe my baby? Well mommas, let me tell you, the blooming bath flower is by far the greatest invention of our time when it comes to keeping your little ones squeaky clean.
With its soft plushy petals and padding, it's way different from your standard cold, hard, plastic, baby bath. Keep reading to find out if the blooming bath is the perfect fit for you and your baby.
What Is a Blooming Bath Flower?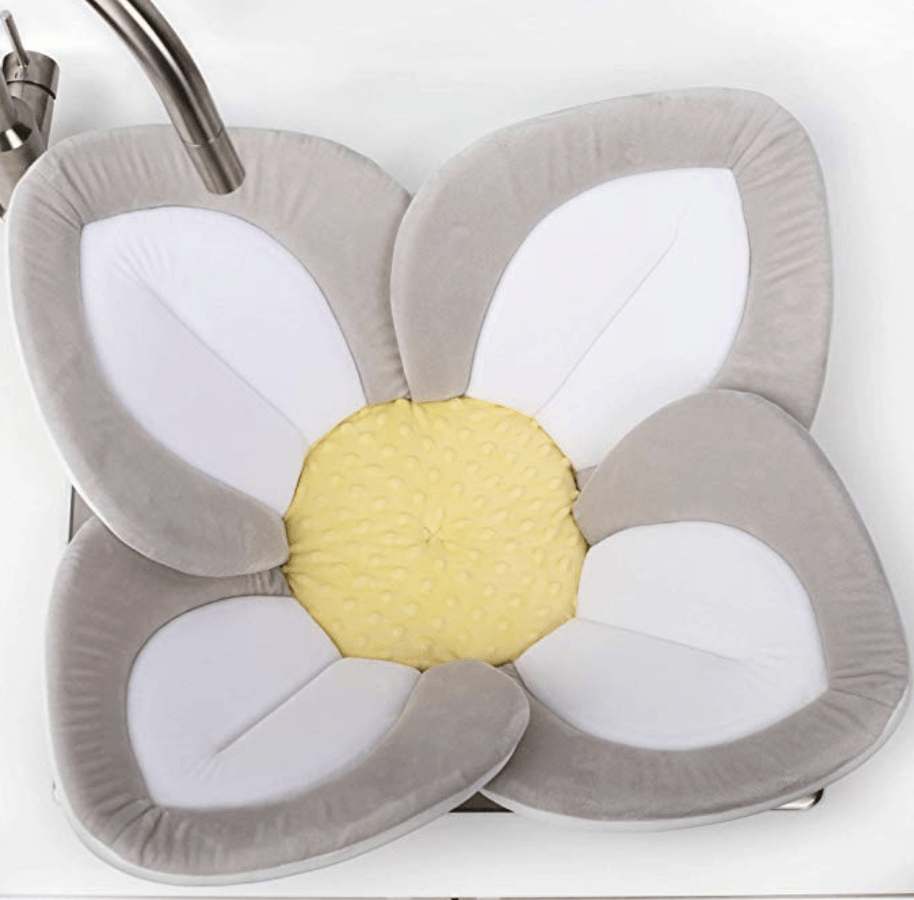 I'm sure the image that comes to mind when you hear the term 'baby bath' you picture a bulky, banana-shaped, piece of plastic that can be placed in your tub, allowing you to wash your baby.
The Blooming Bath is different from ordinary baths. When it comes to bathing and washing, Blooming Bath is changing the game. It's a flower-shaped foam pad with four plushy petals and a soft foam center.
To use it, you simply place the flower in your kitchen sink, bathtub or shower, whichever you prefer and place your baby inside or on top of the flower, and then proceed with bathing.
Blooming Bath Perks
Seeing as there are so many, I will first cover the perks of the Blooming Bath.
Flexible and Moldable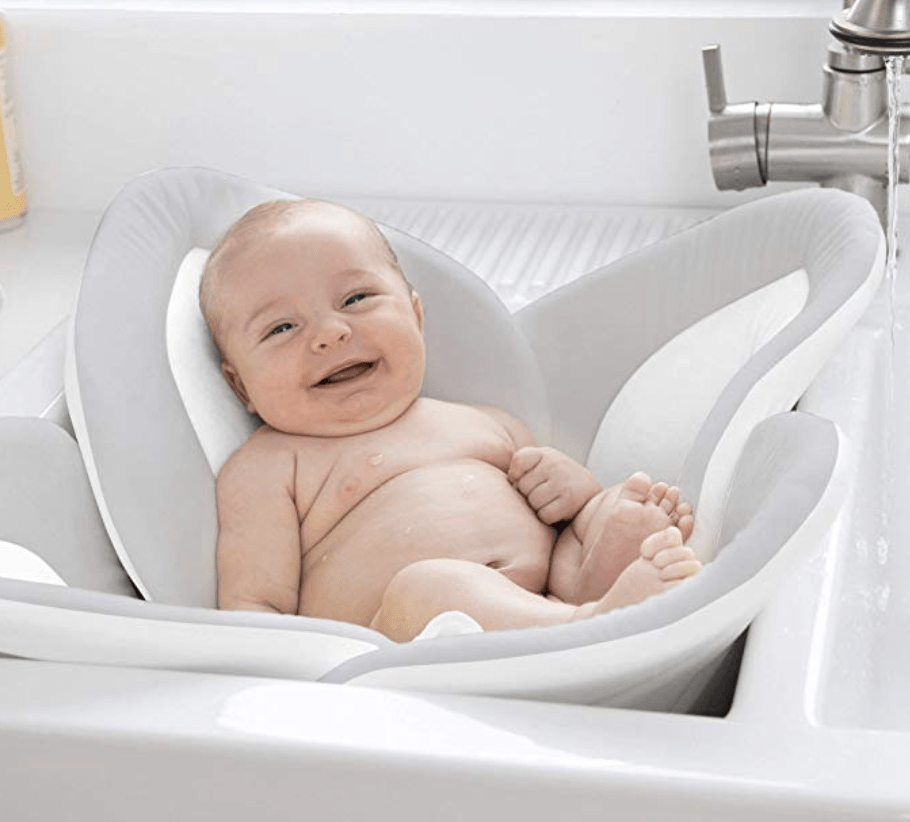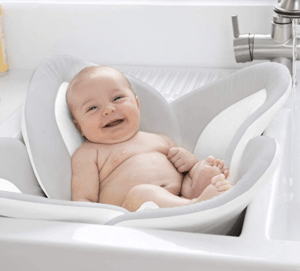 With it's soft, four-petal design, this bath is flexible and moldable. Making it convenient t to wash your baby wherever you would like.
Right after Hayvn was first born, I found it super challenging and straining on my back and knees wot lean over the tub to wash her, so I preferred bathing her in the kitchen sink.
The Blooming Bath fit perfectly and offered the necessary support needed to properly and efficiently wash my daughter. The height of the petals was great too, to help keep water from splashing over and onto the counter.
The best part of its design is that it can be used in so many different ways. I chose to use it in the kitchen sink most of the time, but you can also use it in your bathtub or shower (if your shower has space).
When I used it in the tub or shower, I would lay the flower flat and lay my daughter on it while cupping the back of her head with my hand. Once again, I would soak the flower in warm water to keep her warm and then I would sit her up and wash her like normal.
Machine Washable
The best difference between the Blooming Bath and a typical plastic baby bath is the fact that you can wash it in your washing machine. I love this feature because you can have the peace of mind knowing that your baby is bathed on a clean surface.
Not to mention, it's so easy to clean, just pop it in your washing machine and then into your dryer like you would any piece of clothing. It's much easier than trying to clean a plastic baby bath.
Click here to buy the Blooming Bath Flower
Keeps Your Baby Warm
The perk of the flower petals is that it keeps your baby warm while you bathe them.
We all know that a plastic surface can become cold after a few seconds, and the warm bath water doesn't keep a plastic tub warm for very long.
With the Blooming bath, because of it's plush design, the petals can soak up warm water, which you can then rest your baby up against and it will keep them warm as you wash.


Soft and Plushy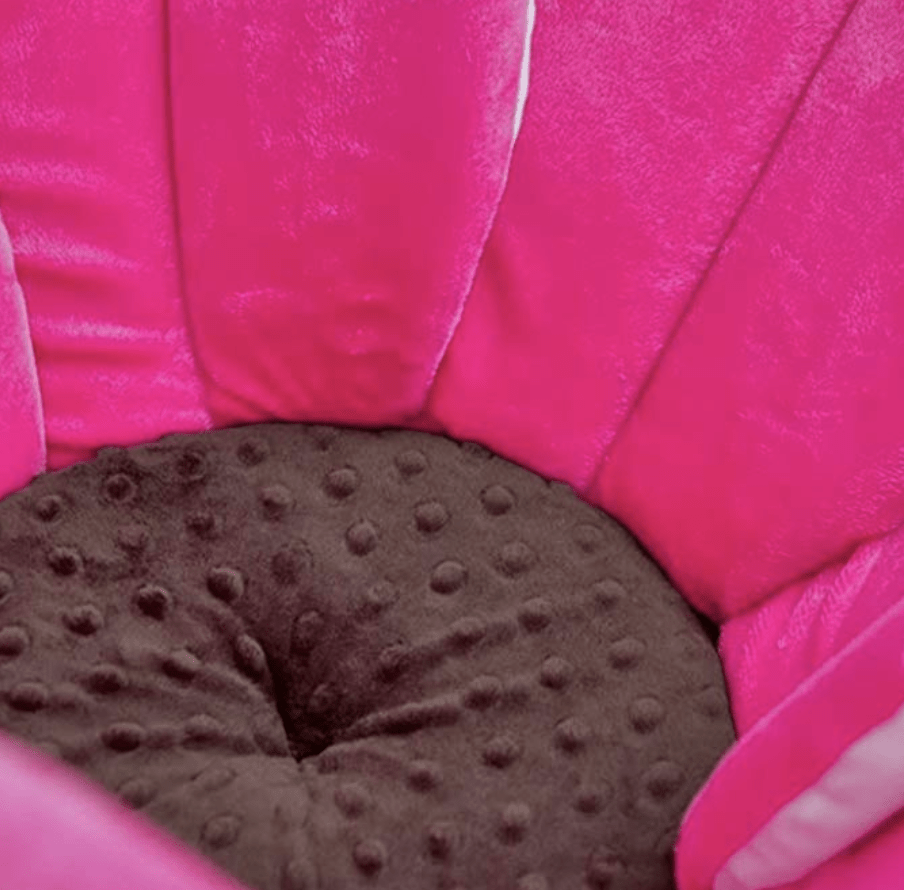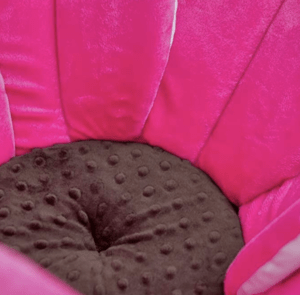 Another significant difference between this flower bath and a standard plastic tub is the cushy design. The soft plush foam creates a bowl-shaped comfort as you bathe your baby.
Don't let the plushness fool you though. When placed in your kitchen sink the petals become a supportive wall for your newborn while they sit on the warm foam center. With this support, I found it easier to wash my newborn in the Blooming Bath rather than the plastic tub.
Great For Traveling
Seeing as we have family our of state, we travel a lot, and one thing I noticed instantly was how hard it was to travel with the standard plastic baby bath. It was so big and awkwardly shaped, that it didn't fit in our car.
I loved our compact and flexible the flower bath was. It was a major space saver for all of our flights and road trips seeing as it can fold up into almost any space. I just folded it into our suitcase and that was it.
Click here to buy the Blooming Bath Flower
Blooming Bath Downfalls
Before I purchased the Blooming Bath, I did some research and read through the comments and reviews to see how other people reacted to it. 
Drying Issues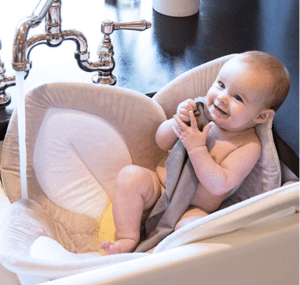 One major concern I found to be common throughout most of the reviews was the issue of drying it after using it. I was a little hesitant to buy this flower bath once I read that because I didn't want to deal with mold or mildew if the bath wasn't drying all the way.
However, I took the risk and ordered it anyway. Personally, I never had any issues with my Blooming Bath not drying. Maybe it was due to the fact that I was already aware of the problem so I took extra precautions when it came to drying it after Hayvn's baths.
I would be sure to wring it our petal by petal and then the center. Once It was as dry as I could get it, I would throw it in my dryer on a normal drying cycle (although the instructions suggest to tumble dry – oops), and once my dryer was done, the flower was completely dry.
So, in my experience drying was never an issue, however, for the sake of transparency I wanted to address the fact that others have had this problem.
Recap
So do I recommend the Blooming Bath? Absolutely! I have loved using this bath and I will use it with my future babies. It made baths easy in every stage from newborn all the way up to 6 or 7 months (I can't remember when we started normal baths).
With it's adaptable, shape-shifting design, it's a genius way to making bathing your baby easier, with eliminating the strain on your back and knees, as well as creating support for a newborn who can't yet hold their head.
Not to mention the amazing feature of keeping your little one warm the whole way through. So, if you're in the market for a baby bath, or even if you're looking for a baby shower gift for a friend. The Blooming Bath Flower is perfect!
Click here to buy the Blooming Bath Flower
I Want To Hear From You!
Did you like this review? Did you find it clear and helpful? I would love to hear. If you have any questions, comments or concerns please reach out in the comments section below!
XOXO