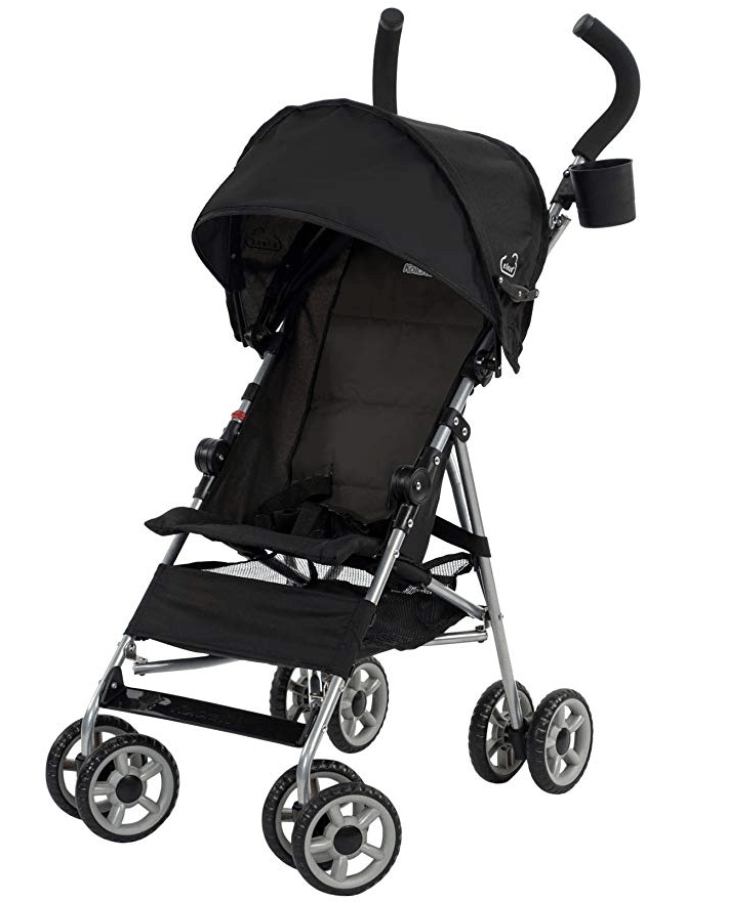 Kolcraft Umbrella Stroller – A Real Momma's Review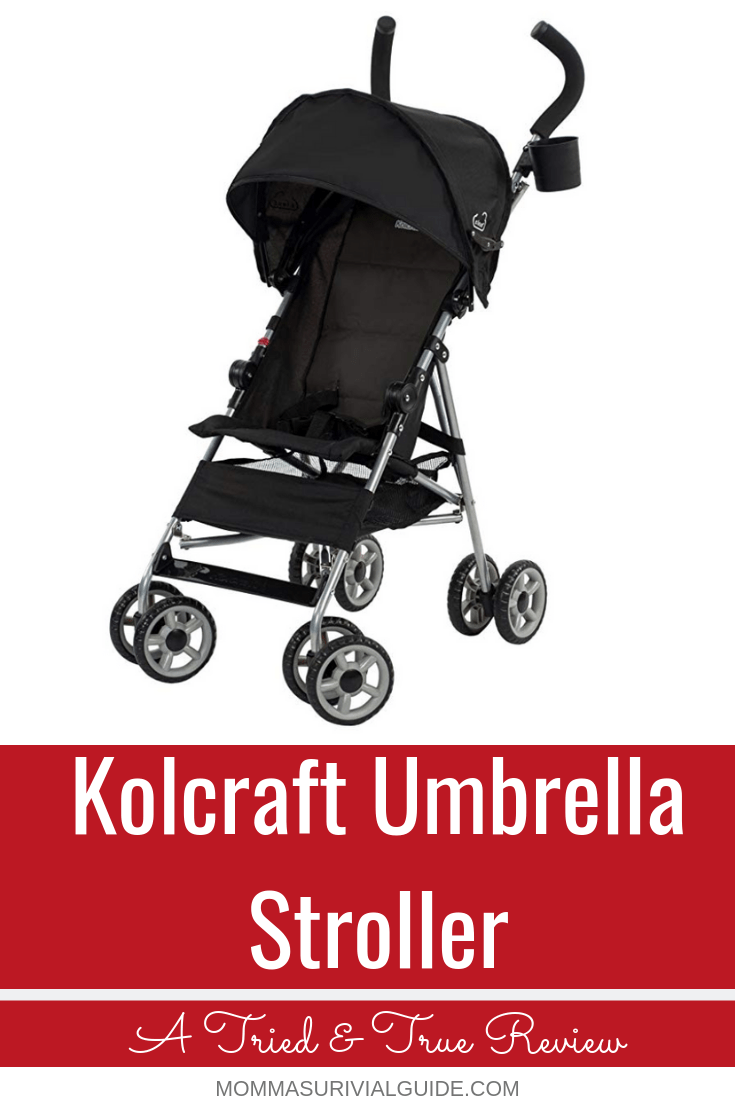 Alright mommas here is my honest review of the Kolcraft Umbrella Stroller.
Before purchasing this stroller, my husband and I owned a normal jogger stroller, and we loved it, however, it was just too big and took up so much space, and wasn't really ideal for traveling. So we began looking into smaller, lightweight strollers, that we could more easily travel with and just store in the back of a car.
Before I get into it I will say there are things I love about this stroller, as well as some things I dislike. So keep reading to find out everything you need to know before buying this stroller.
This post may contain affiliate links, which means I may receive a small commission through purchases made on my site. This is at no extra cost to you, it simply keeps my site up & running. Click here to read more about this is my affiliate disclosure.
In this post, I will cover:
The Best Place To Buy This Stroller
A Complete Overview of the Stroller
What I Like
What I Dislike
My Overall Rating
Overview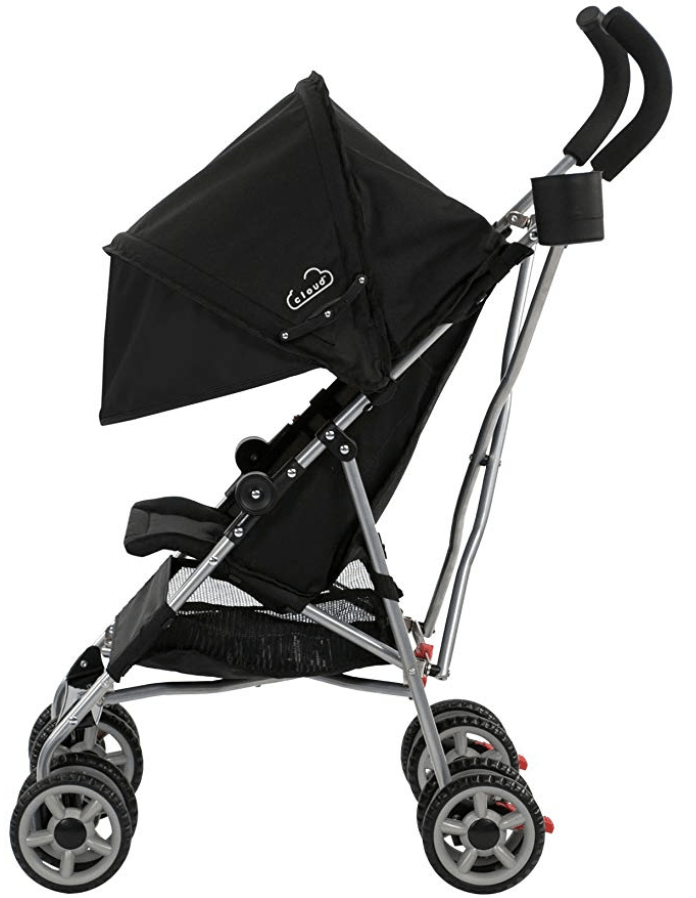 Kolcraft Umbrella Stroller Specs
Weight: 9.5 pounds
Dimensions: 28.5 x 18 x 38.3 inches
Model Number: KU022-BLK1
Best Place to buy: Amazon
My Personal Rating: 4 out of 5
The Kolcraft umbrella stroller is a small, lightweight stroller equipped with a 3-point safety harness, rear wheel foot brakes, a large extended sun canopy, and a 1-Step collapse and fold feature.
You can collapse and lock the stroller closed into its folded position using a red clip that's positioned on one of the sides. This process it so easy and quick it can be done, with one hand and one foot, all while holding your baby. This feature saved my life a few times while I was traveling and navigating a busy airport alone with my 9-month-old.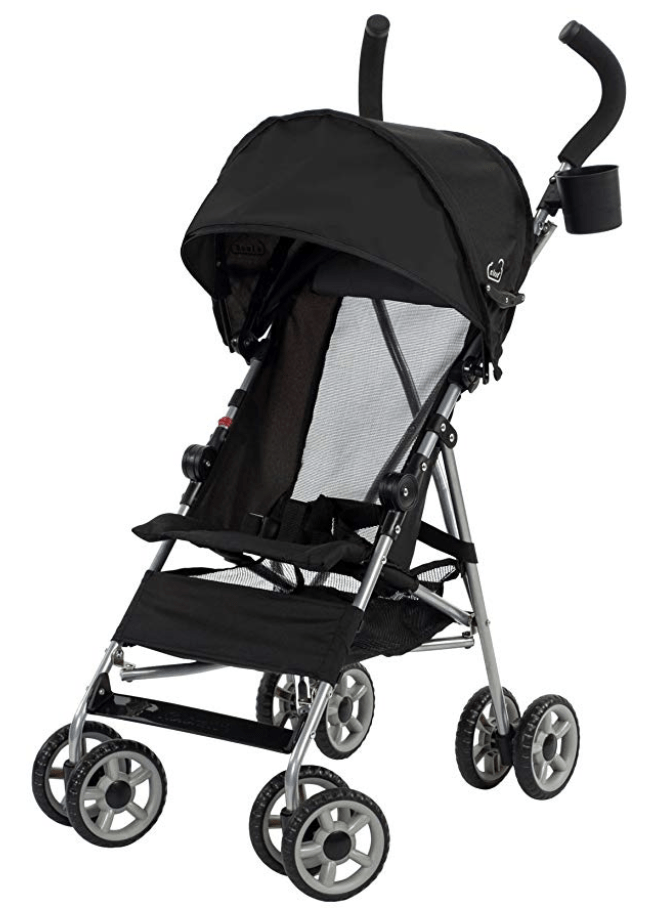 Another great feature of this stroller is the cool-climate roll-up feature. The back layer of the stroller seat, has the ability to roll up and exposes mesh for increased air circulation and creates a headrest for those hot summer days.
These are just a few of the features I love about this stroller, but here is a collective break down of all the specifications:
Shock Absorbent Swivel Wheels
3-Point Safety Harness
Easy 1-Step Collapse & Fold
Folding Lock Feature
Large Extended Sun Canopy
Cool-Climate Mesh
Cup Holder Add-On For Adult
Under Carriage Storage
What I Like
When it comes to what I like about this stroller, there are many things ranging from the size, the weight, the ease of use, and the list goes on.
Easier Than A Jogger Stroller – The main reason I love this stroller is because it fulfills its purpose. The reason I bought an umbrella stroller in the first place was to eliminate the hassle of our big bulky jogger stroller when we traveled. Since owning it, this has become the only stroller we use.
Like I mentioned earlier, I love my jogger stroller, and it's great for walks to the park. But when it comes to traveling or going to the mall, anywhere with crowds really, you just can't beat the accessibility of the umbrella stroller!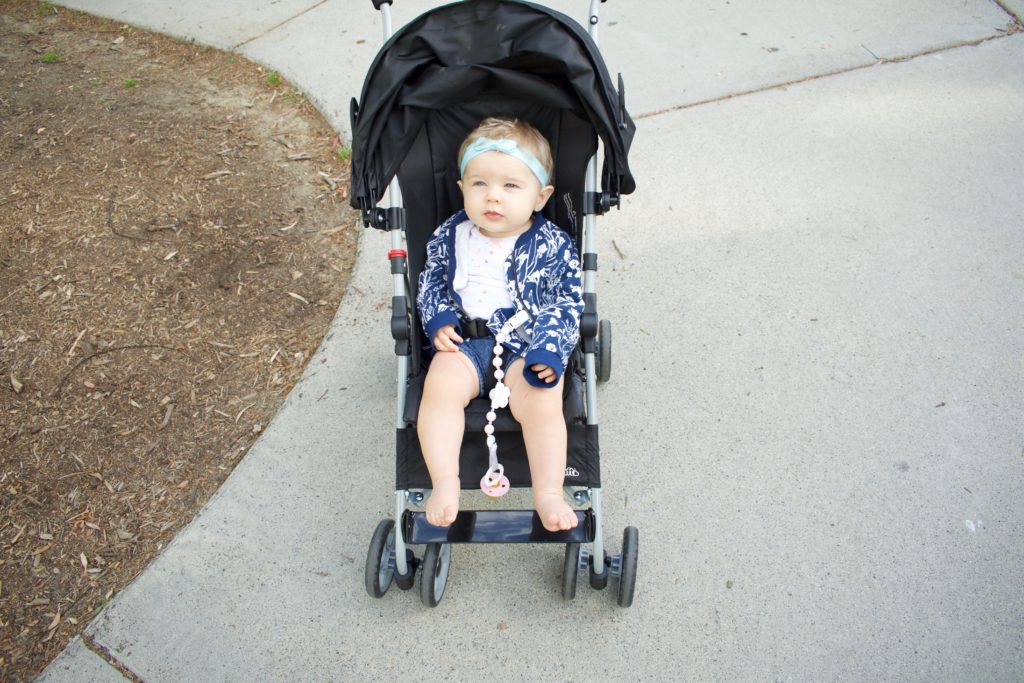 Navigating the Kolcraft umbrella stroller through a crowd is a piece of cake. My bubble becomes a lot smaller, and I don't require such a wide berth to get from point A to B, as opposed to when I have my huge jogger stroller.
Small & Lightweight – The other thing I love about this stroller is how lightweight it is. Weighing in at just under 10 pounds, it's so easy to collapse and carry even while I'm holding my daughter. It's so simple it can be done one-handed, which is great for mommas because let's face it, we just never have enough hands!
Easy To Navigate – I mentioned earlier that I used this stroller to navigate through the airport and let me just tell you how extremely grateful I was to have it. It's so small and lightweight that it fit on the conveyor belt, which made security an absolute breeze!
On top of that, its lightweight design made it so I could pick it up with my baby and luggage and travel down the escalators with ease. Mommas, I'm telling you, this is the stroller to have when traveling or navigating any sort of crowd.
Stowing – Aside from traveling and navigating, this stroller is so small, that it can be stowed virtually anywhere. I leave our umbrella stroller in the back of my car, and still have plenty of room for groceries or any other items I may need to put back there.
Compare that to my huge jogger stroller, that takes up the entire hall closet in my house all by itself, this tiny umbrella stroller is a godsend.
Easy To Collapse – When I used this stroller at the airport, the 1-Step collapse feature was a lifesaver! With my baby on my hip, using only one hand and my foot I was able to collapse and fold it within seconds.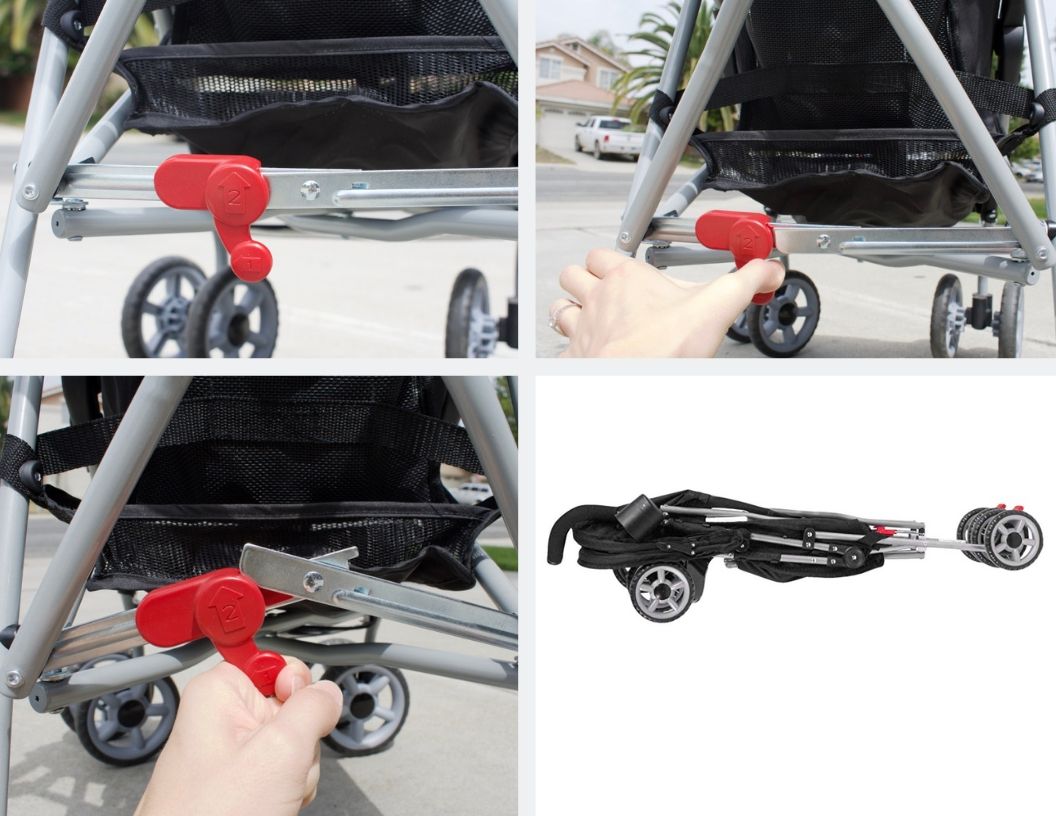 Click here to read about my journey through the airport and get some tips for flying with baby!
What I Dislike
Handles Are Too Short – Okay, it's safe to say this stroller is small right? But for me, it's a little too small, or I guess a better word would be too short.
I'm tall, but not like outlandishly tall. I'm 5'8″ and these handles are just barely too short for me. If I had to guess, I would say this stroller was designed for women who are 5'4″ to 5'6″. So if you fit into that category then this won't be a problem for you at all!
As for the taller mommas, this could be a pain. At times, I find it a little awkward to push because the handles are too low. Occasionally, my feet kick the wheels because I have to stand too close, or I find myself having to hunch a little in order to hold the handles comfortably. My husband is 6'2″ so it's even worse for him.
If I had to change anything on this stroller it would be adjustable or extended handles, but I guess you can't be too picky. So before purchasing this stroller, this is something I would take into consideration. For shorter women, this won't even pose a problem, however, if you're taller, just keep this in mind.
My Rating & Review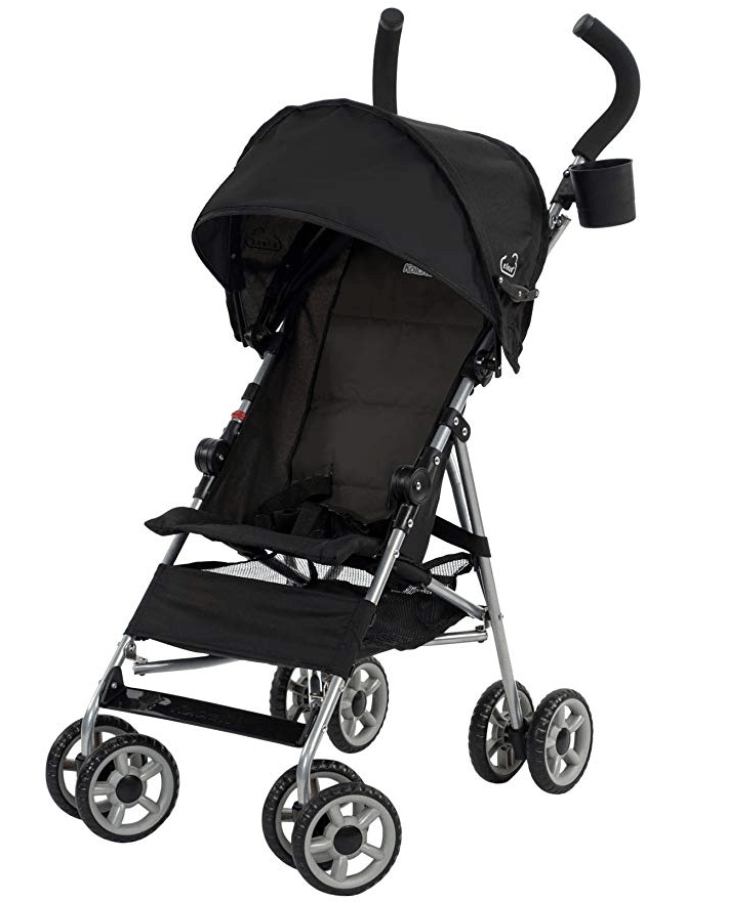 Overall, the Kolcraft umbrella stroller is a great little stroller that has saved my life when traveling, especially at the airport. We love taking it to the beach, the mall, and basically, anywhere that involves crowds.
It's so incredibly easy to collapse, fold down, and carry around, even when you hold your baby. Not to mention, almost everything can be done using your feet, which is perfect for us mommas, who already have their hands full!
I gave this stroller a 4 out of 5 because it's great and fulfills its purpose as an umbrella stroller, however being taller than average, I find the handles are a little too short, and for that reason, I can't give it a 5 out of 5.
But, like I said those aren't deal breakers for me, so overall I'm very happy with this stroller. I promised an honest review and there you have it, mommas. A real review from a real momma. I love this little stroller and take it with me everywhere. It's great to have on hand and fits in my car perfectly allowing me to still have plenty of trunk space.
If you're tired of lugging around a huge stroller that takes up a ton of space both in your car and out in public, I highly recommend you get yourself one of these umbrella strollers. They have made public outings and traveling a breeze!
Did you find this review helpful? Let me know by leaving a comment below!
XOXO