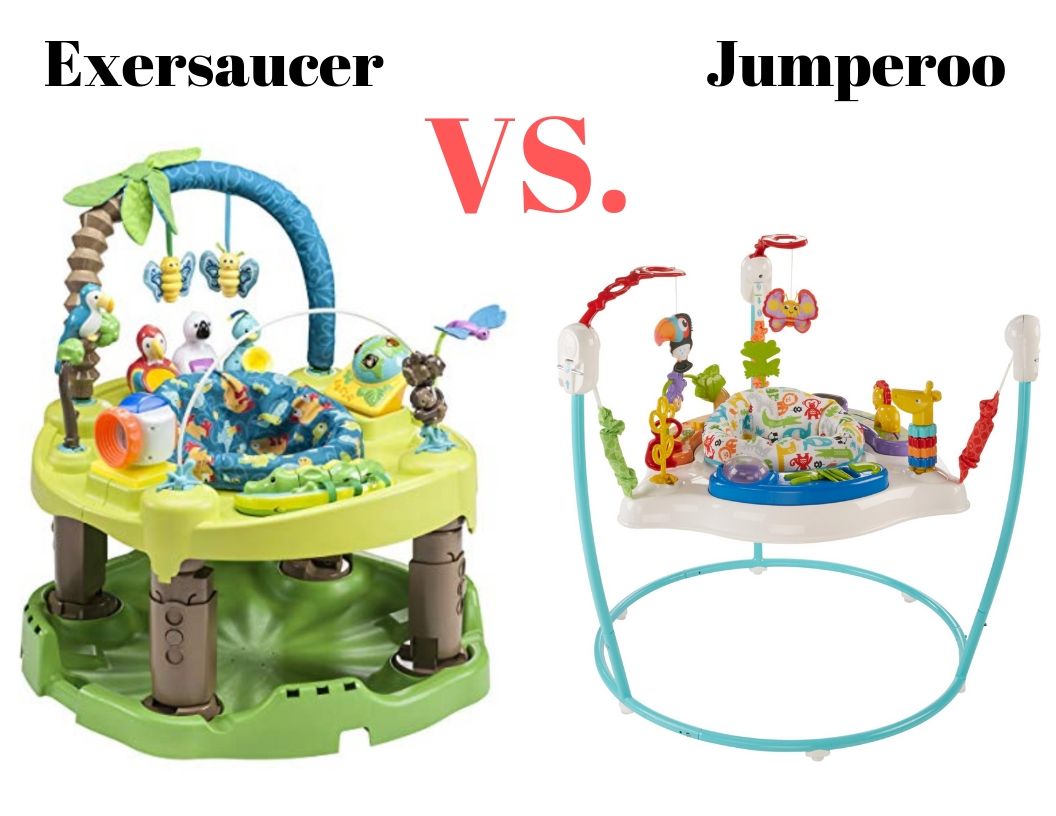 Exersaucer Or Jumperoo – Which One Is For You?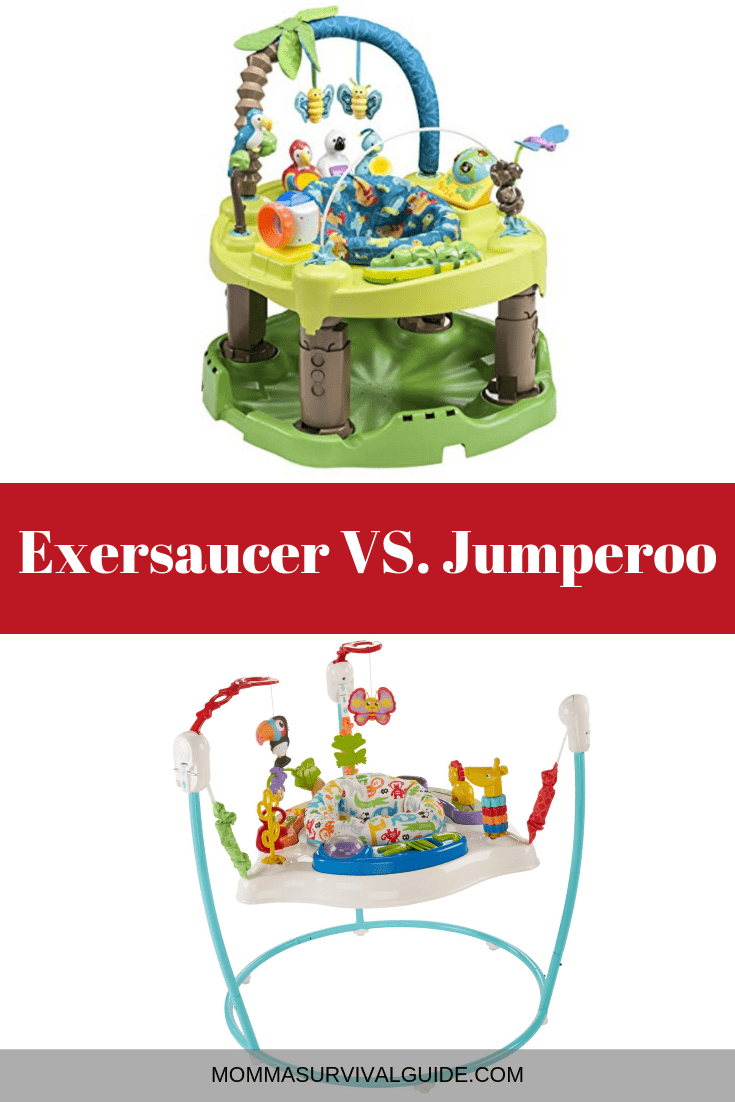 If you're reading this, then you've probably already done some research regarding the best play-pens for your baby, and you've narrowed it down to two, the Exersaucer or the Jumperoo.
As a parent in the millennial era, we are presented with so many choices in terms of baby items and baby toys that all claim to be the most educational, or the most beneficial in terms of development. I know from experience that this can seem overwhelming and make it hard to choose.
One debate that is rapidly gaining traction is, whether to buy an Exersaucer or Jumperoo for your baby. If you've never owned or used either of them, it can be particularly hard to choose because from the surface, they seem extremely similar.
So, if this sounds like you, and you just can't decide which one will be better for your baby, keep reading and I will break down everything you need to know about the Exersaucer and the Jumperoo, so you can feel confident in your decision of which one will best suit your baby.
Exersaucer Overview
Click here to buy this Exersaucer now!
So what is an Exersaucer? An Exersaucer is a circular playpen, that closely resembles a table with a cut-out swivel seat in the middle. Along the edges of the table, are various toys that all have their own lights, music, and sound features.
The cut-out swivel seat is designed to help stabilize the baby as they work their way around the table playing and examining each toy. It keeps them stationary and in an upright position, which helps them to learn and exercise their motor skills.
Although they are all alike in shape and design, Exersaucers all come with different types of toys, so it depends on the theme of whichever one you buy. I have the Eveflo Triple Fun Jungle Quest Exersaucer, so that will be the one I reference in this post.
The Jungle Quest Exersaucer features include:
11 age-appropriate toys and fun music help baby achieve 10 developmental milestones
3-position height adjustment grows with baby seat locks in multiple positions
Removable, machine washable pad with 360-degree spin
Accessibility and Usage:
Built for ages 0-3 yrs. With a play mat for younger babies who cannot yet support themselves
The Exersaucer itself can be used for babies 8+ months
Exersaucer also comes apart to create an extended play table for toddler age children
Has the ability to fold which makes travel and storage easy
Maximum Weight: 25 lbs
The things I like most about this specific Exersaucer is that my baby can use it for a long time. It's important to me, that if I'm going to spend money, I want to get the most out of it and make it last. With this Exersaucer you can definitely do that.
First of all, it has a play mat and a detachable toy with dangling butterflies which you can place over your baby while they lay on their back. This is perfect for babies that can't support themselves enough to sit in the actual Exersaucer.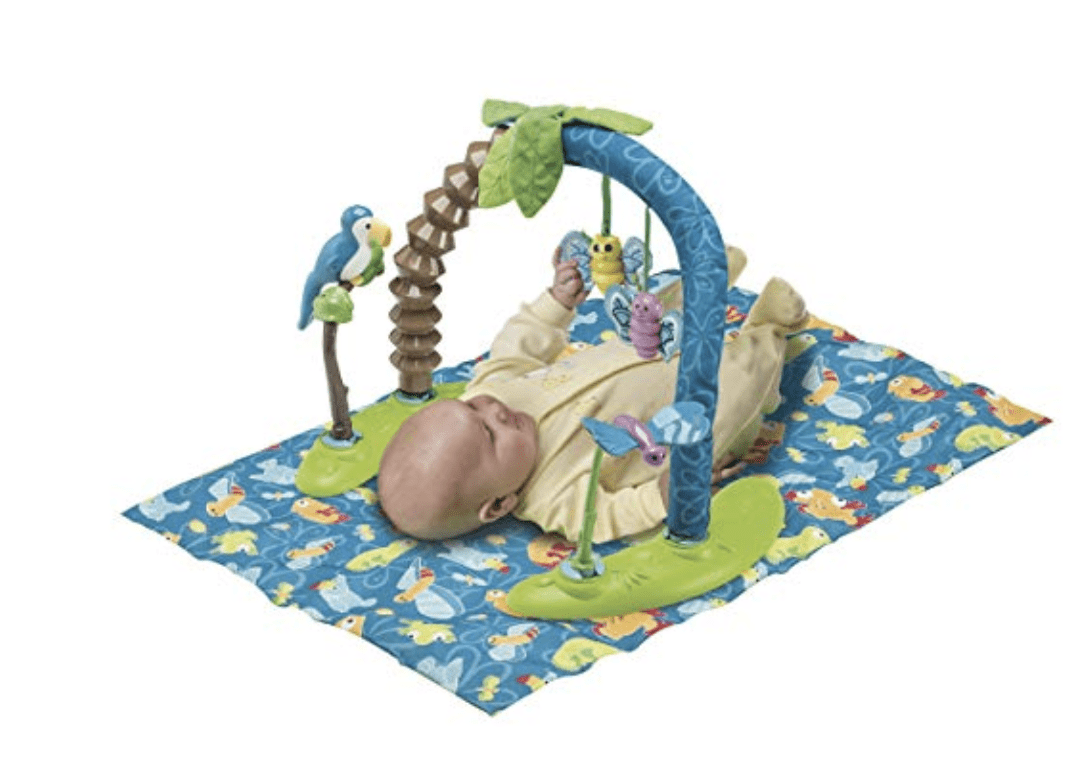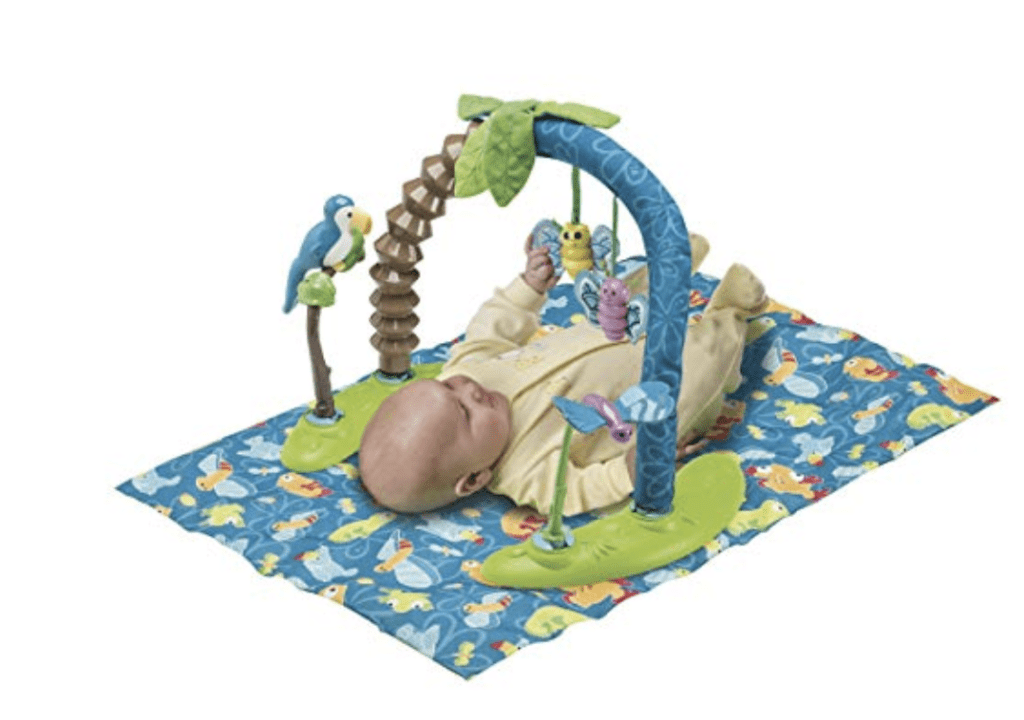 Then, once your baby is old enough to support themselves (the recommended age is 8+ months) your baby can utilize the Exersaucer to play, learn, and grow as it exercises all their motor skills and helps with achieving 10 developmental milestones.
Not to mention, it's a great way to help your baby gain strength in supporting their back and neck, as well as strengthening and developing their little leg muscles!
Once your baby outgrows the playpen version of the Exersaucer, you can convert it into a play table which is perfect for toddlers! It's extremely versatile, and it's a toy that can grow with your baby.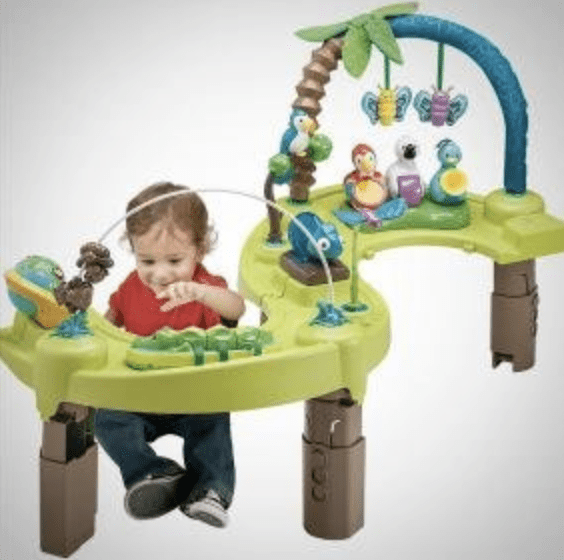 I also like the variety that it provides to help keep my baby constantly entertained. There are so many toys, lights, and sounds, to keep my daughter occupied (and stationary) while I do things like clean the house, or fold laundry. It's a great entertainment center as well as a learning center. Let me tell you, it has saved my life more than a few times as a stay-at-home mom.
Jumperoo Overview
Click here to buy this Jumperoo now!
So, now that we know all about the Exersaucer, what on Earth is a Jumperoo?
Well, a Jumperoo is basically a variation of an Exersaucer, meaning it actually has a lot of similarities. The Jumperoo is a stationary playpen with a cut-out swivel seat in the middle of a table full of toys.
Like the Exersaucer, it depends on the Jumperoo that you buy, that determines the toys. For this post, I will use the Fisher-Price Rain Forest Jumperoo because it's most comparable to the Evenflo Jungle Quest Exersaucer.
The Fisher-Price Rain Forest Jumperoo features include:
360 degrees of play for baby to discover
Music, lights & sounds that reward & encourage every bounce & jump
Easily adjusts to 3 different heights as your baby grows
Colorful toys (Exact number not listed) includes dangling butterfly & toucan, a giraffe with spinner-rattle neck, froggy tether, lion slider & more
Removable, machine-washable seat pad
Accessibility and Usage:
The difference between the two is that unlike the Exersaucer, the seat and table of the Jumperoo are connected to bungees like cords that allow the table to move up and down as your baby bounces.
Really, that's the only difference in terms of design between the Exersaucer and the Jumperoo. The toys that are attached to the table top are obviously different, however, they are still aimed towards your baby's growth and development.
Another huge difference between the Exersaucer and the Jumperoo is the versatility. Unlike the Exersaucer, the Jumperoo does not have the ability to convert from a playpen to a play table, and it also lacks the play mat and dangling mobile option that's included with the Exersaucer. So, overall, the Jumperoo has a shorter lifespan in terms of how long your baby will actually be able to use it.
The things I like about the Jumperoo is the fact that your baby can jump up and down. My daughter would have absolutely loved this. She is a little wiggle worm and has always loved to kick her legs.
My nieces both had a Jumperoo and let me ell you, they loved it. It was a great way to help get their wiggles out as well as help them grown and strengthen those leg muscles.
Exersaucer Or Jumperoo?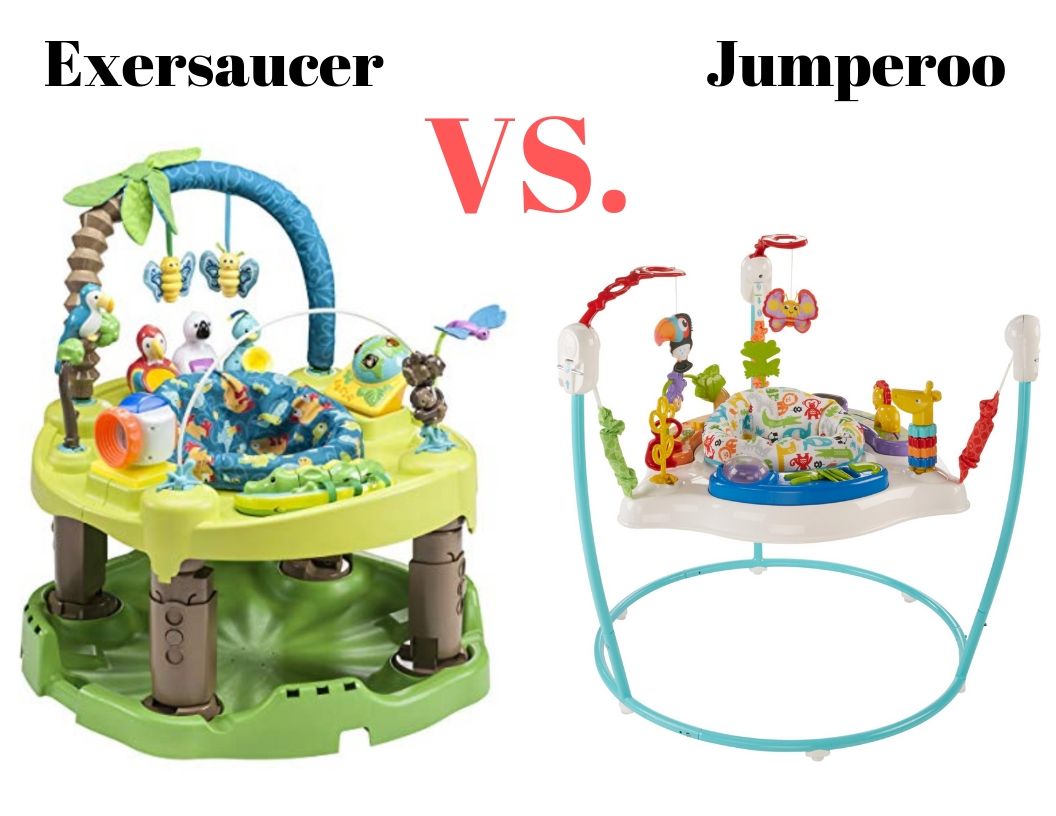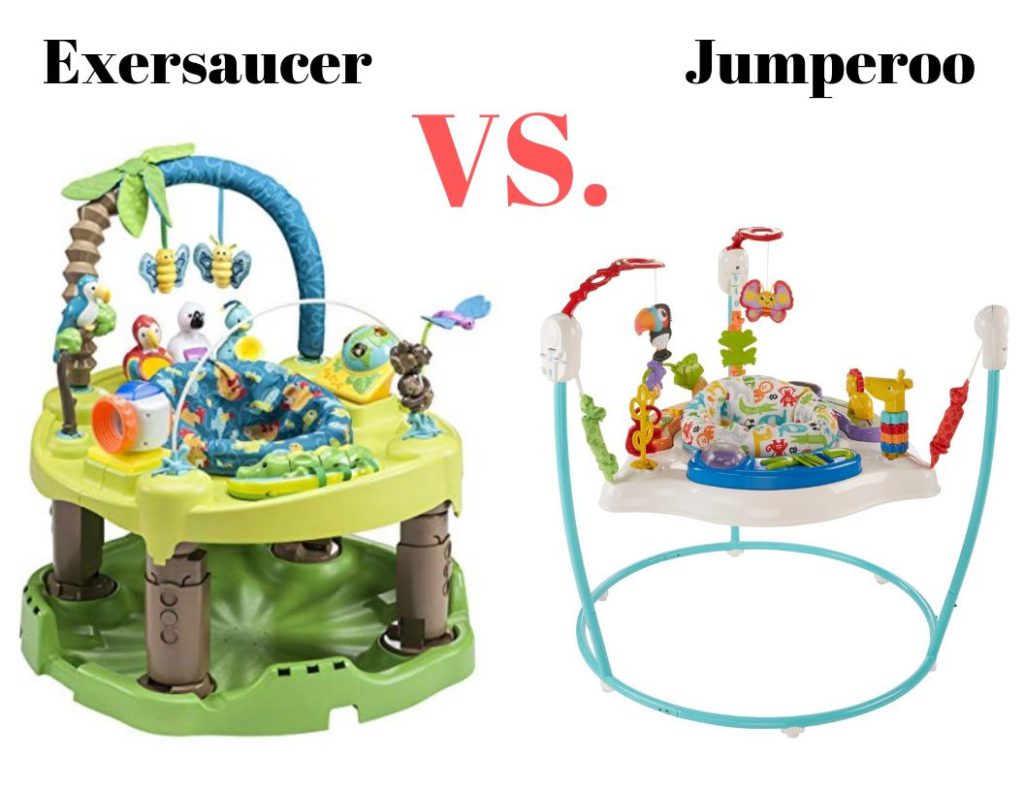 So now that we have broken down each playpen and can really understand how each one works and operates, we still haven't answered the question at hand: Exersaucer or Jumperoo?
Well, it really comes down to what you are wanting out of it. Do you want longevity and more versatility, or do you want something that will really work out your baby's wiggles and that is more aimed towards developing strength and motor skills?
Let's compare the highlights side-by-side so you can more clearly see the defining differences:
---
Exersaucer:
More versatile – Can convert for 3 different play stages based on age: 0-4 months, 8+ months, 1-3 years
Can be used for longer
Stationary swivel seat does not bounce
Jumperoo:
Baby can be slightly more mobile
Slightly more focused on strength training
Swivel seat and table attached to bungee cords, with ability to spring up and down as baby bounces


---

---
---
So, mommas, if you're like me and you want to get your money's worth out of something, that you can use for a long time and has great versatility, the Exersaucer is the way to go. With the ability to use it from ages 0 months to 3 years, as well as the option to convert it from play pen to play table, the Exersaucer grows with your baby.
However, if versatility doesn't really matter to you, and you're more focused on getting those wiggles out and developing more strength and exercising motor skills, then the Jumperoo is the better choice for you. With the option for more mobility and the ability to jump around, your baby will have more potential to develop and strengthen their tummy, back, neck and leg muscles.
In my opinion, the better option was the Exersaucer simply because it can grow with my baby, as well as develop those important motor skills. Although it doesn't have the option to bounce up and down, I still found that my daughter was exercising her motor skills by using her legs to swivel around in the chair, as well as grab and reach for the different toys around the table.
For me, the Exersaucer simply had more options and was more geared towards my baby in terms of growth and development. Plus, like I said, I always value something that can last awhile and the Exersaucer is definitely built to last.
Did you find this review helpful? I would love to know! If you have any personal experience with the Exersaucer or the Jumperoo, I am interested to hear about it! Please leave any questions or personal experiences in the comments below! Thanks for reading!
XOXO