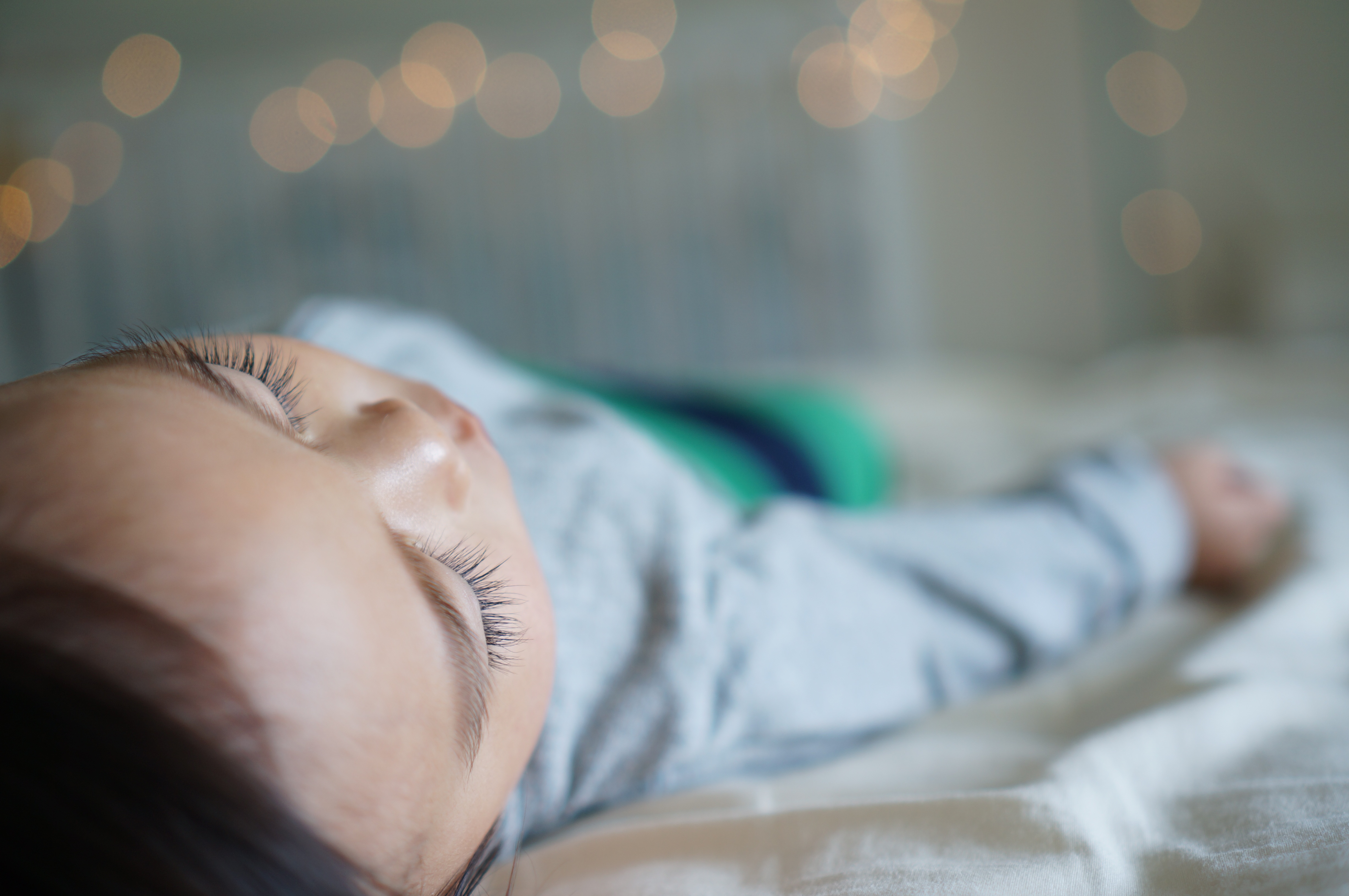 The Best Baby Monitors of 2019 – What Makes A Good Baby Monitor?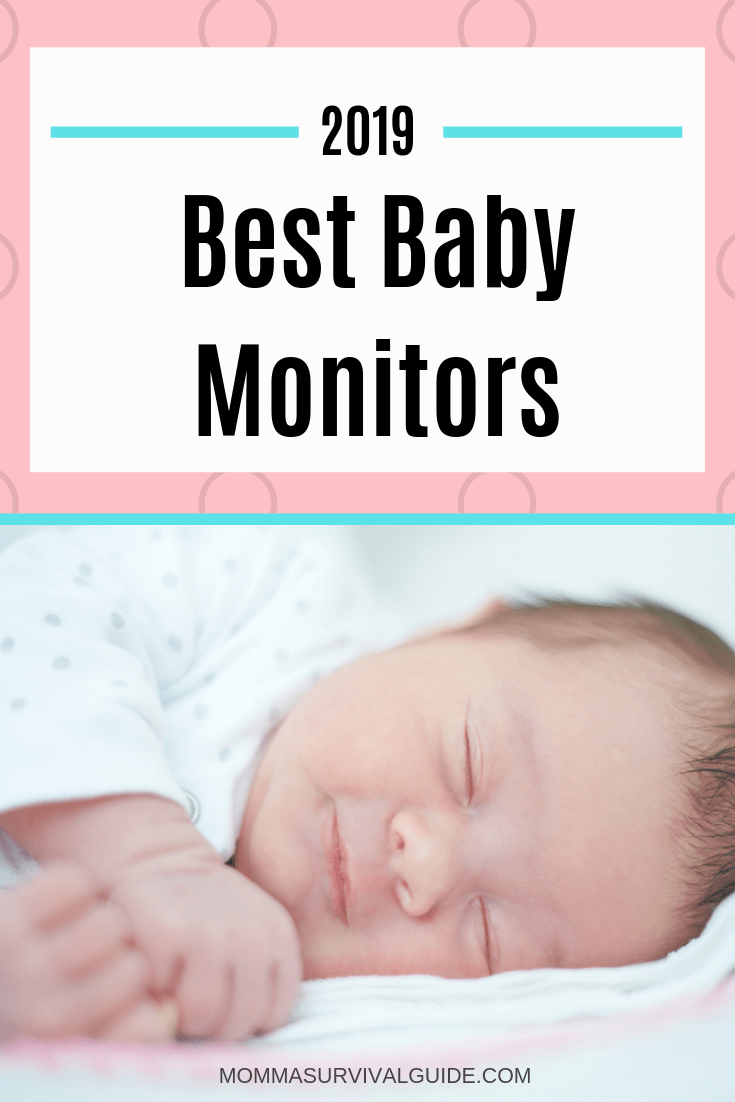 Mommas, can you imagine a time when baby monitors with audio/visual technology didn't exist? Imagine having to tiptoe into your sleeping baby's room to check on them, only to have them awakened by the squeaky door hinge.
Well, good news! As mommas in the millennial age that worry is long gone thanks to modern technology and the development of these amazing baby monitors!
Keep reading to learn more about the best baby monitors of 2019.
This post may contain affiliate links, which means I may receive a small commission through purchases made on my site. This is at no extra cost to you, it simply keeps my site up & running. Click here to read more about this is my affiliate disclosure.
What Makes A Good Monitor?
First things first in order to rate and compare monitors they have to be evenly analyzed. So, what makes a good baby monitor? I have broken it down, into different categories.
To find a winner, I will base each category off of a 10 scale rating and will then reach an accumulative score for the baby monitor itself through averaging the scores of each category.
Modern Capabilities – Can it hang? When I say modern capabilities, I mean, does it have the ability to connect to your phone, either over WiFi, or a smartphone app. Does it measure up to the modern technology we have surrounding us this day in age?
Battery Life – This one is self-explanatory, does this monitor have a long-lasting battery life. Also, how does it charge? Does it plug into the wall? Does it have a rechargeable battery? It may seem simple, but trust me as you read you will see just how important battery life is when it comes to a baby monitor.
Range – This one covers how far the monitor and the camera can be from each other and still display a picture and sound.
Video/Audio Quality – The audiovisual quality is important in that if you're spending your hard-earned money on a technological device, you expect it to work and you expect it to work well. With the advancement of technology, baby monitors don't always come cheap, so when you spend your money on one, you want to make sure the quality measures up.
Price – As always price is something I consider when purchasing anything. What can I say, I'm a momma on a budget. And let's be honest, everyone loves getting a good deal.
#1 – Owlet Smart Sock 2 Baby Monitor + Camera
Buy this Smart Sock + Cam on Amazon.com
Or
Buy the Smart Sock on Amazon.com
Coming in at #1 the Owlet Smart Sock truly deserves it. Mommas I will stand by this monitor til the day I die. After all, it saved my daughter's life. You can read about it in my in-depth review by clicking here.
Until this year The Owlet Smart Sock used to be just that, a sock monitor. But now in 2019, Owlet has released a camera to go along with it! My dreams have come true, and I will be buying this for my next baby.
Owlet Smart Sock + Cam Features:
Two-Way Audio
Room Temperature
WiFi Connection/ SmartPhone App Live Video
HD 1080p Video
Background Audio
130 Degree Wide Angle Lens
Smar Sock Utilizes Pulse Oximetry to Get Live Readings On Baby's Heart Rate and Oxygen
Modern Capabilities – 10 out of 10 Using something called pulse oximetry, when placed on your baby's foot, the Owlet Smart Sock measures both heart rate and oxygen levels and alerts you immediately if those levels fall out of a preset range.
This monitor gets a 10 out of 10 for modern capability because right now it is the only sock on the market to use such accurate measurements to monitor your baby so closely.
It also uses WiFi to connect to your smartphone for both sock and camera and has two personalized smartphone Apps that allow you to see live readings.
One app comes free with the Owlet Smart Sock, the other app, called Connected Care, is a subscription, which I would highly recommend. It allows you to not only see live readings of your baby's heart rate and oxygen levels but also breaks down their sleep/wake patterns.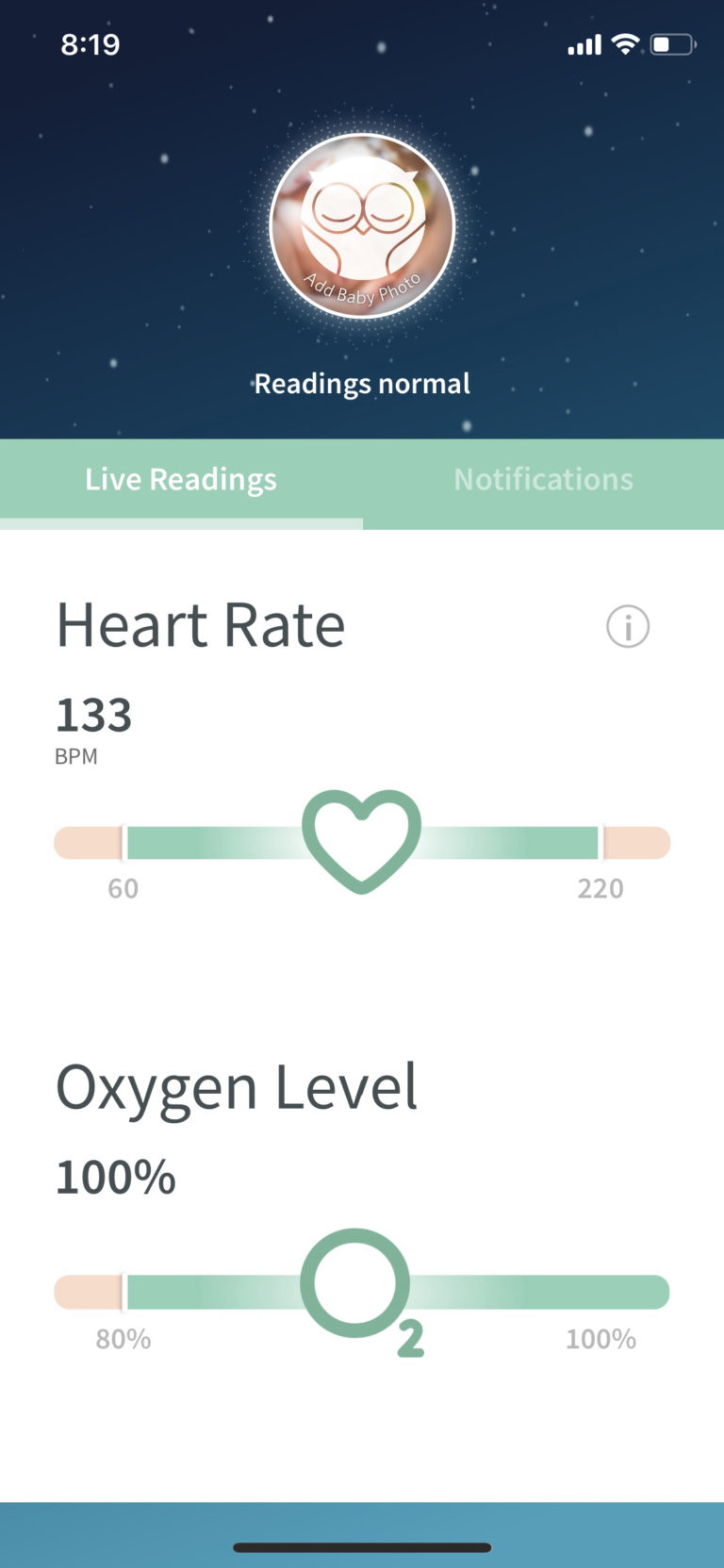 Where Owlet excels:
Pulse Oximetry– there is nothing else like this on the market. Get some much-needed rest and pas of mind knowing the Owlet Smart Sock is monitoring your baby while you're sleeping with its advanced technology that's the same as what's used in hospitals.
Where Owlet lacks:
Multiple Cameras– As much as I would like to say this monitor lacks nothing- if I had to get picky it would be that it doesn't have the option to connect multiple cameras. I will give Owlet a break though because they did just recently come out with a camera to pair with the sock and its only a matter of time before they add this option.
Battery Life – 10 out of 10 The battery life on these gets a 10 out of 10 because it has a battery life of a whopping 18 hours! It's the best battery life I have yet to see relative to any other baby monitor on the market right now. I can attest that it does live up to this claim, seeing as I can go without charging it and still use it twice (two overnights) before it needs to be charged again.
Range – 7 out of 10 The range is where this monitor falls a little short, coming in with a range of 100 feet. The sock needs to be in range with the home base in order to monitor your baby's levels. The nice thing about these monitors is that it will immediately notify you if the sock is out of range with a flashing blue light and a musical tune.
Video/Audio Quality– 10 out of 10 With the new camera, these monitors are back in the game. With HD video quality at 1080p, this monitor has both color and night vision, which adjusts automatically depending on the lighting of the room.
Price – 8 out of 10 As far as the price goes, I'm sure you're wondering why I gave this an 8 out of 10. I realize this monitor is not the cheapest option out there, but it is by far the best. I would spend my money on this monitor every day. Like I said it saved my daughter's life and to me that is priceless.
There is also a cheaper option if you wish to forego the camera. The smart sock itself is only $199.99. Click here to buy it now on Amazon!
Mommas, the Owlet is worth every penny, I promise.
Overall Score: 9 out of 10
#2 – Nanit or Nanit Plus Baby Monitor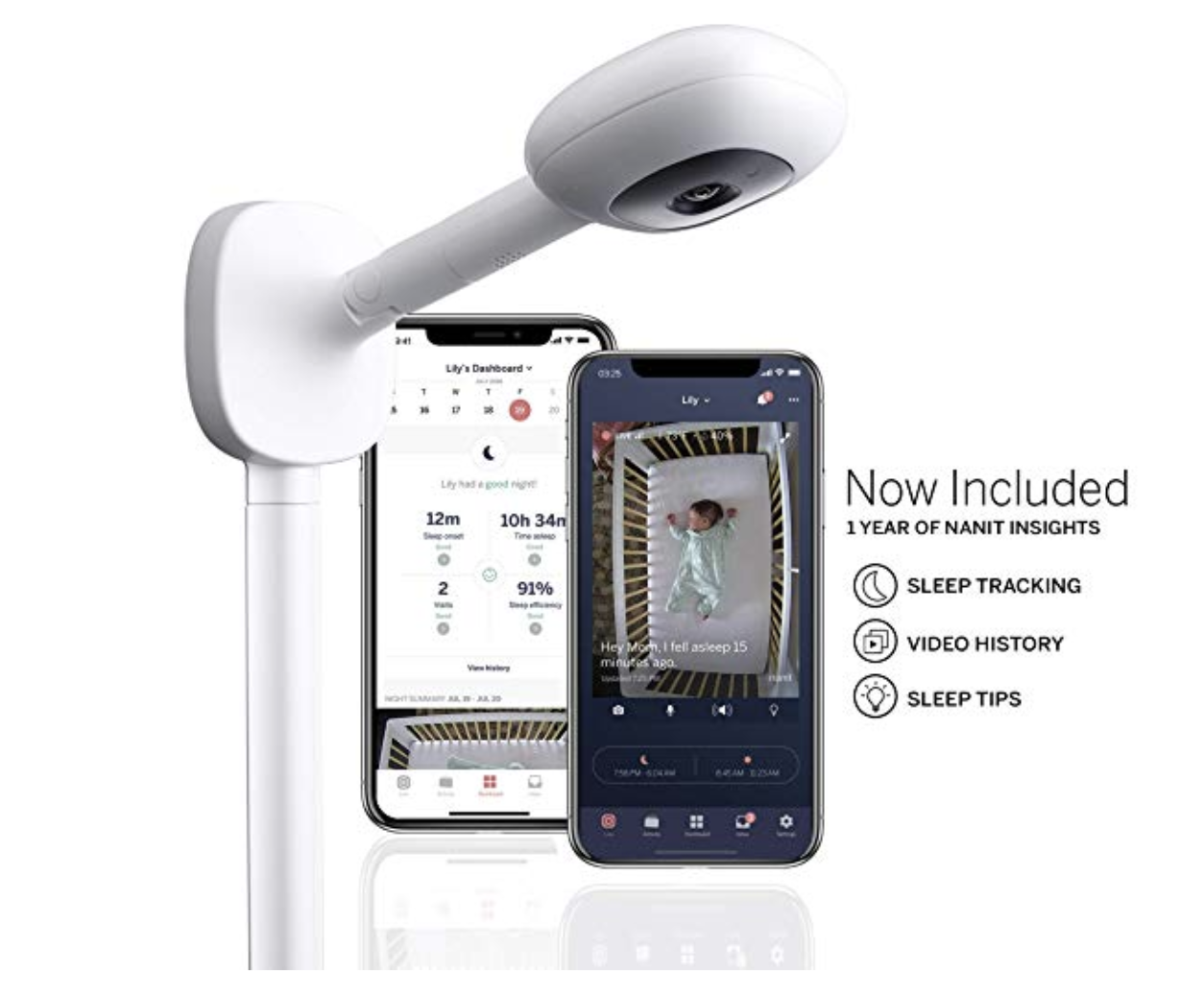 Our number two monitor is the Nanit baby monitor. This monitor, also sold in the Plus edition (Plus includes two-way audio) is the highest rated on Amazon, and for good reason. In terms of modern technology, this monitor can hang.
Nanit Baby Monitor Features:
Bird's Eye View Angled Lens
Cord Protectors (from curious fingers)
Optional Floor Stand (sold separately)
Motion Sensor
HD Live Stream to SmartPhone
WiFi Connection With Sound & Motion Alerts
24/7 Background Audio
Two-Way Audio (Plus Edition Only)
Can pair multiple cameras to one account
FREE 1 year subscription to Nanit Insights
Modern Capabilities – 10 out of 10 Mommas, this monitor has it all, and then some, in terms of the modern capabilities. With a sensitive motion detector, this monitor can alert you when your baby is rustling around, and will also analyze their sleep patterns based on movement.
The Nanit now includes a free 1-year subscription to Nanit insights which is a mobile app that tracks sleep, stores a record of video history and offers helpful sleep tips.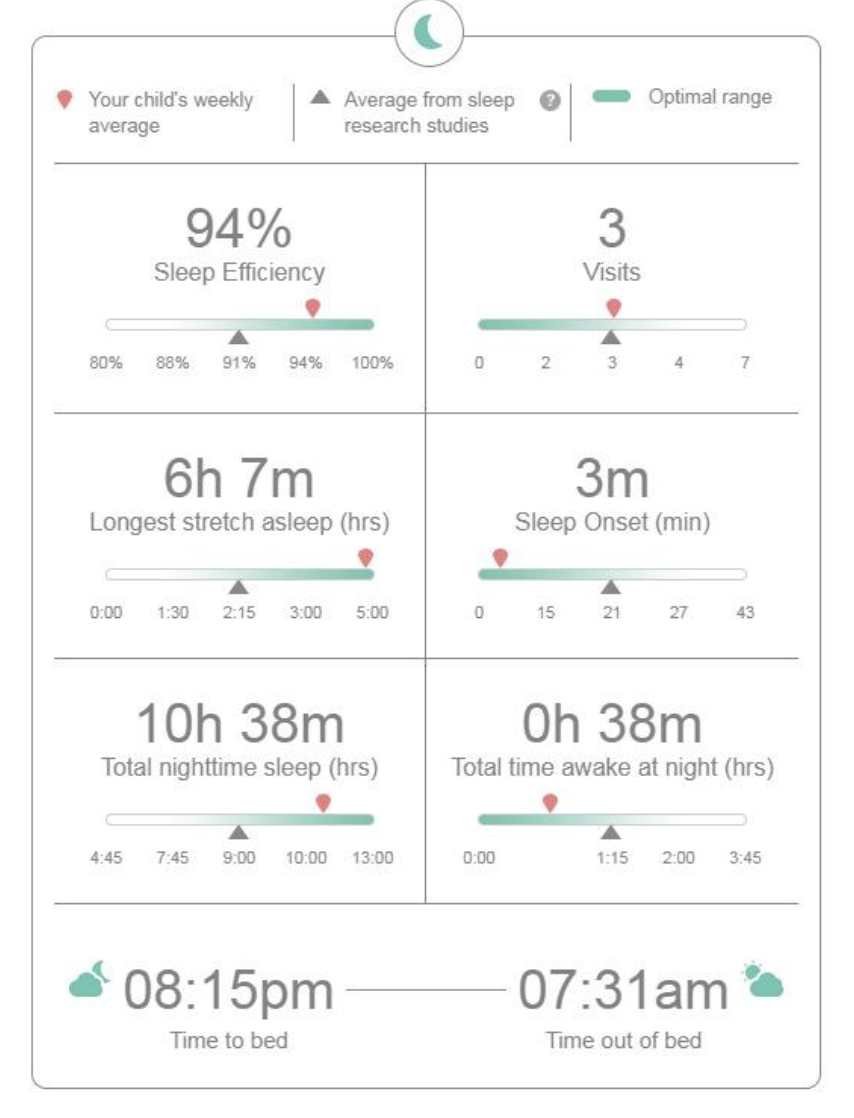 Another huge bonus of this camera is that multiple cameras can be linked to one account, making this a great monitor for mommas with multiple babies in different rooms!
Battery Life – 10 out of 10 The battery life can't be beaten because this camera is constantly connected to the wall and streams to your phone as long as there is an internet connection. So long as you have WiFI you are good to go in terms of battery.
Range – 10 out of 10 Just like the battery life, as long as you have a WiFi connection the range should reach as far as your modem does. Therefore, the Nanit baby monitor gets a 10 out of 10 in range as well.
Video/Audio Quality– 10 out of 10 With the basic model of the Nanit baby monitor, you do not get the two-way audio, however, the HD live stream is still included. So as far as video and audio quality go with this monitor, it gets a 10 out of 10, you can't get better than HD video and I love that its even an option in the basic model.
Price – 3 out of 10 The only complaint I have, is how expensive this monitor is. Similar in price with the #1 Owlet Smart Sock, I personally feel you get more peace of mind with the pulse oximetry provided with the Owlet, which is why I give this monitor a 3 out of 10 in the price tag department.
Where Nanit Excels:
The Motion Sensors– this technology is hard to beat with the motion sensors that send live updates and alerts straight to your phone. This feature is a bonus because it allows you to know when your child is stirring and when they are sleeping peacefully, or if they are on the verge of waking up.
Where Nanit Lacks:
Price- I think the only place this monitor lacks is in the pricing, and that is simply because I think it is priced too high for what you get in comparison to our #1 monitor, the Owlet Smart Sock. Other than that, it's seemingly perfect.
Overall Score: 8.6 out of 10
#3 – Lollipop Baby Monitor
As Amazon's Choice for baby monitors in 2019, the Lollipop monitors is a top competitor in this list. With three colors to choose from, and its modern, sleek look, it's easy to see why.
I'll give it to them, the Lollipop monitor is by far the most unique looking monitor on the market, and with a flexible tail, it is easy to use and mount anywhere from crib rails to desktop/countertops, or even the ceiling with the wall mount that comes in the box.
Lollipop Baby Monitor Features:
Flexible "Tail" (used for positioning)
WiFi Connection And SmartPhone App
Phone Battery Energy Saving Option
Crying Detection Paired With Alerts Sent To Phone Screen
Cord Protectors (for curious fingers and hands)
Compatible With Alexa
Data Recording & History of Movement and Crying
Wall/Ceiling Mount
Can Connect Multiple Cameras to One Account (Live View is limited to 2 cameras)
Modern Capabilities – 8.5 out of 10 I really wish I could give this monitor a 10 out of 10 for modern capability because it really excels in some aspects. Unfortunately, there are some areas where it falls short.
Where it excels:
The crying detection has the highest accuracy compared to any other baby monitor on the market right now. With 96% accuracy, there is a much lesser chance of receiving those annoying false alarm notifications.
The Battery Life Energy Saver- This is genius. Most everything we do is on our phones, or uses our phones is some way. With that being said, we need to preserve or battery life in any way possible. The fact that this camera can stream to your phone as well as saving the battery life, is a game-changer.
Where it lacks:
No Pan-Tilt or Zoom- The unfortunate thing about the Lollipop camera is that there is no option for a pan-tilt or zoom, so wherever the camera is stationed is where it will stay. I will say though, that the bendable tail allows for some flexibility in this area.
Video Quality – The video quality on this camera does not measure up to some of the other monitors listed in this post. However, it still streams video in 720 quality, which is decent, you just can't beat HD video quality.
Battery Life – 10 out of 10 This monitor is unique when it comes to battery life because it is the only monitor on the market right now with an energy-saving option. We all know that streaming anything on our phones can drain the battery life, very quickly. Well, not with the Lollipop baby monitor.
This monitor has the option to play audio in the background and to turn the video off when not in use, therefore conserving your phone's battery power, while still monitoring your sleeping child. For this reason, I wish I could give it an 11 out of 10, because this is truly next-level thinking.
Range – 10 out of 10 As long as you have an internet connection your monitor will and stream to your phone. Just be sure to stay within the range of your WiFi modem or router.
Video/Audio Quality– 7 out of 10 The Lollipop monitor falls short in the audio/video quality department simply because it lacks the pan tilt and zoom features that come standard in most monitors these days, as well as the video quality.
With 720 video quality, its not terrible but it doesn't quite measure up to the other contenders in this list. But let's be honest, this is a baby monitor, not a plasma TV screen, so I completely understand if this is not a deal-breaker for you. It's just worth mentioning.
Price – 6 out of 10 I give this monitor a 6 out of 10 in price because its pretty average in terms of other similar monitors on the market right now. It doesn't have all the bells and whistles as the higher-end monitors, but it does have all the technology you need, and technology comes at a price.
So yes, there are cheaper monitors, but for everything that is included, the Lollipop monitor is fairly priced, and I consider it reasonable.
Overall Score: 8.3 out of 10
#4 – HelloBaby Monitor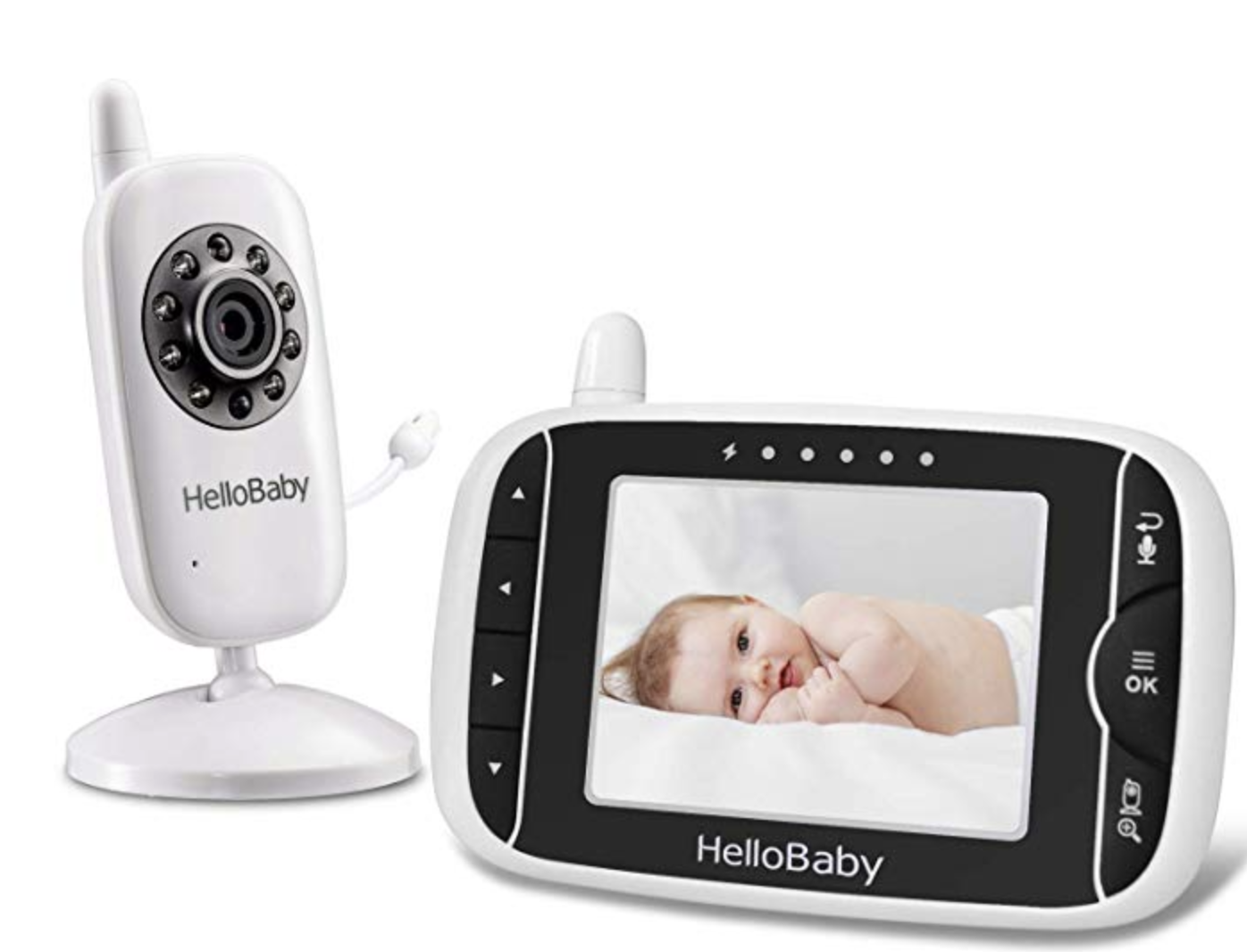 This next monitor is quite the underdog but really holds its own. The HelloBaby monitor is labeled a Best-Seller on Amazon, and after some serious research, I now see why.
The reason I would qualify this monitor as an underdog is simply because of the branding. To be honest, I had heard of all the other monitors on this list but had never heard of the HelloBaby monitor. I could see how it would get overlooked, but that is a big mistake, keep reading to find out why.
HelloBaby Monitor Features:
Two-Way Audio
Can Pair Up To 4 Cameras To 1 Monitor
8 Lullabies
Room Temperature Sensor
Night Vision
Pan Tilt
1000 Foot Range
Modern Capabilities – 8 out of 10 The HelloBaby monitor keeps up with today's technology and for what it includes, it definitely beats out its competitors in price. This monitor features a pan tilt and zoom, it also has two-way audio, room temperature sensors, and also includes an assortment of 8 different lullabies to help your baby drift off to sleep.
It also has the capability to pair 4 cameras per monitor to allow simultaneous streaming. This is a great feature if you have multiple kids in different rooms!
Battery Life – 6 out of 10 out of all the monitors on this list, unfortunately, this one has the lowest expected battery life. However, the good news is, with a 7-8 hour battery life expectancy, its is still pretty dang good!
Range – 10 out of 10 With almost 1000 feet of range, the HelloBaby monitor will stream video from camera to monitor within a range of 960 feet. For a monitor that doesn't connect to WiFi, the range, really doesn't get much better than that!
Video/Audio Quality– 7 out of 10 The video/audio quality with this camera falls a little short due to the monitor screen display being quite small. At 3.2″ its smaller than the average 3.5″ display screens seen on other monitors. However, this isn't necessarily a deal-breaker.
The video quality is also sub-par with 720 streaming as opposed to HD 1080p seen in other monitors. Seeing as these aren't necessarily deal-breakers, I went ahead and gave a generous rating of 7 out of 10 for video quality due to the night vision feature, which I believe is a baby monitor must-have!
Price – 10 out of 10 Remember when I said it would be a mistake to overlook this monitor? Well here's why! Coming in at the lowest price, this monitor gets a 10 out of 10.
Granted, there are cheaper monitors out there, but not for what is included in this monitor. This is by far the best-priced monitor that can keep up with the modern technology of the more expensive monitors. Overall, if you're looking for a lower-cost monitor with the ability to deliver technologically, this is the monitor for you.
Where HelloBaby Excels:
Price– This monitor comes at a great price, and that's in no way saying its cheap. It has many notable features at a low cost. If you're mommin' on a budget, this is the monitor for you!
Where HelloBaby Lacks:
No WiFi Connection– Although HelloBaby has some great modern-day features, it lacks the ability to connect through WiFi which for me is a downfall because I feel that a radio connection is a bit outdated.
Overall Score: 8.2 out of 10
#5 – Infant Optics DXR-8 Baby Monitor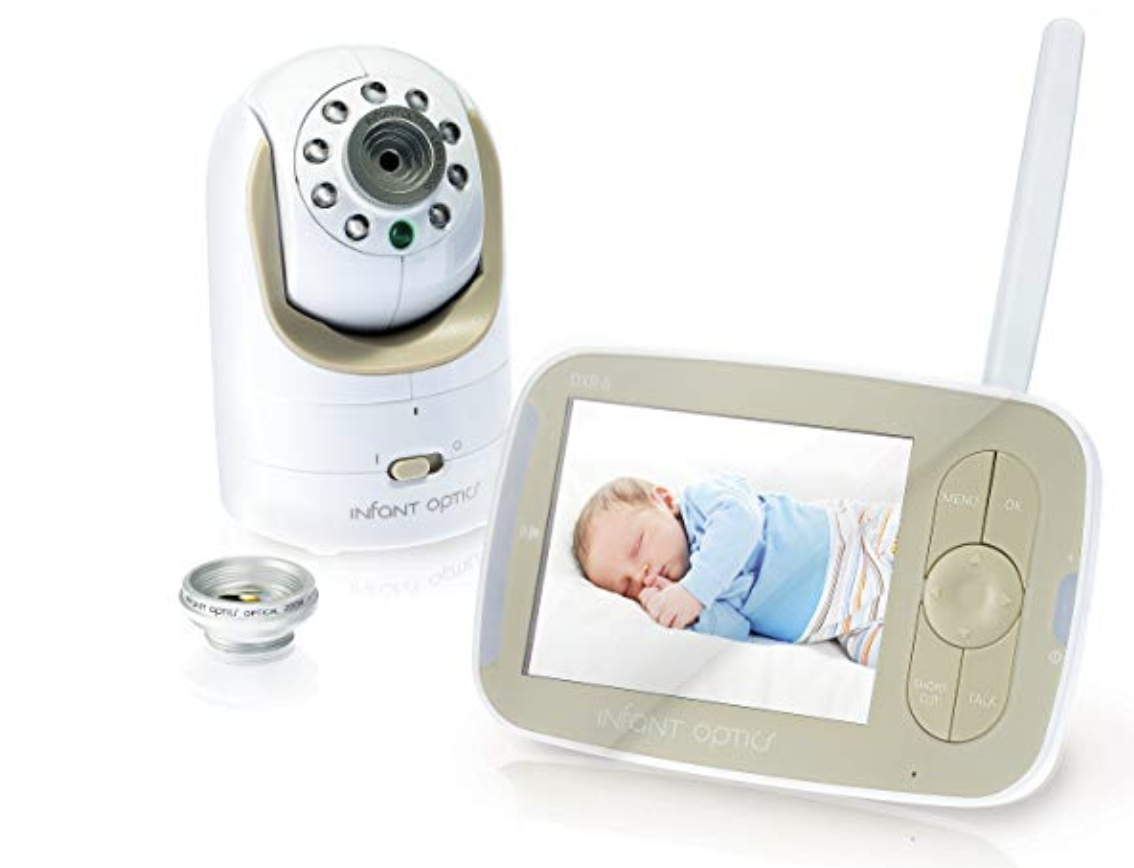 The last baby monitor to make it onto the top 5 is the Infant Optics DXR-8. Rated as a best-seller on Amazon, this baby monitor is praised for its high-quality video, two-way audio, and wide angle lens feature.
In my honest opinion, however, I would not necessarily recommend this monitor. Although I do agree with the reviews regarding the great video quality and wide-angle lens, the battery life is a deal-breaker for me.
Infant Optics DXR-8 Features:
Pan Tilt & Zoom
Two-Way Audio
170 Degree Wide Angle Lens
Additional 2X Optical Zoom Wide Angle Lens
Room Temperature Sensor
Wall/Ceiling Mount
Universal Motorola Charging Port
Modern Capabilities – 6 out of 10 The Infant Optics DXR-8 is a bit lackluster in terms of modern-day bells and whistles. It's a pretty basic monitor that runs on radio/antenna connection and does not use any WiFi or Bluetooth. It's a very simple and basic camera but it does have great video quality and the wide-angle lens is great for viewing an entire room.
One of the main reasons I looked into and ultimately bought this monitor was because it had the ability to connect to multiple cameras, and I loved the wide-angle lens feature. At the time, I also liked the fact that it didn't connect through WiFi, however going forward, for my next monitor, I will require that it connects through WiFi; it's easier and more functional.
Battery Life – 1 out of 10 Yes. I gave the battery life a 1 out of 10. Honestly, I could even go as low as a 0 out of 10. The recommended "on-the-box" battery life of these monitors is 8-12 hours on a single charge. Let me tell you, this was not my experience at all. In fact, I think the longest lasting battery I've seen since owning this monitor has been 3 hours- tops.
Currently, the battery life is so bad that it can't even be disconnected from its charging cord or it instantly signals a low battery with a red flashing light and loud beeping noises. This is by far the worst battery life on any device I have ever owned. Maybe mine was a fluke, but consider yourself warned.
Range – 9 out of 10 The range on these monitors is great. Since owning the Infant Optics baby monitor, I have never had a problem with signal strength. The box claims that signal can reach up to 700 feet from camera to monitor, which is pretty good.
I have never tested the exact measurement, but I know the range is great because I have used this monitor while working in the garage with my baby sleeping on the opposite side of the house, second floor.
Video/Audio Quality– 9 out of 10 The video/audio quality of these monitors is great. The two-way audio works great and the picture is displayed clearly on a 3.5″ screen. I also love that it automatically adjusts from color to night vision depending on the lighting in the room.
Price – 5 out of 10 The price of the Infant Optics DXR-8 is decent. I personally think its overpriced due to its simplicity, and the fact that it lacks some modern-day features, however, the pricing is average when compared to similar baby monitors.
Where Infant Optics Excels:
Range– This baby monitor has a great range and since using it, I have never had any problems with losing signal
Video Quality– With a big display screen and HD video, this video quality is hard to beat, I also love that it automatically adjusts from color to night vision.
Where Infant Optics Lacks:
Battery life– If it wasn't for the non-existent battery life, I would definitely recommend this monitor. Mine could have been a fluke, but I can't even take my monitor off the charger or it instantly signals to me that it is going to die.
WiFi Connection– Although some mommas prefer a radio/antenna connection for their monitor, I feel this method of signal is becoming outdated and is a bit of a downfall for me.
Overall Score: 6 out of 10
---
And The Winner Is…
Well folks there you have it, the best baby monitors of 2019. So which baby monitors is the best fit for you? Honestly, it all comes down to personal preference.
As you can see, there is a lot that goes into purchasing a monitor, so when it comes to deciding which one is the best, its ultimately up to you and what will best fit your family.
You really can't go wrong with any of the monitors on this list.
Did you find this helpful? Let me know in the comments below! I love hearing from my mommas, if you have any other recommendations that didn't make this top 5, leave them in the comments as well.
XOXO