Once your baby arrives and your hospital stay is coming to an end, reality sets in that you are responsible for this tiny, fragile, human. Prior to this you could barely keep the succulents in the kitchen windowsill alive, and now you're the sole caregiver and provider for a living breathing human?
Breathe. Don't panic. You've got this. And if you're reading this, you have me to guide you through it. Now, I am definitely no expert, but I have taken first-hand experience from my own newborn baby's first day home, and have come up with a list of the five most important items to have ready at your home.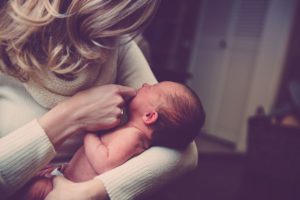 These items have become staples in my household and are items that I still use to this day. They have helped get me through the roughest of nights and were life savers for the first night our baby was home with us.
Make sure you have these five items in your house before you go into labor, and when you come home from the hospital, you'll feel ready to take on whatever the journey of parenthood brings your way.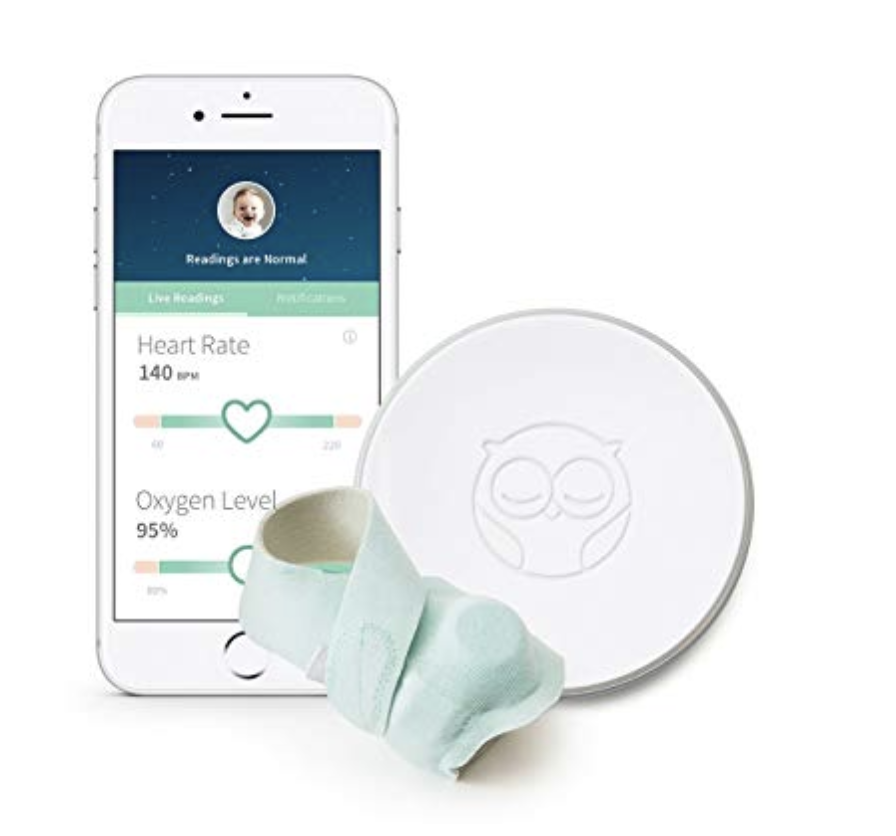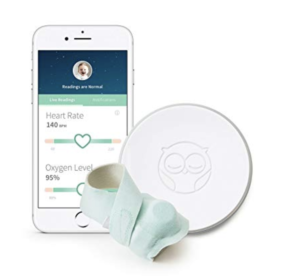 Do you ever wonder how your parents made it through school without Google? Well, now that I'm a parent, I wonder how my parents made it through raising a child without
this monitor
. Ladies, thank heavens for technological advancement!
The Owlet Smart Sock is hands down, the best thing I could have bought in preparation for the first night home.
Click here to read an in-depth review on the Owlet Smart Sock 2
Let's be honest, now that you have a newborn, the idea of a good night's sleep has left the building- at least for the next few months. That being said, you must take advantage of the sleep you can get, but how do you sleep with the looming thought of SIDS (Sudden Infant Death Syndrome) lingering in the back of your mind?
Instead of staying up into the early hours of morning doing google searches of "ways to prevent SIDS" all night, get yourself the Owlet and sleep. With the Owlet, I was able to sleep well, knowing my baby was being carefully monitored.
The Smart Sock, in essence, stays awake for you, and constantly measures heart rate and oxygen levels. It comes in the form of a wearable sock, equipped with a smart sensor, designed to gather bio metric data and send it straight to your smartphone. It conveniently provides live readings at all times, and you can even check it on the go, whenever and wherever, with their mobile smartphone app.
Smart Sock features:
Mobile app with live readings of heart rate and oxygen levels
Connected Care app which summarizes sleep/wake patterns
Wellness notifications and alerts sent straight to your phone
3 socks that range in size from newborn-eighteen months of age
Since last year, the Owlet company has made some major improvements, and the packaging now has the option to include a video camera as well, which saves on the cost of a baby monitor.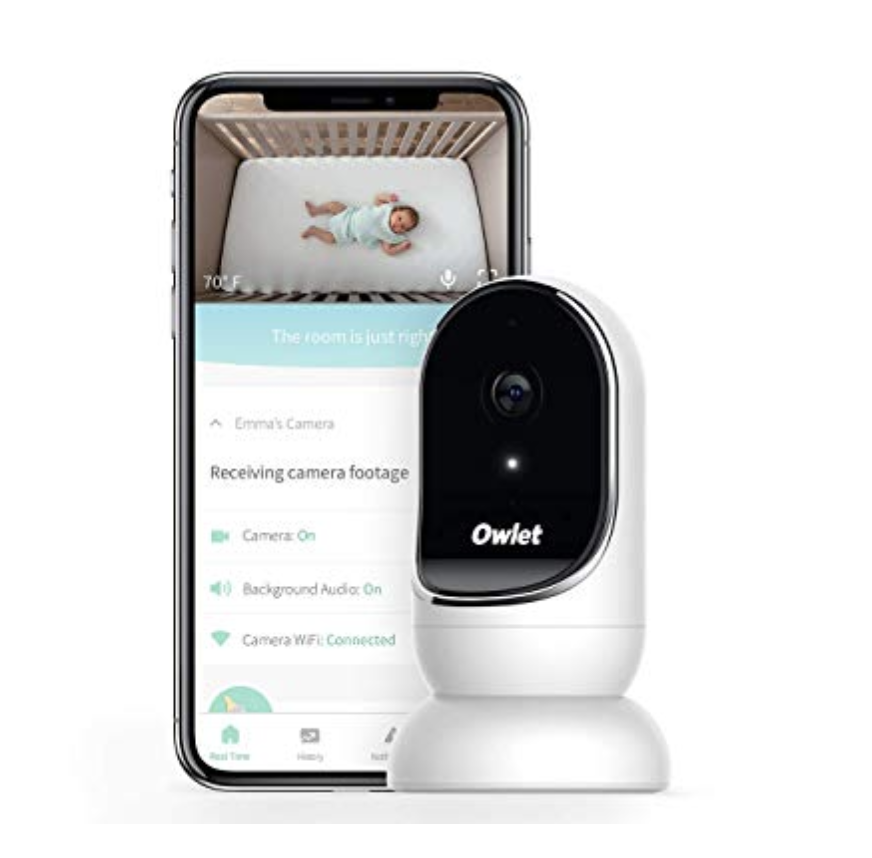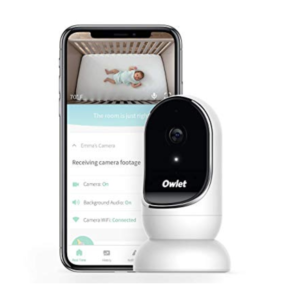 Video Camera features:
Two way audio
130-degree wide angle lens
Room temperature sensor
HD 1080p Video
Before my baby was born, the only available option was the Smart Sock alone, but I can say with 100% certainty, for my next baby, I will be buying the camera to go along with it.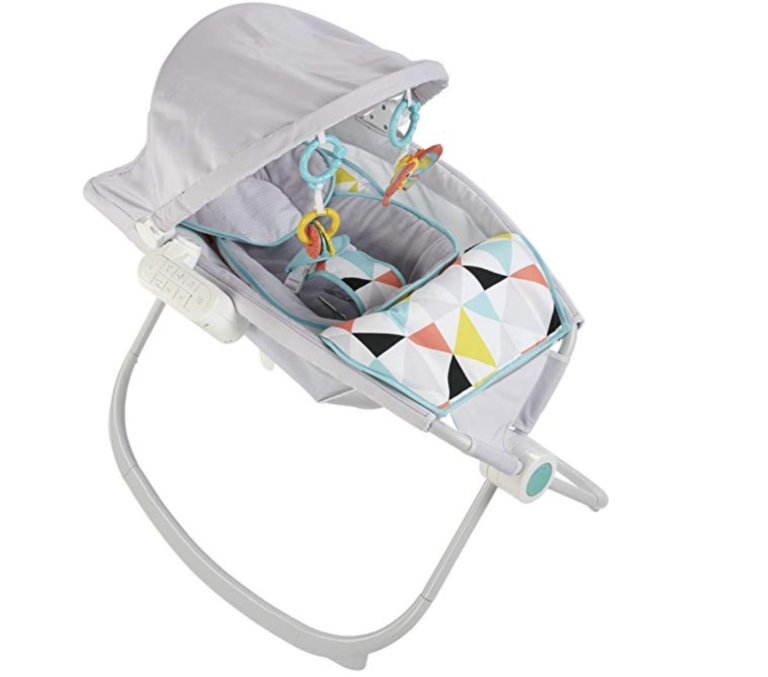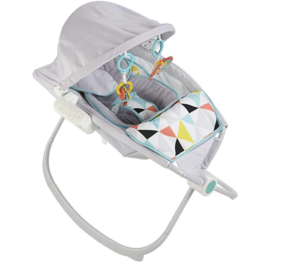 Depending on your decision of where you want your newborn to sleep, this may or may not apply to you. But, if you are like me, and decide to have your baby by your bedside, this is the best option for that.
While I was pregnant I constantly went back and forth on sleep options for my newborn. I knew for a fact, she would sleep in our room for the first few months, but we were not going to co-sleep (my husband and I are very active sleepers and the thought of an infant in bed with us, gives me nightmares) so I searched for the best alternative.
I looked at all the options for bassinets and bedside sleepers, but nothing was clicking. Then I stumbled upon the Rock 'N' Play. This thing is genius. It comes with an electric wall plug in, and once the power is on, it will vibrate, sing and rock the baby to sleep. It literally does all the work for you!
Another plus, is that it's built at a slight incline. My daughter suffered from reflux as an infant and the only way she would sleep was at an incline. Between the rocking motion and the incline, my daughter was in dreamland, in no time. Mommas, if you value sleep, you will invest in a Rock 'N' Play.
This bedside sleeper is also very compact, and makes traveling easy. Both sides of our family live out-of-state, so we spend a lot of our time in the car and in hotels. This light weight sleeper folds down and is slender enough to fit in small spaces, which saves space and makes for light packing.
#3 – Boppy Pillow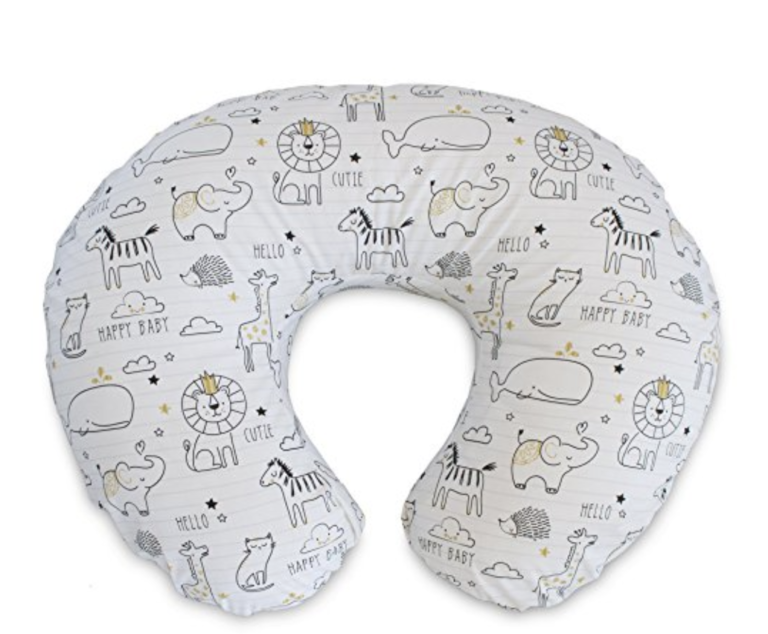 Whether you are breastfeeding or bottle feeding, a Boppy Pillow is a must. When I first got home, and was healing from childbirth, my back was sore, my arms were weak and my body was overall exhausted.
Given the fact of what my body had just been through, that did not stop my child from needing to eat so, I needed to find a way to comfortably hold my baby while feeding her that didn't strain my battered body.
The Boppy Pillow was a great solution because it is a U-shaped pillow that can be placed under your baby in multiple positions to prop them up, and help momma avoid hunching and placing unnecessary pressure on her arms, neck, and back.
It can be used in many circumstances, including:
Feeding times (breastfeeding or bottle-feeding)
Propping & supporting baby while laying on a flat surface
Back support for mom
Can be helped in supporting tummy time
Can aid a child in learning to sit up
#4 – NoseFrida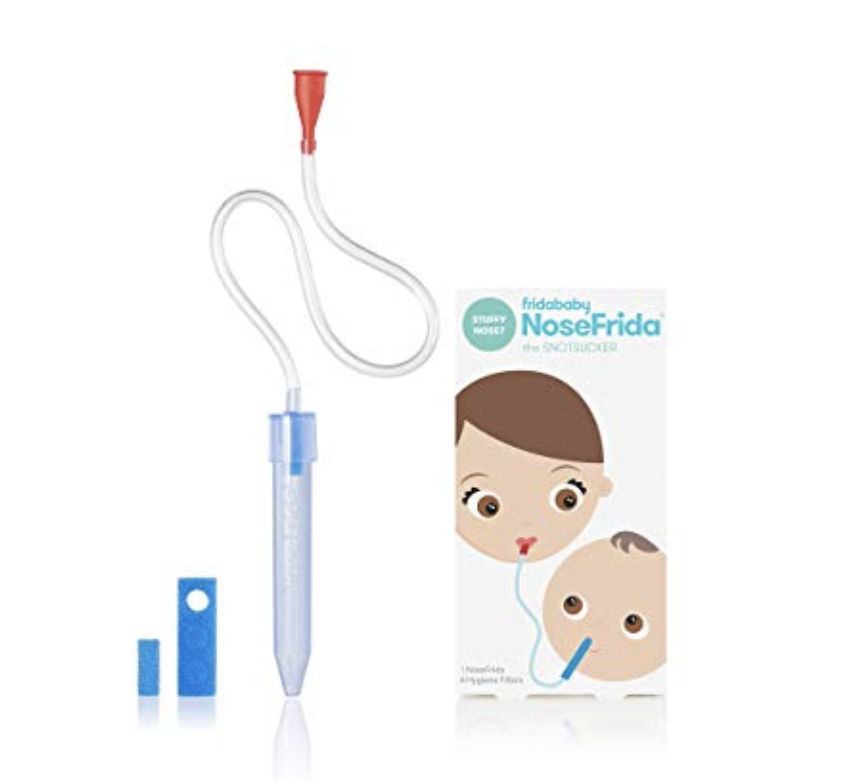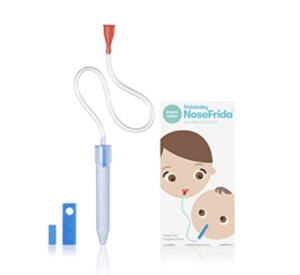 Before a baby is born, they are surrounded by a protective substance called amniotic fluid. This fluid is essentially a life source in utero and an excellent educating tool in terms of learning to swallow. Babies will ingest small amounts of this fluid from 25 weeks of gestation all the way up until they make their debut in the delivery room.
Doctors use suction to rid this fluid from the baby's airways, however there can be residual fluid for the first few days after birth. It is important to suction your newborn's nose for the first few days after birth to ensure their airways are clear. So how do you do this?
First, forget those balloon-like contraptions they give you at the hospital. They're hard to use, inefficient, and outdated. Say hello to your new best friend, NoseFrida. This brilliantly designed suction device is safe for babies of any age and extremely effective when it comes to clearing a baby's airways.
So what is NoseFrida? It's a doctor developed and recommended suction device, which features a tube, straw, and filters. This three-piece design allows you to place the tube against the baby's nostril and create a seal for suction. The connecting straw is blocked by a filter, hindering any snot from leaving the tube. The suction is then generated by you, the parent, from sucking through the straw (which is connected to the tube), drawing out any congestion in the baby's nose.
NoseFrida was a game-changer for us because our daughter had the tiniest nostrils and the worst congestion. The suction mechanism the hospital provided us wouldn't even fit the opening of her nose, and therefore was of no use to us. It wasn't until we found NoseFrida, that our baby started breathing better and consequently started eating and sleeping better.
#5 – Noise Machine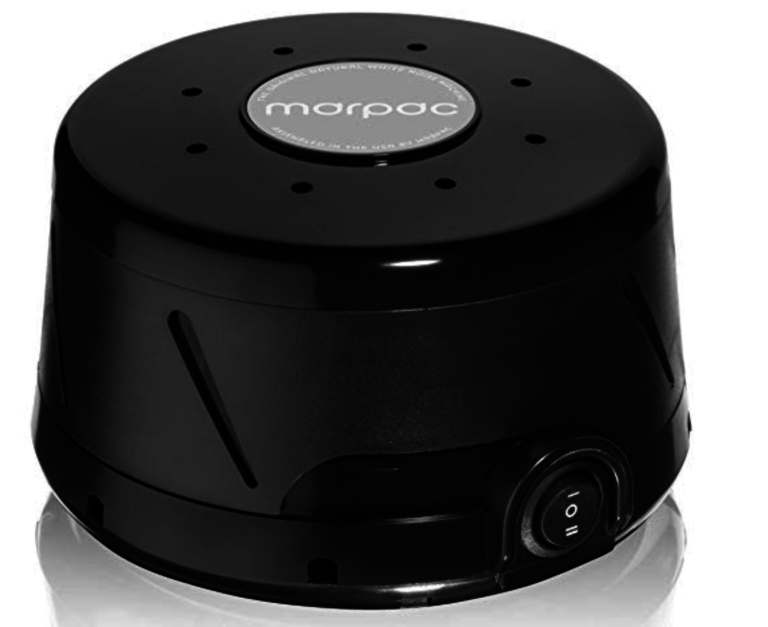 The concept of a noise machine was foreign to me when I first found out I was pregnant; however, my husband had grown up with one and insisted on buying one for our baby. I was reluctant to buy it at first, because I was skeptical of it's efficacy, but the day we brought our baby home I was so grateful I had heeded my husbands advice.
I realize I have focused an immense amount of this post on sleep, but believe me mommas, once you have that baby, you will be longing for a good night's rest. A noise machine is your answer. This simple little appliance, plays a constant humming noise that soothes your baby to sleep and blocks out other noises that could potentially disturb sleep.
We learned quickly that our daughter has a severe case of FOMO- if you aren't familiar with this term, it's an acronym for "fear of missing out." Anyways, she just wanted to be part of what was going on around her, so the slightest noise, and her eyes would flash open.
Once we incorporated the noise machine as part of her nap routine, she began to sleep like a rock. We could do household chores, hold conversations at a normal level, and she wouldn't even budge. It's a trick that we still use to this day whenever she's sleeping, and it allows us to carry on with day-to-day tasks, knowing she will sleep through all of it.
The First Few Days
When I look back on the day I brought home my newborn baby, it all blurs together. Having these items made the learning process easier and helped aid in navigating motherhood.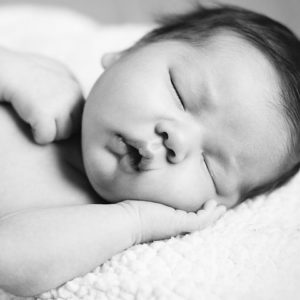 Upon arriving at my home, all I wanted to do was sleep, but before that could happen, I had
to make sure my baby would sleep. By having all of these items, it helped get me through the first of many nights without feeling completely sleep deprived and drained.
Taking the time to prepare and having these items ready for your big day, will make all the difference in easing the transition from hospital to home. This list has become a staple that I will live by for all my future deliveries.